Rhinos Are Dying At An Alarming Rate — But This Legislation Could Help Save Them
by Aaron Jordan & Ana Popovich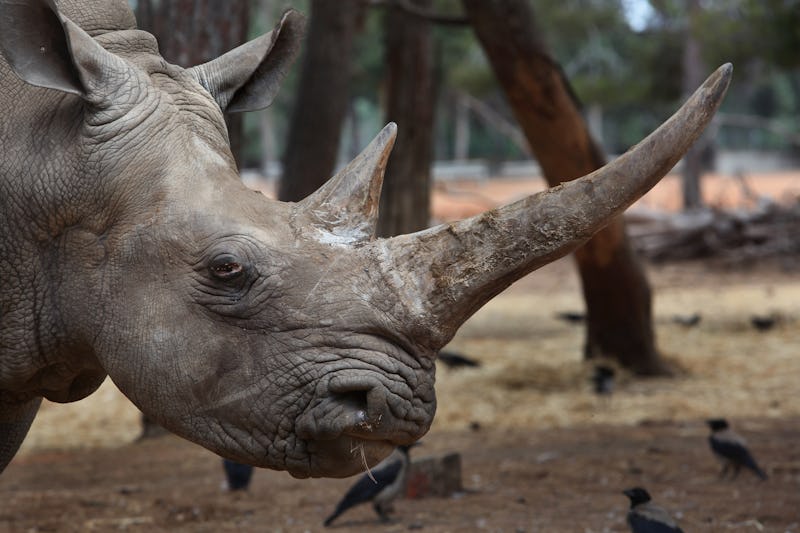 David Silverman/Getty Images News/Getty Images
This spring, Sudan, the last male Northern White rhino, died in Kenya, dooming his subspecies to extinction. The Ol Pejeta Conservancy, which served as Sudan's home, wrote on its social media page, "Fare thee well Sudan. You have done your work to highlight the plight of rhino species across the world; now the onus is on us to ensure that rhino populations thrive across our planet." And indeed, as we celebrate World Rhino Day on Sept. 22, there is crucial legislation in the works that could save these animals' lives.
In 2007, 13 rhinos were poached in South Africa. By 2014, that number had jumped over 9,000 percent to 1,215 rhinos killed by poachers: the equivalent of rising from one per month to three per day. Elephants have fared no better. They are among the smartest animals on the planet with more neurons in their nervous system than any other animal, including humans. But elephants, too, have been decimated by poachers. In a three-year period, Central Africa lost over 100,000 elephants, and more than 64 percent of its African elephant population was killed.
Although these calamitous figures are both alarming and saddening, there are reasons for hope. A bipartisan bill in Congress, known as the Wildlife Conservation and Anti-Trafficking Act (WCATA), is a particularly promising vehicle for wildlife protection.
Introduced by Madeleine Bordallo (D-Guam) and co-sponsored by Don Young (R-AK), WCATA would bolster law enforcement by enhancing prosecutors' ability to target, try, and convict the international criminal organizations behind wildlife trade. The bill also authorizes the U.S. Fish and Wildlife Service (FWS) to station agents in high-intensity trafficking sites abroad.
WCATA builds on the successful strategy of targeting organized crime enterprises laid out in 2016's END Wildlife Trafficking Act. Will Gartshore, the deputy director for legislative affairs at the World Wildlife Fund, praised WCATA and said, "U.S. efforts are critical to halting the global poaching crisis and protecting our planet's remaining wildlife. Congress continues to show impressive leadership on this issue, and this new bill demonstrates that there is much more that can be done."
Without effective enforcement of the wildlife trafficking laws, numerous species are doomed to extinction.
But even more critically, WCATA would incentivize wildlife whistleblowers to come forward. Whistleblowers report wildlife trafficking and illegal logging and fishing, which is instrumental to the conservation effort. The bill would require agencies like FWS to create and promote whistleblower programs and ensure that whistleblowers receive between 15 percent and 50 percent of any judgments or settlements obtained by the U.S. government under wildlife protection law.
And best of all, the remaining funds obtained from judgments or settlements would be used to fund conservation programs to protect elephants, rhinos, tigers, great apes, and marine mammals.
No one solution can stop the mass extinction crisis. But without effective enforcement of the wildlife trafficking laws, numerous species are doomed to extinction. Utilizing and incentivizing wildlife whistleblowers, granting law enforcement and prosecutors additional tools to go after the transnational criminal syndicates responsible for wildlife trafficking, and providing additional funds to crucial conservation are the three essential pillars needed to combat wildlife crimes.
Given that WCATA has liberal Democrats and conservative Republicans as cosponsors, the bill has a genuine chance of passing. If lawmakers want to make a real difference for animals facing extinction, they should pledge to support WCATA.
Aaron Jordan is a law clerk for the Court of Appeals of Maryland. Ana Popovich is a student at Georgetown University. They are both former National Whistleblower Center employees.
This op-ed solely reflects the views of the author, and is part of a larger, feminist discourse.