Porsha Is Officially Engaged, Adding To An Already Exciting Time For The 'RHOA' Star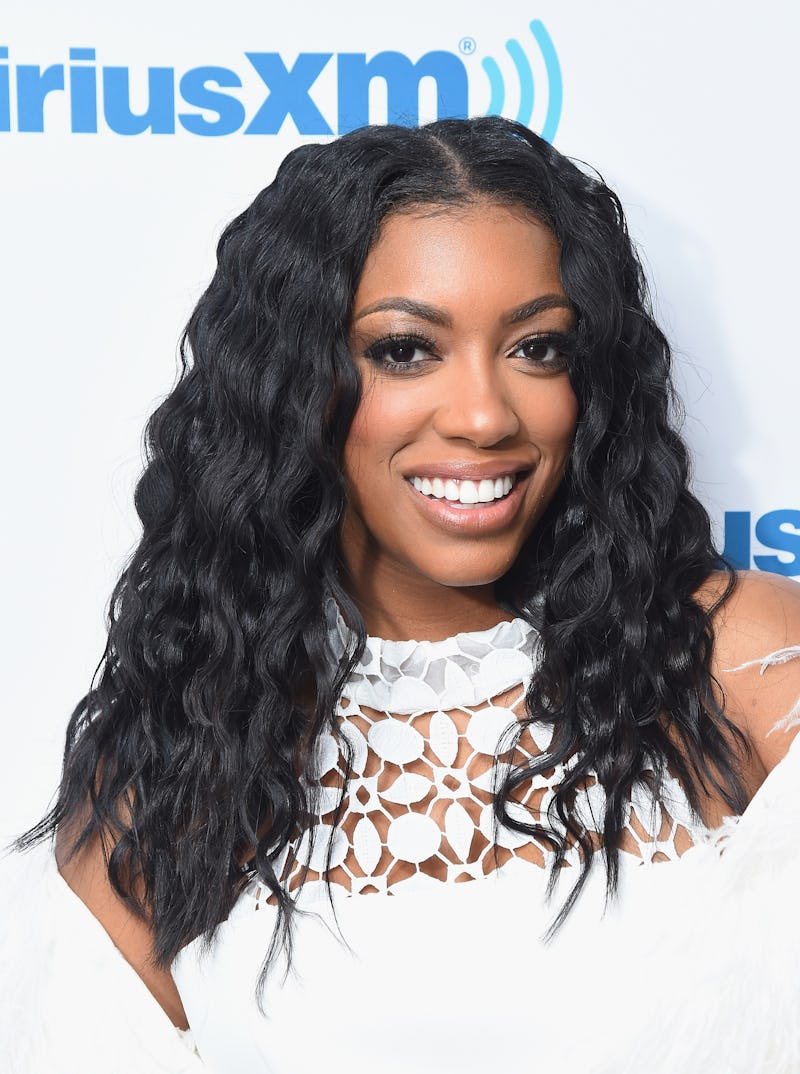 Michael Loccisano/Getty Images Entertainment/Getty Images
Porsha Williams is about to become a real Real Housewife of Atlanta. Obviously, she's already a cast member on Real Housewives of Atlanta, but now her marital status is going to match the show's title. Porsha got engaged to Dennis McKinley, news that was officially confirmed by People via Porsha's rep.
Apparently Dennis had been planning the marriage proposal for two months, according to People. So how did it go down? Her rep told the publication, "Dennis rented out a venue and took Porsha via helicopter there." There were "candles and rose petals everywhere." That sounds great and all, but what about the Real Housewives of Atlanta camera crew? Was this big moment filmed for Season 11?! That was not mentioned, but there are a lot of fans probably hoping to see the proposal on the show.
Accoridng to the report, Lil Mo' was on hand to sing Porsha's favorite song "4Ever," a title that is very much applicable to a marriage proposal and the concept of marriage in general.
Before the proposal confirmation, there was already speculation that Porsha was engaged thanks to two Instagram photos she shared on Sept. 30. In one solo photo of Porsha, there's a big, diamond ring on her hand. Sure, it could have just been any ring, but now it's confirmed that she was rocking an engagement ring.
In a second photo from the same night, Porsha is in the middle of a group of girlfriends, seemingly showing off her ring.
Porsha's rep shared even more specifics with People:
"After they were officially engaged, they threw a Prayer party for Baby McKinley. She doesn't want any focus on the ring etc. but it's huge and gorgeous! Dennis had videographer & photographer and has been working on the proposal for two months….had candles etc and rose petals everywhere."
After the People article was published, Porsha posted a professional photo holding up the ring with Dennis. She kept the caption short and sweet, writing, "I said YES...." In a second Instagram post, Porsha clarified her response to the proposal, "Matter of fact I said HELL YESSSS lol !! Love you baby #DM I'm ready for the rest of our life!"
A marriage proposal is a big deal and worthy of its own celebration, but the future Mr. and Mrs. McKinley also celebrated their future baby with a prayer party. Porsha confirmed the pregnancy in another interview with People on Sept. 19. Porsha also posted about the baby announcement on Instagram that same day, writing, "I am happy, healthy.... and pregnant! #BabyMckinley #DM #Blessed."
Porsha shared a photo of her niece Bayleigh standing under a sign that read, "Praying For Baby McKinley." Along with the photo, Porsha wrote, "Baleigh is excited for her baby cousin." How sweet!
This has been a year full of milestones for Porsha. She is about to be a wife and a mother. It seems like things cannot get any better for her. Let's just hope that Porsha's fans will be included on these monumental occasions, i.e. let's hope that Porsha's pregnancy announcement and marriage proposal are featured on Real Housewives of Atlanta Season 11.