Rihanna's Blonde Hair Is Back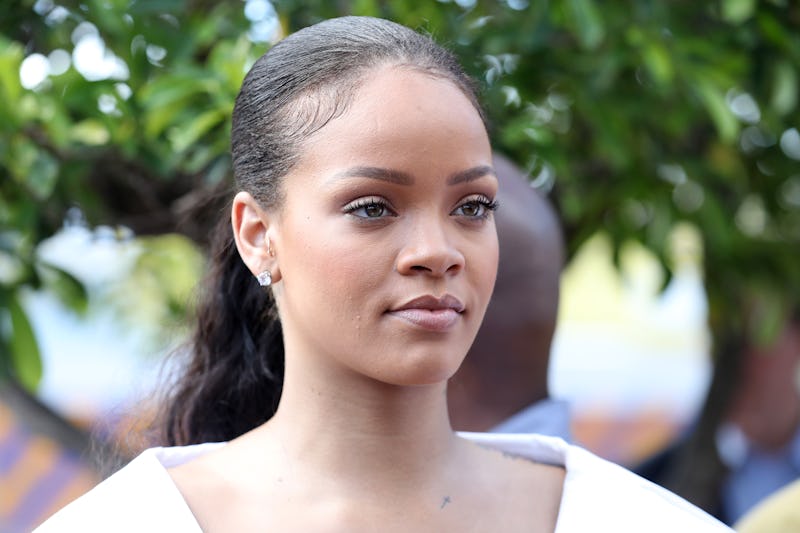 Chris Jackson/Getty Images Entertainment/Getty Images
This woman continually kills it with her style. Whether she's posing on the red carpet or sending garments she designed down the runway, she knows what looks good, and her latest magazine cover will only prove it to you. Rihanna sported blonde hair for Harper's Bazaar, and pretty much everyone is totally in love with her beauty.
Now, this isn't her first Harper's Bazaar cover or the first time she's dyed her locks lighter, but still. You can never go wrong with a fresh 'do and a cover photo shoot. On the front of the magazine, she's rocking bangs and a subtle metallic lip, but inside the magazine's pages she opts for a much more classic look. In fact, she's channeling Amelia Earhart while posing on top of a plane. Of course, the overall feel is still modern, but the styling choices are quite reminiscent of the era.
"There's something so special about a woman who dominates in a man's world. It takes a certain grace, strength, intelligence, fearlessness, and the nerve to never take no for an answer," Rihanna told Harper's Bazaar. "Amelia Earhart was such a dynamic force in her industry, setting multiple aviation records in her time. So it was a no-brainer for me to team up with Harper's Bazaar in honor of a woman who held her own with the big boys."
Get it, RiRi! The subtle smokey eye, metallic lipstick and blonde bangs? It's hard to choose a favorite part about his major beauty moment.
This definitely isn't the first time Rihanna's fiercely worked a little blonde fringing, but she's just as good at it now as she ever was!
The platinum color really works for her.
And she always manages to style it perfectly. Curly, straight, an updo — you name it!
So, it really comes as no surprise that she was absolutely gorgeous in the pages of Harper's Bazaar.
She's absolutely stunning, and jaw-droppingly so.
Fans are dying to get their hands on this issue. You know, so they can sit and stare at it all day.
Rihanna always soars, whether she's posing with Earhart in mind or no.
Is it a bird? A plane? No, it's Rihanna, here to slay.