Rihanna Actually Responded To A Fan's Critique Of Fenty Beauty & It's A Surprisingly Sweet Exchange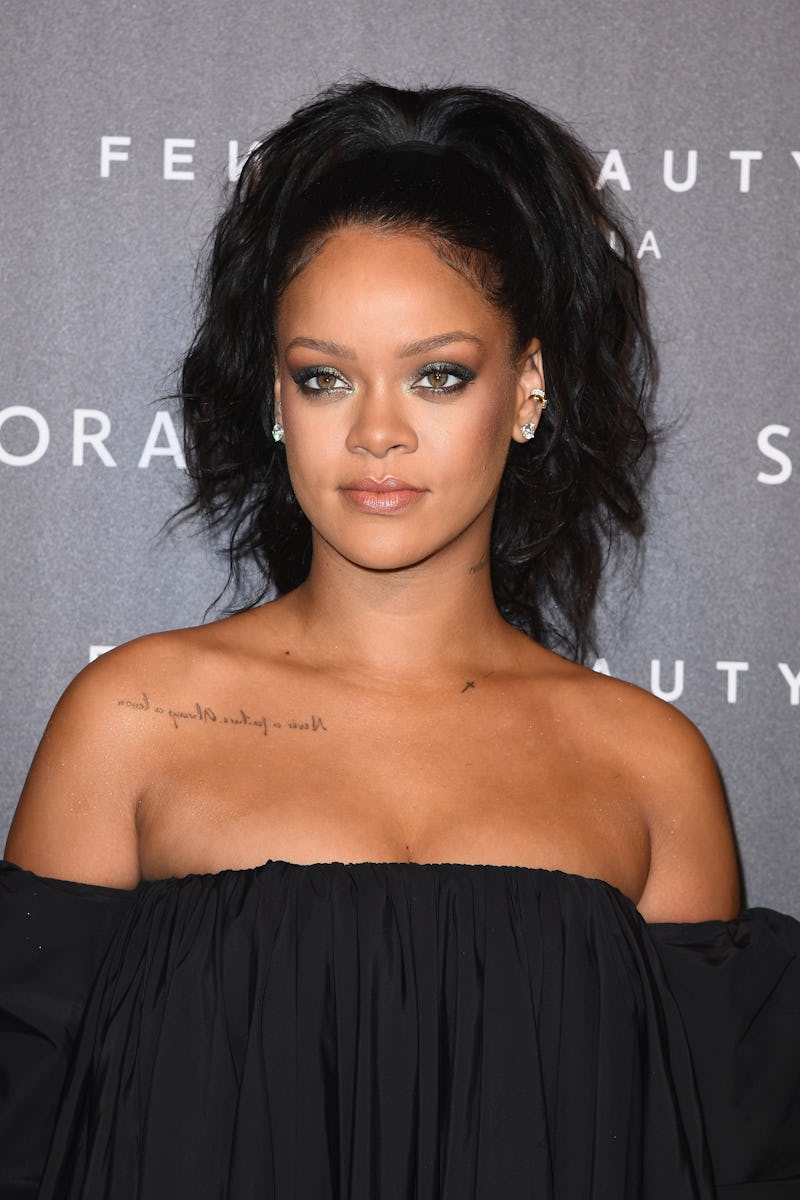 Pascal Le Segretain/Getty Images Entertainment/Getty Images
With a beauty line as inclusive, creative, and playful as Fenty Beauty, you would think that the brand would be above any form of criticism. Well, as Rihanna learned this week, she'll get a few salty swipes here and there, but not for something all together negative. Her only criticism is not restocking her products quickly enough.
While some beauty moguls have to deal with fans calling them out for faulty lip wands or empty product boxes, Rihanna has to field supporters who want to buy her products so badly that she can't keep them on the shelves long enough. But the cool thing is, that even though she got criticized, Rihanna replied to a negative Fenty Beauty comment in the best way possible. Instead of swiping back, she turned it into a friendly interaction.
Fenty Beauty's Pro Filt'r Foundation was one of the major hits of the original Fenty Beauty launch, featuring for the first time ever a wide range of shades that cater to all kinds of darker skin tones. Because of that, those hard-to-come-by colors have been flying off of the shelves and selling out incredibly fast, making it hard to restock them for long enough for everyone to get a chance to buy the shade they need.
Knowing the need is real, Rihanna took to Instagram last week and announced a "rihstock" of the product, giving fans a heads up so they could mark their calendars. Posting a close up of a tumble of foundation bottles, Rihanna captioned, "Yeeeessssss what you guys been begging for. PROFILTR FOUNDATION #RIHstocks are finally back!!! Giving all my shade #400 's a heads up for tomorrow so you get your hands on it before it's gone again!"
She also pointed out that you could sign up for email notifications for restocks, so you could always be prepared to snatch up your favorite products.
While the comments under the post were filled with excited reactions, there was one in particular that stood out. A follower voiced their annoyance at having to wait so long for their shade, writing, "Girl 6 months later." Which, to be fair, is not entirely correct given the line launched on Sept. 8. But a similar sentiment was echoed a few times over, with other beauty lovers writing they've visited stores and online sites in vain the last couple of months, hoping to see their shade. It's just that this one particular comment was a little more blunt than the rest.
Seeing that, Rihanna herself went in to answer their displeasure directly. "Sis. we overstocked for 4 months plus. But what can I do when errbody luh da kid?!" she wrote.
It's amazing to see that Fenty Beauty overstocked for so long and still had massive shortages. Rihanna also followed up the cheeky explanation with, "Also what's your shade sis?" hinting that she'll send the follower a foundation directly to make things right with the impatient fan.
RiRi really is the best. If you're one of the fans that are waiting for the restock, keep checking the site. But in the meantime, here are some Fenty Beauty products that are still on the shelves.