Rihanna's Favorite Body Cream Is Only $12 & You Won't Believe How Good It Is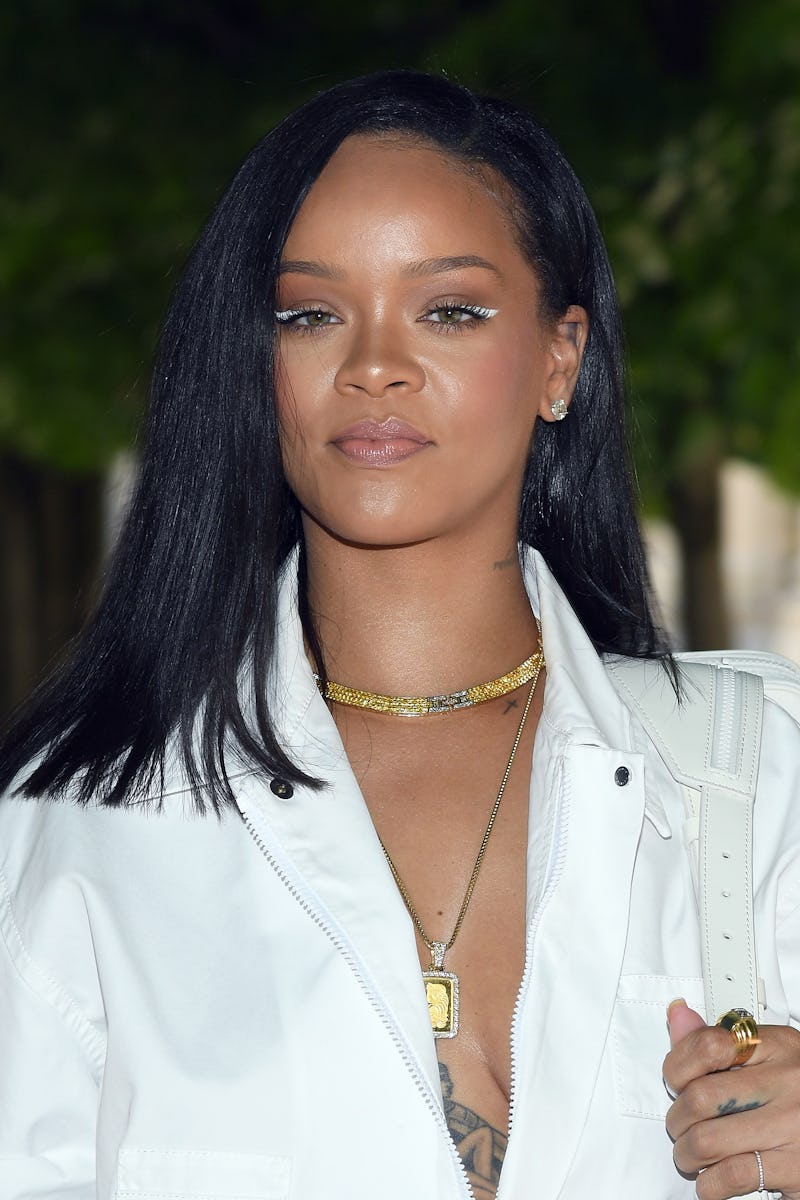 Pascal Le Segretain/Getty Images Entertainment/Getty Images
When it comes to the likes of celebrity skincare routines, one can assume that their bathroom cabinets are stuffed with the most luxurious of options, where caviar face creams and diamond dust setting powders are the norm. But every now and again, they surprise us with an affordable curve ball. Rihanna's favorite body cream is only $12, meaning you don't have to spend a lot to get your skin glowing.
Seeing how the Grammy winner turned beauty mogul is the creative brains behind Fenty Beauty — which has brought as landmark cosmetic moments like turning 40 shades of foundation into the new collection standard, or reviving the glitter lotion from our junior high days — we trust her when it comes to beauty. So when Rihanna has a favorite go-to product, one can only assume the stuff really works.
The body cream in question is Weleda Skin Food Cream, and according to InStyle, Rihanna likes to put it on before getting her nails done, so her hands and feet are as smooth and nail art ready as possible.
Weleda is an all-natural beauty brand that skips the toxic chemicals and instead uses use flower, fruit and root extracts, minerals, and essential oils to get your skin glowing. And they have been around for a while — the brand has been formulating skincare since 1921!
Their particular "Skin Food" cream that Ri is a fan of is formulated especially for dry, rough skin, making it a thick lotion that smooths on like butter. It's meant to be their "best beauty secret," and they have been selling it since 1926, so the formula has clearly stood the test of time.
With extracts of calendula and chamomile mixed into a rich base of oils and beeswax, it's extremely nourishing and can be used on everything from your hands and feet, to your elbows and face.
And even more interesting, this all-purpose cream has more uses than just being used as a nourishing lotion. You can apply it as a face mask for 10 minutes, and then wash it off with a warm face cloth to restore a natural glow. You can tap it on lightly as a natural highlighter, run it through curly and kinky hair for a boost in hydration, or rub it into split ends to add some moisture, and even dab it onto chapped lips. Whatever ailment you have, this affordable bottle will fix.
But Rihanna isn't the only celeb that swears by it. It turns out that the affordable tube has a long list of celebrity fans who can't get enough of its nourishing properties.
Julia Roberts uses it religiously, where she can't help but use it all over her body. "I put it on my hands after I wash the dishes, and wind up putting it on my elbows and feet," she told InStyle. "Before you know it, I've squeezed this poor little green tube into a twist."
Rosie Huntington-Whitely shared an Instagram story of her vanity table earlier this year, where a well-used bottle was scrunched up next to her rose gold eyeshadow palettes.
Even Whitney Port, former The Hills star and fashion icon of our Noughties wardrobes, swears by the stuff, sharing that it's her go-to nigh tcream. Why buy a jar for $60 when you can just get an all-purpose cream for 12 bucks that works just as well? "I love Weleda Skin Food, I just use it on my face at nighttime and wake up glowing," Port told Well and Good.
If you're looking for an affordable addition to your skincare routine, this lotion is a great option!