'Rings' Star Matilda Lutz Is Inspired By Icons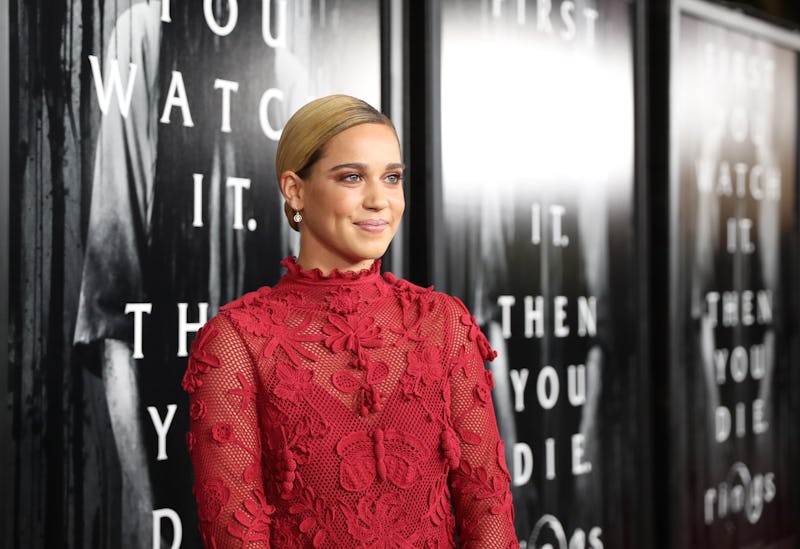 Jonathan Leibson/Getty Images Entertainment/Getty Images
It's no exaggeration to say that actor Matilda Lutz is very familiar with the extraordinary women who have come before her in show business. More than familiar, actually. She confidently faces filling the very big shoes of Naomi Watts with the lead role in Rings, The Ring reboot out Feb. 3. And if you look at Lutz's Instagram, it's like walking through a glorious Badass Women Hall of Fame, as she constantly nods to Marilyn Monroe, Meryl Streep, and other entertainment legends who've made impact. When speaking with her over the phone, I realize: Lutz is yet another icon in the making.
Although the 25-year-old hails from Italy, she says she was very aware of The Ring and how iconic it became — also realizing it's perhaps that one horror film that everyone has seen, even if they don't like scary movies. Still, she feels no pressure taking on the new chapter and being the new Watts, if you will. "I was really happy and excited because it was my first American movie and my first big movie. I was just really concentrated on doing the work and doing my best on set," Lutz says. "Thinking back, maybe I would've [felt pressure] now," she says with a laugh. While respecting and taking inspiration from Watts, she's excited to have brought her own take to the franchise.
"I definitely watched her performance," she tells me. "You can watch a performance, but then you need to use whatever works for you and that's what I tried to do." Plus, Rings is in a new era with a different cast. "I did take inspiration for the scary scenes and emotional side, but character-wise, completely different." This balance of taking guidance and creating her own sense of self is something the actor has been practicing long before Rings came about.
I ask about her Instagram showcasing marvelous women, which I could scroll through all day. There's meaning behind each post about a female she's inspired by. "I've read many books and biographies on Marilyn Monroe, and I love her movies," she says. "And then Monica Vitti, her attitude and her Italian side, and her voice." The admiration for these women continues to pour out of her. "Bridget Bardot, I love her accent and her sex appeal and the way she moves and can dance and be sexy and innocent at the same time."
While being so inspired by each of these icons, she realizes their fierce individuality is what brings them together. "There's something about all these women that I think is a common thing between them — but also, they're very different." This kind of trailblazing attitude is exactly what Lutz sets out to achieve and hopes others will as well. Instagram is just a start.
"I think that using [social media] the right way could be very helpful for young kids as well. Sending a positive message... how it's good to follow your dreams and to work for it, it doesn't come for free, but if you really want it, you can do it," she explains. "That's how I would love to inspire. You should be confident and believe in yourself. That's what makes you unique."
She aspires others to fight for their dreams as she does for hers, yet, she's still growing. Acting is a huge vehicle in that. "I learn so much from each experience on every side. Acting gives me so much, and I never stop learning," she says. Look out, world. Matilda Lutz is a comin'.