'Teenage Mutant Ninja Turtles' Reboot Star Kat Graham To Racist Trolls: "Bring It"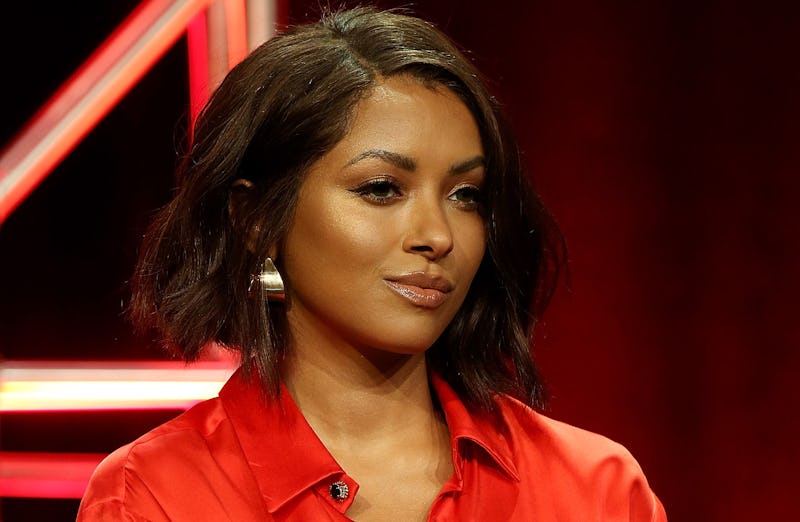 Phillip Faraone/Getty Images Entertainment/Getty Images
In the push for better onscreen representation, inclusion, and diversity, projects are casting actors from diverse backgrounds to play roles that originally went to white actors. But racist trolls have been bullying actors to the point where some have even had to leave social media (Titans actor Anna Diop being the most recent example). And with Kat Graham about to debut a black April O'Neil on Nickelodeon's Rise of the Teenage Mutant Ninja Turtles reboot, one might think that she'd be nervous about the inevitable racist backlash. But Graham just laughs at anyone who might try to bully her.
Speaking with Bustle after the Rise of the Teenage Mutant Ninja Turtles panel at the 2018 Summer Television Critics Association press tour, Graham confidently shot down the question of if she's concerned about social media bullying related to her casting. "That's cute. That's a cute question," she said with a smile. "No, bring it. I'm a black Jewish actress. I'm pro-LGBTQ. I'm not afraid of anything. If anything, I'll get louder."
"I want young girls to see this and see there's a brown cartoon character they can relate to."
Bringing the iconic April O'Neil to life in the animated series as an African-American woman for the first time, Graham is proud to be a part of a huge historical moment like this. "My take on April O'Neill, obviously the character is a little different than the previous incarnations. They decided to go with an African-American actress and an African-American character," she said. "I knew being on Teenage Mutant Ninja Turtles would be a big deal but I had no idea the weight of that decision or how important that would be."
The realization that she'll be an inspiration and a role model to young girls around the world is one that Graham is not taking lightly. "When I was growing up, there were no young black cartoon characters," she said. "What I hope to bring to this character is not just what comes with being a young black girl, but the fierceness, hanging with the boys, the strength. I want young girls to see this and see there's a brown cartoon character they can relate to. That's my dream for this character and that's what I see for her."
And she thinks the move to make April black couldn't have come at a better time. "I think these characters, absolutely, a lot of them need to be revamped," she said. "The questions do need to be asked and I'm happy that I'm somebody [to do it]. I'm more than happy to answer them. I'm more than happy to stand in these positions and challenge different executives or writers or directors to say, 'Well why can't this character be black?'"
Looking at Diop's situation and how she was forced to turn off comments on her Instagram and limit her social media presence because of racist bullies, Graham sighed. "I can't say why anyone would leave social media but the bullying can be bad," she said. "I've dealt with a lot of racism and anti-Semitism but I'm a tough bitch. I can take it. My sassy black girl-ness is all on this screen. I'm very happy with it."
While Graham won't be seen in live-action (just her voice will be used), this is her first series regular TV role since The Vampire Diaries ended last year. With another TVD-universe spinoff about to debut with Legacies, it doesn't sound like Graham will be returning to reprise her role of Bonnie Bennett in the future.
"Anything is possible, but I will say I spent eight years playing this character and I said to my fans last year that when we got the Teen Choice Awards, I felt like that chapter is closed," Graham said. "I say that with absolute gratitude and appreciation, but I don't feel like reprising a character that's 10 years almost of my life. I'm very grateful, but I'm not interested." Thankfully, it sounds like April O'Neil is about to be our new favorite character, and with an early Rise of the Teenage Mutant Ninja Turtles Season 2 renewal, we won't have to say goodbye to her anytime soon.