This GOP Lawmaker's Explanation For Why Sea Levels Are Dangerously High Is Raising Eyebrows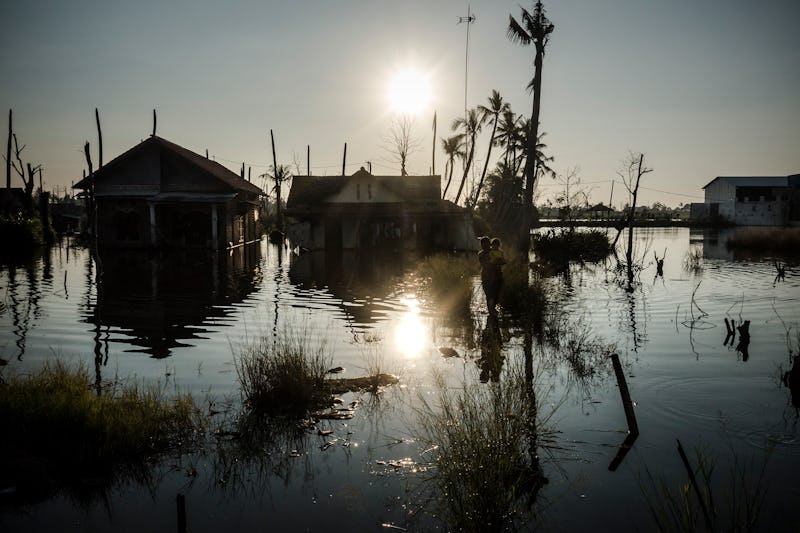 Ulet Ifansasti/Getty Images News/Getty Images
On Thursday, May 17, during a hearing on climate change and technology, an Alabama lawmaker claimed that rocks cause rising sea levels. According to Rep. Mo Brooks, rocks from the White Cliffs of Dover and California coastline, in addition to silt from rivers that empty into the ocean, are to blame for the spike in sea levels. However, it's become clear that scientists aren't buying it.
"Every time you have that soil or rock or whatever it is that is deposited into the seas, that forces the sea levels to rise, because now you have less space in those oceans, because the bottom is moving up," Brooks said during the hearing, according to CNN Politics. It's also worth mentioning that the politician is a member of the House Science, Space, and Technology Committee.
Replying to Brooks' comments about rising sea levels, The Hill reported that climate scientist Philip Duffy spoke up, saying, "The rate of global sea-level rise has accelerated and is now four times faster than it was 100 years ago." The congressman still wasn't having it, though. He insisted, in response, that erosion also played a factor in the rising sea levels. And the debate didn't end there.
Duffy, who is also president of the Woods Hole Research Center in Massachusetts as well as a former senior adviser to the U.S. Global Change Research Program, said factors like those are minuscule on human time scales.
Duffy was far from the only one who disagreed with Brooks' explanation. NASA, in fact, has confirmed that sea level rise is caused by "the added water from melting ice sheets and glaciers and the expansion of seawater as it warms." As it so happens, Brooks also commented on the state of Antarctic ice levels during the hearing, claiming that they're actually growing. Again, scientists would disagree.
According to E&E News, this was true a few years ago; however, more recent data from NASA reports that the Antarctic ice levels are shrinking at an accelerate pace. E&E News also reported that this doesn't negate the existence of global warming because the rate at which the ice melts is dependent on different factors.
Furthermore, NASA reported last year that both the Antarctic and Arctic sea ice levels were at record lows; thus the melting of ice could be contributing to rising sea levels. The report, which presented data from Feb. 13, 2107, showed that the polar sea ice covered a total of 6.26 million square miles, "790,000 square miles less than the average global minimum extent."
As you might imagine, Brooks' initial remark about rising sea levels seriously raised eyebrows. Shortly after news of Brooks' theory spread, The Washington Post, for instance, calculated just how big of a rock would be needed to cause sea levels to rise that much. By its calculations, to make the level rise by 3.3 millimeters, a "sphere of earth" would need to be 8 miles in diameter and weigh 6.6 quadrillion pounds. It goes without saying that's an unrealistically gigantic rock.
Other GOP lawmakers present at the hearing, besides Brooks, also referenced some climate change theories that aren't necessarily accepted by climate scientists. Rep. Bill Posey from Florida, for example, brought up a theory that scientists in the 1970s claimed that the Earth was cooling. As expected, Duffy disputed it. Additionally, Rep. Dana Rohrabacher expressed that the committee "should be open to different points of view," calling it "disturbing" to be told that you can't question whether or not humans are the cause of climate change. However, if you check out NASA's website, it's clear most scientists have concluded that "human expansion of the 'greenhouse effect'" is the "main" contributor to global warming.