Rita Moreno Is Going To Be In The New 'West Side Story' Movie In An Expanded Role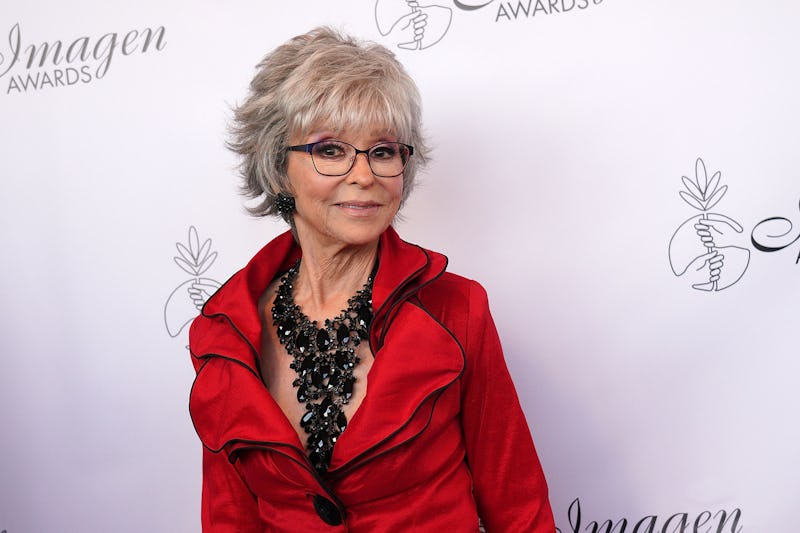 JC Olivera/Getty Images Entertainment/Getty Images
In 1961, she lit up the screen as the lively, charismatic, and iconic character Anita. 57 years later, Rita Moreno joined the West Side Story remake in a totally well-deserved and full-circle moment. On Tuesday, Deadline reported that Moreno is a part of Steven Spielberg's upcoming WSS remake, taking on more roles than one and each are perfect for the 86-year-old EGOT winner.
Moreno not only has an acting role in the reimagining of the film, but she will serve as an executive producer as well. Who better to take on these jobs than one of the crucial people who made the first film so legendary (and won multiple awards for it in the process)? What makes Moreno's new role even more special is that it was specifically tweaked and expanded for her. She'll be playing Valentina, owner of the corner store Tony (originally played by Richard Beymer) works at. In the film, the character was Doc, played by Ned Glass.
For Moreno, this wild turn of events is a dream come true. "Never in my wildest dreams did I see myself revisiting this seminal work," the actor said in a statement to Deadline. "And to be asked by Steven Spielberg to participate is simply thrilling! Then to work together with the brilliant playwright, Tony Kushner – what a glorious stew! I am tingling!"
Spielberg relayed in a statement that he is just as honored to have her on board. According to the iconic director, Moreno was being eyed for the remake since the start. "From our earliest discussions, we wanted to include Rita Moreno in our production," he said in the statement to Deadline. "Her Anita is one of the greatest musical performances ever filmed, and a personal favorite of mine. We created an original role for her."
Spielberg further acknowledged how valuable and special the addition of Moreno will be to the film. "We feel beyond fortunate that Rita will bring her extraordinary gifts as an actress, as well as her deep understanding of West Side Story to this production as an executive producer," he said.
The 1961 film adaptation of the 1957 Broadway musical earned Moreno an Academy Award and Golden Globe for Best Supporting Actress. In the modern Romeo and Juliet-inspired story, her character was the girlfriend of Bernardo (George Chakiris), leader of the Puerto Rican gang The Sharks. A gang war ensues in a 1950's Upper West Side when Bernardo's younger sister Maria (Natalie Wood) falls for Tony, co-founder of the American gang The Jets. Moreno's iconic numbers include "America" and the "Tonight Quintet."
Filming, which starts in Summer 2019, just might be a surreal experience for Moreno. Until now, the Oscar winner has been the only confirmed cast member in addition to Ansel Elgort, who will play Tony (which was revealed in October). In the fall, it was announced that Steven Spielberg was holding an open casting call for the film to find fresh new faces who could play Sharks and Jets. The auditions took place in New York on Sept. 11 for 15 to 25-year-old male and female performers.
Sadly, Moreno's original co-star Natalie Wood passed away in 1981, but her co-star would certainly be proud of Moreno today.