Ritz Crackers Have Been Recalled For Possible Salmonella Risk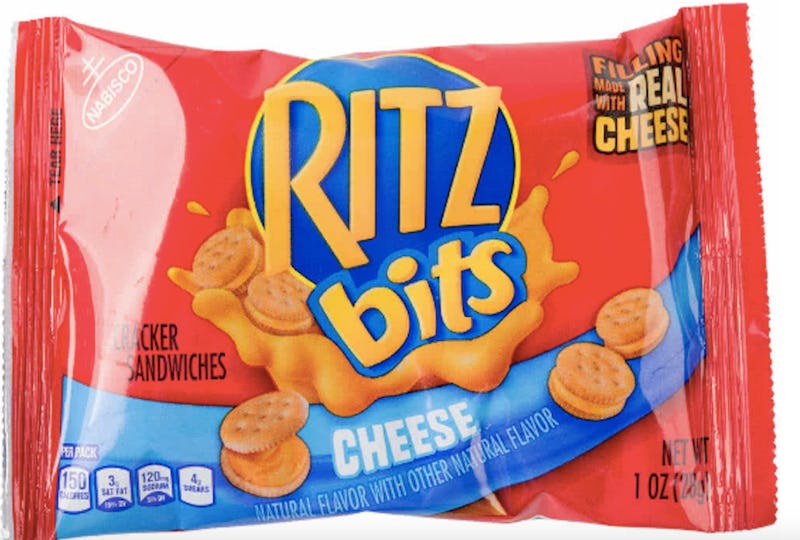 Next time you're perusing the grocery store for late night snacks, you may notice that some of your favorite Ritz cracker varieties are missing from the shelves. Only July 21, Mondelēz Global, which produces the famous snack line, announced that certain Ritz crackers and Ritz Bitz products are being voluntarily recalled due to the potential risk of Salmonella contamination. The affected products are being pulled due to one of their common ingredients: whey powder. The supplier of whey powder already recalled the ingredient due to concern over the possible presence of Salmonella, and Ritz has quickly followed suit. The recall affects a total of 16 different Ritz products sold throughout the United States, and is focused on Ritz cracker items that contain cheese. (A full list of the products, as well as the range of expiration dates that are being recalled, is available here.)
Mondelēz Global explained that the decision to pull certain Ritz products is a measure of precaution taken after the whey powder supplier's recall. So far, there have been no complaints of illness reported to the company — but they advise consumers who have any of the affected products at home not to eat them and to discard them instead.
The Centers for Disease Control and Prevention (CDC) reports that Salmonella causes approximately 1.2 illnesses per year, one million of which are food-related. Symptoms typically present 12 to 72 hours after infection, and include diarrhea, fever and abdominal cramps. Most healthy people can recover from Salmonella can recover in a few days without specialized treatment, however some complications can occur. The elderly, infants, and those with weakened immune systems are at higher risk of experiencing a more severe illness.
The Ritz cracker recall is one of several Salmonella-related food product concerns this year. According to the CDC, a multi-state outbreak of the infection has recently been linked to raw turkey products. A single supplier of raw turkey products has not yet been identified, but 90 people over 26 states have been infected so far. Other current, widespread outbreaks of Salmonella have been found in Kellogg's Honey Smacks Cereal, which the CDC continues to recommend steering clear of, Hy-Vee Spring Pasta Salad, and pre-cut watermelon, honeydew, cantaloupe, and fruit medley products sold in stores.
With several common products being recalled due to Salmonella this year, the CDC offers a variety of tips for preventing the spread of the infection. They urge people to make sure poultry, ground beef, and eggs are cooked thoroughly (and to not be afraid to send any of these items back at a restaurant if you suspect that they are undercooked), wash hands and kitchen tools after handling raw meat or poultry, and be "particularly careful with foods prepared for infants, the elderly, and the immunocompromised."
Mondelēz Global encourages customers who have additional questions about the Ritz cracker recall to contact them at 1-844-366 -1171, where they can be reached 24 hours a day. Be sure to avoid purchasing or eating the affected products while the potential exposure to Salmonella is in effect. More information about Salmonella and consumer products affected by the infection can be found on the CDC's website.
Editor's Note: The main image of the piece was updated to better reflect the products that are being recalled.