These 'Riverdale' Season 3 Photos Hint At What's Next For The Cooper Family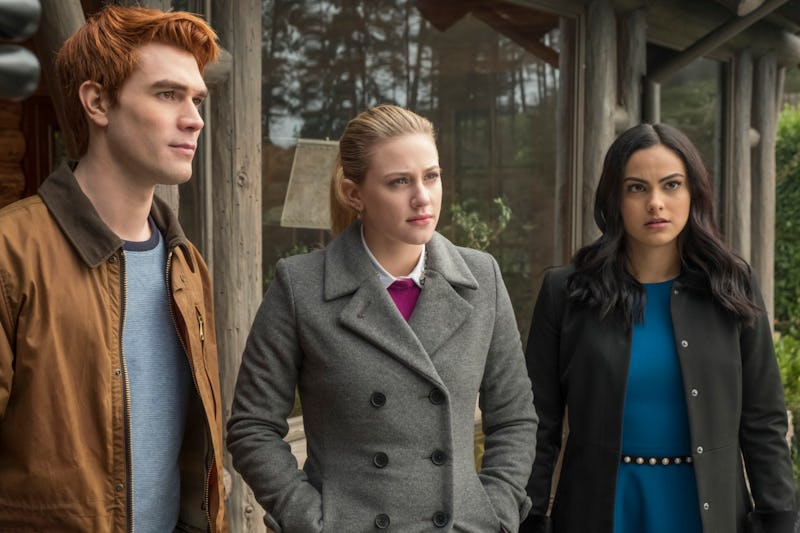 Katie Yu/The CW
Archie and the gang are back in Riverdale. The third season of the hit CW show began filming this week, and on Tuesday, July 10, the cast shared the first photos from the set of Season 3 of Riverdale. While the photos don't reveal much about the plot, the actors gave viewers a glimpse behind the scenes as they got back into character.
Early Tuesday morning, Mädchen Amick, who plays Alice Cooper, shared a photo on Twitter of herself surrounded by her on-screen daughters, Lili Reinhart and Tiera Skovbye who play sisters Betty and Polly Cooper, reuniting to film the actor's first scene of Season 3. While Amick was careful not to let any specific details slip, it looks like the Cooper women are reuniting — and presumably regrouping — after their father, Hal Cooper, played by Lochlyn Munro, was revealed as the Black Hood and arrested at the end of the second season.
"The streak is alive," Amick wrote, "Day 1 of of each season of #Riverdale involves the #Coopers [heart-eyes emoji] Missed my girls @lilireinhart @tskovbye1." It looks like Season 3 is carrying on a Riverdale tradition for Amick, who suggests in her Tweet that every season has begun with her filming with Reinhart and Skovbye.
Reinhart later posted a photo of herself and co-stars Camila Mendes and Madelaine Petsch — who play Veronica Lodge and Cheryl Blossom, respectively — reclining in a hammock in their comfiest apparel, appropriately captioning the photo, "This is an ad for bathrobes."
Reinhart and Mendes also took to Instagram Stories to share plenty of tidbits as they got to work on Season 3, including the not so glamorous parts.
Reinhart revealed she'd been filming in a swimsuit despite the less-than-ideal weather. The actor shared a screencap of her iPhone's weather app which showed local conditions in Vancouver — where the show films — to be a chilly 60 degrees and cloudy, along with the caption, "Nothing like filming in a bathing suit!!!"
The less than perfect poolside forecast seems to confirm that Reinhart, Mendes, and Petsch were likely wrapped in robes to keep warm between takes. Mendes shared a video on her Instagram Story that gave a better look at the scene the three were filming, featuring plenty of bathing suit-clad extras in the background. She took some time to goof around in the video, getting her foot quite close to Petsch's face, captioning the picture, "rate me @wikifeet".
Mendes also shared a blurry video of Cole Sprouse, who plays Jughead Jones, as he sang along to music in the car on their way to set. She publicly questioned his taste in music, writing, "when cole makes us listen to creed on the way to work".
It's Season 2 of Riverdale ended with Archie also facing jail time, and Cheryl joining criminal cohort the Southside Serpents — with Betty seemingly soon to follow — and while the cast's photos didn't reveal much about what's to come in Season 3, showrunner Roberto Aguirre-Sacasa told Entertainment Tonight in May that, when the third season premieres, the show will pick up right where it left off. He said,
"The Serpents are currently in a giant state of flux. They've got a new leader, they've got two new members, and they've left their old territory — the Southside — behind. We hope they're going to exist and Jughead has said that he's going to keep them going, but how? They're the Southside Serpents and they don't live on the Southside anymore and a lot of them have defected. I think that's a very big question that we hit early on in Season 3."
He also noted that the show will take on an even more sinister tone, calling the town itself "Sin City in a sense." He added, "On some level, this next season will be able how our characters try to maintain their decency and optimism while living in the once all American town, which has now descended into chaos and become a full fledged crime town."
While Riverdale's third season doesn't premiere until October 10, now that the cast is filming again, fans can look forward to plenty more behind-the-scenes photos from the set.