Rob Kardashian's Explicit Posts About Blac Chyna Are Not OK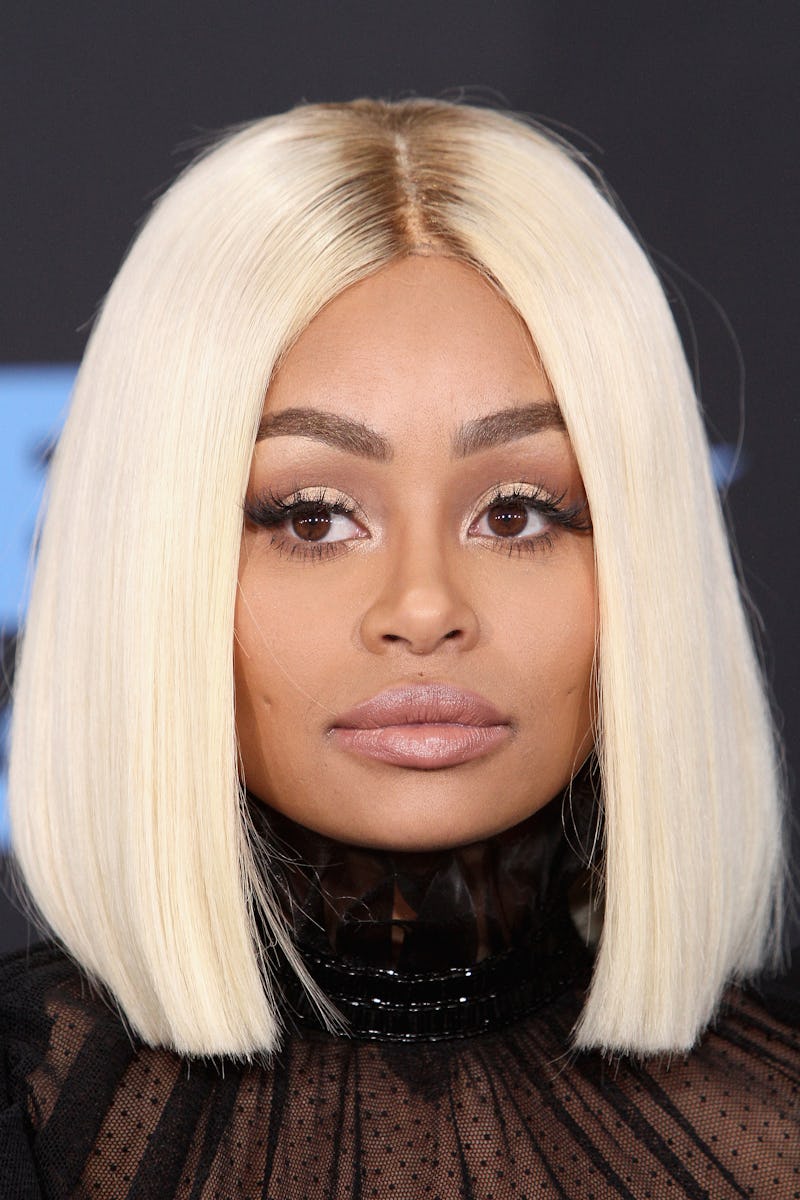 Maury Phillips/Getty Images Entertainment/Getty Images
Blac Chyna and Rob Kardashian's split in February was, at first glance, amicable. The two stars got engaged in April 2016, and had their first child together, Dream Renée, in November. While their reality show, Rob & Chyna, documented many fights between the couple, their decision not to marry was reportedly mutual. Still, on Wednesday, their split took an ugly turn when the reality-star attacked his former-fiancée on social media once again, sharing NSFW photos he claims Chyna sent to him and accusing her of cheating. But regardless of the reason, Kardashian's decision to share explicit photos of Chyna seemingly without her consent to get back at her for something he claims she did is indefensible and could be a form of revenge porn. Bustle has reached out to reps for Chyna and Kardashian for comment on their allegations, but did not receive a response at the time of publication.
Revenge Porn is defined by the Cyber Civil Rights Initiative as sexually explicit photos distributed without consent over an online medium. It's an issue so prevalent that 39 states have instituted laws to protect victims, and in many states criminal charges can be filed. When it comes to whether Chyna will pursue legal action or whether the photos Kardashian posted fit California's definition of the crime of revenge porn, that's currently unclear. That said, in 2014, California updated its revenge porn law to include selfies, which the photos Kardashian posted appear to be.
Kardashian's posts began on Wednesday morning, when the reality star posted a video of Blac Chyna kissing an unidentified man. Kardashian claimed Chyna sent the video to him, and unleashed a series of curse-filled rants and explicit pictures of his ex. "Hahahaha Chyna just sent me this video saying happy 4th of July what a crazy person," he captioned the first video of Chyna. "Come spend time with your daughter instead of f*cking me and then this dude right after. U need help."
In addition to the photos, Kardashian posted several screenshots of text conversations allegedly between himself and Chyna, and himself and a man he claimed Chyna cheated on him with. "This is the dude Chyna got caught cheating on me with for a minute now. And look he texted me asking for help and said he needed money cuz he can't afford to pay Chyna's bill so that's why I pay her bills," he claimed in a caption under the since-deleted picture of the text conversation. "More receipts are coming. Just yesterday Chyna sent me her p*ssy and everything and said she gonna come f*ck me … wait for it. Never once have I cheated on Chyna and I remained loyal to her even after all the cheating she been doing and the multiple men she been f*cking including me."
Kardashian's claims that Chyna exploited him for money or cheated on him are separate issues from what seems to be a violation of her privacy. After posting the text conversations, he shared several nude photos that he claimed the star sent to him in private. If these photos are, in fact, of Chyna, it doesn't really matter what transpired between them emotionally or financially, violating consent to prove a point is unacceptable. And if the photos are of someone else and were still shared without consent, that rule still applies.
In response to the incident, Chyna shared two text posts to Snapchat alleging that Kardashian was physically abusive. The posts have been deleted, and she has since posted videos boasting a diamond watch and rings.
Kardashian seemingly responded to the accusations in a series of note posts, disputing Chyna's claims and further condemning her alleged behavior. The explicit photos were removed from his account. While this is undoubtedly the former couple's most intense fight online to date, the fact that they've both participated in fights on social media before doesn't excuse Kardashian's actions over the course of the morning. One of the main critiques in his diatribes against Chyna is the poor example she allegedly sets for their daughter, but given his recent behavior, there's some hypocrisy in the sentiment.
The accusations that Chyna and Kardashian voiced on Wednesday are unconfirmed. However, it's important to separate the drama in their relationship story from Kardashian's actions, as revenge porn is an issue that directly impacts many people — famous or not — and shouldn't be condoned in any context. If Kardashian posted explicit pictures of his ex without her consent, it needs to be called out, even if it occurred in the midst of a drama-fueled argument.