Ayda Field Shared An Emotional Anniversary Message For Robbie & No You're Crying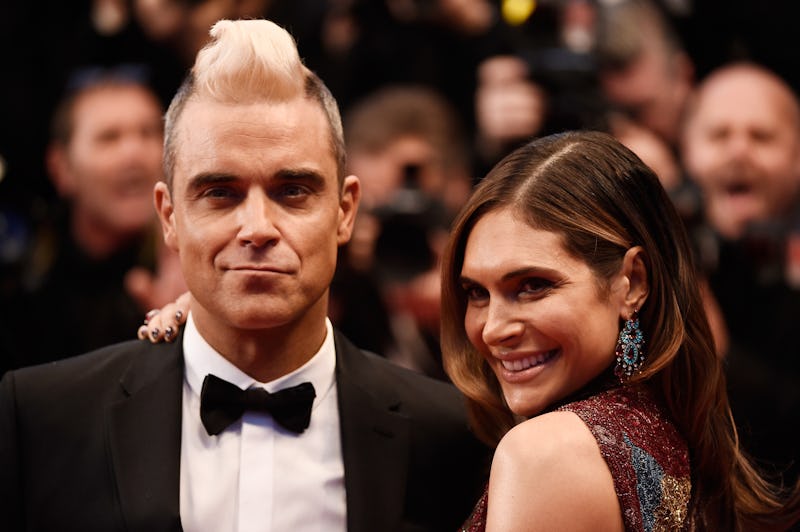 Ian Gavan/Getty Images Entertainment/Getty Images
In my humble opinion, two of the greatest things Instagram has ever bought us are Throwback Tuesdays and partner appreciation. Whether it is an emotional engagement announcement or a pic from yesteryear, I am there for it all. And a certain someone combined the two on Tuesday. You see, August 7 marked Robbie Williams and Ayda Field's eighth wedding anniversary, and she marked the occasion by posting a heartfelt tribute to her hubby on the social networking site.
Field did this by sharing a beautiful, never before seen image of the couple on their wedding day. In the snap, Williams can be seen wrapping his jacket around Field's shoulders as she holds her bouquet. The newlyweds both look completely elated. In the background of the post, Journey's hit 'Don't Stop Believing' plays.
But hold on to your horses because this is the best part and, honestly, it is probably the sweetest thing you'll read all day. Field very cutely captioned the post: "@robbiewilliams 8 years ago today we got married. Thank you for taking the midnight train to anywhere with me. It's been the journey of a lifetime. Happy Anniversary! I love you!! #happyanniversary #soulmate #ryda AWxx."
Check out the ridiculously adorable tribute post below:
Whilst Robbie was known in his younger years for being a bit of a ladies' man, he told Hello! magazine that all changed when he met his wife. Opening up about the moment he knew he wanted to spend the rest of his life with Field, he said: "In that instant, something clicked, it was like Sliding Doors and I thought we should get married. So I got in a car and went to her door and that's the moment I committed to her. She makes me want to be a better person. And in the process, I have become a better person."
The couple first started dating back in 2006 after being introduced by some mutual friends. Four years later they had a very private 'non-traditional' wedding ceremony in their Beverley Hills home. The ceremony was so private, their 60 guests thought they were going to a James Bond themed party until moments before the wedding started. Instead of having the standard eight bridesmaids and a best man, the had their dogs assist them on the big day. I guess that would have saved all the squabbling about hen party destinations.
Just after the wedding, Field appeared on Loose Women and spoke about the wedding. She said: "I didn't have time. My dogs were my bridesmaids. It was amazing, by the way. It was the most amazing day of my life. But we didn't get to do the engagement party, and the hen do, the stag do."
In 2012, the couple welcomed their first daughter, Theodora 'Teddy' Rose into the world, and in 2014 they had their second child, Charlton 'Charlie' Valentine. They have been serving us rock and roll family goals ever since.
The couple are going to be gracing our screens a lot more together in the coming autumn too. After months of speculation about who will sit on this year's X Factor judging panel, both Williams and Field confirmed they will be joining Simon Cowell and Louis Tomlinson when the show starts later this year.
And it looks like Field is more than ready to take on her new role with her husband by her side as she posted. Taking to Instagram, she posted the below snap and captioned it: "Me and my boys @thexfactor @robbiewilliams @louist91 Simon Cowell #dreamjob #dreamteam #luckygirl AWxx."
Well, I don't know about you, but I'm certainly looking forward to seeing Field and Williams on the telly. I can't wait to see how they get on judging the nation's talent.