How Trump's Tweets Could Come Back To Haunt Him — Because Of Mueller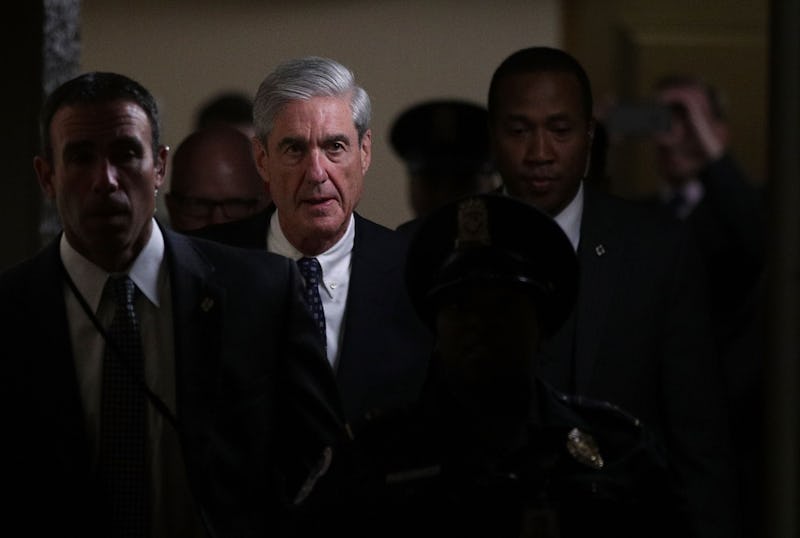 Alex Wong/Getty Images News/Getty Images
President Trump's tweets are pretty widely circulated, but they might just be about to undergo a new type of scrutiny in the coming months. According to The New York Times, Special Counsel Robert Mueller is scrutinizing Trump's tweets to see if the president obstructed justice by interfering with the Russia investigation. More specifically, Mueller will be looking at "tweets and negative statements" made by Trump about former F.B.I Director James Comey and Attorney General Jeff Sessions, the Times reported. This is a big deal for one particularly important reason: obstruction of justice is an impeachable offense.
The reason why Mueller is looking into Trump's statements and tweets is because he's trying to gauge what type of influence Trump exerted over both Sessions and Comey. According to writers Michael Schmidt and Maggie Haberman of The New York Times, Mueller wants to know whether Trump was "both intimidating witnesses and pressuring senior law enforcement officials to tamp down the inquiry." Mueller has not yet confirmed these reports.
In response to rumors of alleged obstruction, Trump's lawyers have argued that none of what Mueller is focusing on is technically "obstruction." Rather, they've argued that most of the things Trump has done, including his firing of Comey, has fallen under the umbrella of his authority as president, point blank, according to The New York Times.
However, Schmidt and Haberman suggested that Trump's lawyers might be more concerned in private:
Privately, some of the lawyers have expressed concern that Mr. Mueller will stitch together several episodes, encounters and pieces of evidence, like the tweets, to build a case that the president embarked on a broad effort to interfere with the investigation. Prosecutors who lack one slam-dunk piece of evidence in obstruction cases often search for a larger pattern of behavior, legal experts said.
Trump's general opinion of Mueller's investigation has been largely dismissive, and he's railed against it a number of times, especially on Twitter. In one such tweet, Trump said, "The Mueller probe should never have been started in that there was no collusion and there was no crime. It was based on fraudulent activities and a Fake Dossier paid for by Crooked Hillary and the DNC, and improperly used in FISA COURT for surveillance of my campaign. WITCH HUNT!"
As for Rudy Giuliani, Trump's lead lawyer in the case, he didn't think much of the reports that Mueller might be looking into Trump's tweets. Via The New York Times, Giuliani said, "If you're going to obstruct justice, you do it quietly and secretly, not in public."
If Mueller is in fact going through Trump's tweets and public statements about Comey and Sessions, he'll have his work cut out for him. Trump has spoken out about both men on dozens of occasions, calling Comey "slippery" on Twitter and calling Sessions "disgraceful" on another occasion. Trump's feuds with both gentlemen are so long and detailed that publications have released fully fledged timelines for both Comey and Sessions.
Trump himself has yet to comment on the report that Mueller is looking into his statements or tweets. Still, that hasn't stopped publications from starting to round up all of the tweets that might raise suspicion from Mueller, if he does decide to investigate.