Robin Wright Got Married Over The Weekend & The Ceremony Sounds So Low-Key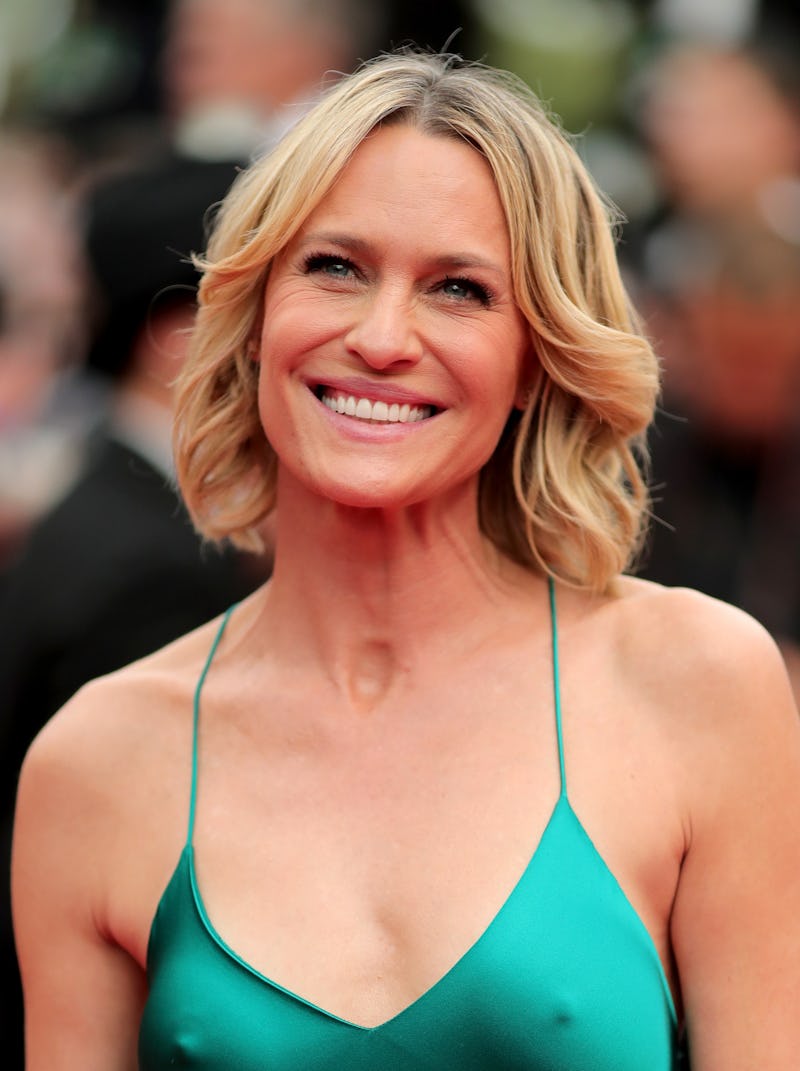 Neilson Barnard/Getty Images Entertainment/Getty Images
Well, here is some exciting news. According to Vogue Paris, Robin Wright married Clement Giraudet on Aug. 11 at a location that remains currently unknown. The publication reports the rumored ceremony was "low-profile" and "ultra-secret." Bustle reached out to Wright's rep for comment, but did not receive an immediate response.
As described by Vogue Paris, the wedding had a bohemian theme, including Wright's gown. On Aug. 12, @robinwrightnow, an Instagram fan page dedicated to the House of Cards star, posted a photo of what appears to be Wright wearing a wedding dress. The 52-year-old actor also looks beyond happy. In the image, she is also seen hugging a man whose face remains hidden. The man with Wright could very well be Giraudet. If you look closely at the Instagram photo, the man has a gold band on his ring finger.
Vogue Paris also reported Wright and Giraudet invited their "nearest and dearest" loved ones to celebrate with them. That could very well be the case, as least based on an Instagram video Dylan Penn shared and captioned, "Weddin vibes" on Aug. 12. Penn, Wright's daughter from her second marriage to Sean Penn, also tagged La Roche-sur-le-Buis, located in southeastern France, as the location. This may or not be where the supposed wedding took place. The video also shows people dancing and having a great time, all while wearing bohemian attire.
On Dec. 27, 2017, Page Six reported that Wright and Giraudet were reportedly dating. At the time, a source told the publication the Golden Globe-winning actor and the Saint Laurent VIP relations manager spent the holidays together skiing in Tahoe City, California. According to Page Six, in May 2017, Giraudet posted photos of himself at the Cannes Film Festival, which Wright was also attending at the same time. Per the publication, Wright also gave a talk at the festival sponsored by Kering, the same group that oversees Saint Laurent. That said, Page Six reported the two weren't ever seen together.
In September 2017, the Daily Mail shared photos of Wright and Giraudet during Paris Fashion Week at a soccer game held at Parc des Princes Stadium. Wright's son, Hopper Penn, also joined them. At the time of the Daily Mail's report, Giraudet was simply labeled as a "mystery man."
Even though marriage reports are only now surfacing, on July 23, Us Weekly published photos of Wright and Giraudet wearing matching gold bands on their ring fingers during a trip in Capri, Italy. Apparently, they've been seen wearing these gold rings ever since March when they attended a soccer match in Paris at the same stadium they were first photographed together in September 2017.
Wright and Giraudet appear to be an extremely private couple. They've never discussed their relationship publicly, nor have they ever confirmed they are even romantically involved. There's a good chance neither of them will ever confirm the marriage reports. But if or when Wright and Giraudet do ever go public with their romance, it will certainly be on their own terms.