All The Secrets To Dressing The First Female President On 'House of Cards'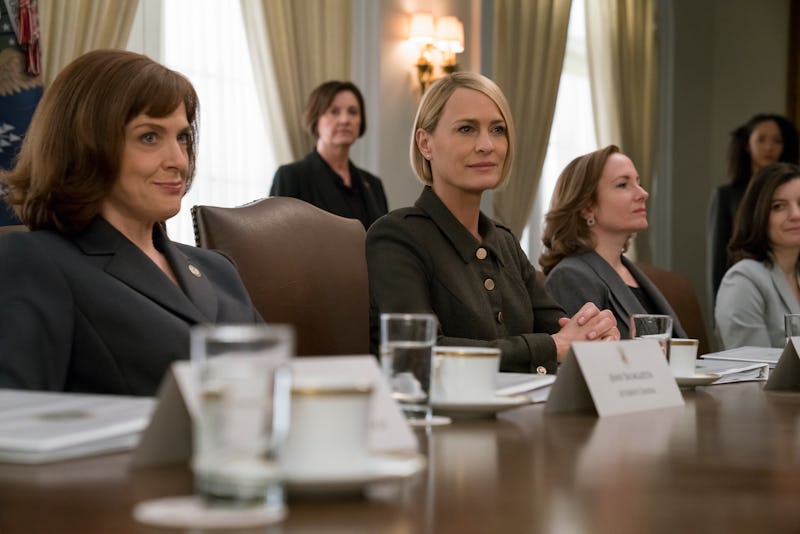 David Giesbrecht/Netflix
Robin Wright is the kind of person who could wear a garbage bag and still somehow make it look chic, which is just one of the many reasons that her House of Cards character, Claire Underwood, is so captivating onscreen. While the actor might make getting dressed look easy, the character's look is meticulously curated with the overall effect of Claire's personal style seeming restrained in way that often betrays her cutthroat ambition. That sort of thing isn't simple to pull off, which is why House of Cards stylist Kemal Harris is so essential to the series and Claire Underwood's evolution.
Harris previously had the enviable job of being Wright's personal red carpet stylist, and since they got along so well, Wright asked her to come on set in Season 3. Since then, she has created every single one of Claire's looks; she's also styling Diane Lane's character Annette Shepard in Season 6. The series has a separate stylist team for all of the other characters, which speaks volumes about how much thought goes into every blouse, zipper, and heel viewers see on Claire.
Putting together Claire's wardrobe for this final season was different from past seasons in one major way, although Harris tells Bustle that the character's style is pretty classic overall. "She's never one to jump on a trend or you know, rock an asymmetrical sleeve just because," Harris explains. While the transition to presidential looks was "fairly easy" thematically, it was more laborious to actually put together than in past seasons.
Since a woman in politics is often judged by the cut of her pantsuit or the plunge of her neckline, everything about Claire's looks had to be just right. In past seasons, Harris and her team had bought things off the rack at high-end retailers like Barneys or Bergdorf Goodman and tailored them to be unique to Claire, or they used Harris' red carpet relationships with designers like Ralph Lauren or Michael Kors to get pieces on loan. But this time, Harris had to make everything from scratch.
"Because it's so specific — the first female president — a lot of the things I was seeing on the runways and in the stores just weren't quite right," Harris tells Bustle. "So I ended up designing and creating almost a hundred percent of the clothes this season."
Harris adds that since she didn't have any female American presidents to look to, it was really all up to her to imagine what Claire would wear and when — on Air Force One, in a cabinet meeting, smoking a cigarette in the White House residence. In this final season, Harris explains that Claire has a "lot of pressure, she's female, she has a lot of battles with people who were working closely with her husband. It feels like Claire against the world this final season, and she doesn't really have that many close friends. She's in battle this final season." Her clothes function as her armor.
"One thing I definitely kept in mind was the color palette. Blues were important and [so was] the military green that we saw a little bit in Season 5," Harris explains. There are military buttons and piping reminiscent of a Marine's dress blues. Silhouette wise, where's nothing above the knee ("Although we rarely did that anyway," Harris says.) There are more pants, higher necklines, and longer sleeves. I suggest to Harris that it almost feels like a dictator vibe, and she says that that was all intentional. "She's quite 'buttoned up,' so to speak, and ready for the job," Harris says. Even Claire's navy blue silk pajamas she wears in the White House home theater have big buttons, a stark white collar, and cuffs. This woman doesn't plan on relaxing, ever.
There are some notable accessories this season that enhance this vibe, too. Harris says that in doing her research, she found that every president used to wear a lapel flag pin and had their very own personal cufflinks styled by the White House to commemorate their taking of the office.
"We decided to forego the pin because Claire is the most patriotic person — she lives and breathes and dies for the country, so we didn't think she needed or would be the type to have a pin to prove it," Harris says. But she did reach out to the White House gift shop and found a pair of cufflinks, a traditionally male accessory, that were limited edition and not for sale. Claire wears them throughout the season. "I made sure that every jacket and dress had a French cuff so that she can wear them," Harris says. Once you know that, it's hard not to look for them every time Claire is on screen.
One big departure from earlier seasons is that Claire doesn't have any bags this season. "She's had beautiful [Yves] St. Laurent and Ralph Lauren bags, and we've really enjoyed having her walk around with those [in previous seasons]," Harris says a little wistfully. "But, pardon my French — she's the f*cking president. She's not carrying around anything, there are people for that," Harris adds. Sacrificing a St. Laurent bag for plot purposes is rough, but Harris does have a point. Claire is all business this season, proving her worth to the country. She can't be seen digging through her clutch for a tampon outside of a state dinner.
Of all the looks this season, Harris says her favorite might be the navy blue outfit that Claire wears in the Season 6 trailer, standing in the Oval with her fists on the desk. "That was sort of our first foray to the presidential vibe with a high neck and everything. It really felt like everything clicked into place when we put that on," she says.
Harris might not have had any female presidential style icons to be inspired by while creating the wardrobe. But one day, the actual first female president should definitely take some style cues from Claire Underwood's cuffs and color palette. Claire may not be the political role model the world needs right now, given all the murder and blackmail, but Washington, D.C. could definitely do with ditching the frumpy pantsuit someday soon.