'B99' Star Stephanie Beatriz Wants A Girlfriend For Rosa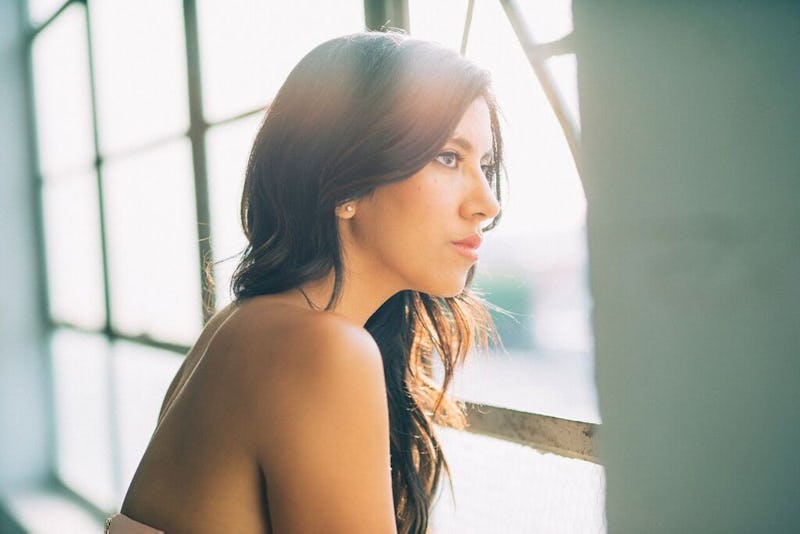 Nate Taylor
The relationships on Brooklyn Nine-Nine are often platonic, which I applaud and appreciate, but it's always fun to peek into the private lives of the precinct. Rosa, a character whose emotional walls are fortified with ammunition and toe shoes, was last in a relationship with a man who casually faked his own death. In an interview with Bustle, Stephanie Beatriz suggests that Rosa date a woman on Brooklyn Nine-Nine — though Rosa's romantic fate is currently up in the air.
"She's had two boyfriends at this point," Beatriz says, "or two beaus, and both of them have been really fun in their own odd ways. I personally think it would be really fun to see her date a girl. It's been dropped quite a few times in the series that she is attracted to girls. It's not a problem for her."
One of the best things about Brooklyn Nine-Nine is that it has a sort of casual progressiveness to it, both in casting and storytelling. "People say that our show is diverse," Beatriz says, "and I think that that is a nice thing to say but more importantly there's a lot of representation on the show."
Representation is not something that everyone always thinks deeply about, especially when it is not a problem for you to see yourself on screen.
"If you sit down and think to yourself," Beatriz suggests, "'OK, well who am I in this world? What color is my skin? What's my ethnicity? Am I an immigrant? Am I gay, straight? Where do I come from? Can I see myself on TV?'"
Then think about the people who don't share your experiences, whether or not they are on TV — and if so, what kind of roles are they in? It's all a matter of perspective. Brooklyn Nine-Nine makes representation and conversations about race and sexuality look easy, and they're never the butt of a joke.
When it comes to Rosa's romantic life specifically, I feel like I should remind everyone that Beatriz is not a Brooklyn Nine-Nine writer or producer.
"What's so funny/irksome," she says, "is when fans of the show ask or are really demanding of me on social media, like 'make Rosa date a girl!' I love and hate the feeling of not knowing where it's going." The actor promises her fans that she has "definitely no say in what's gonna happen."
Beatriz's ability to dictate story also extends to who gets to come and play with the Nine-Nine, but for the record, her number one guest star wish is Dolly Parton. So now I either need to see Rosa revealing that she's equally obsessed with the country music queen, or Beatriz — who has a background in theatre — in a revival of 9 To 5 on Broadway. Whichever comes first is fine by me, but I'm not in charge either!
"Any chance to see Rosa be Rosa in a situation that she's not in control of necessarily would be really fun," says Beatriz. "I think in her personal life she's more trepidatious."
It's rare that we see Rosa outside of work on the show. Both of her significant relationships have been with guest actors, first Nick Cannon and then Jason Mantzoukas as the aforementioned Adrien Pimento.
"I also don't know what's going to happen with Pimento," Beatriz muses, "because he's so fun and they do have so much in common that that might just be it. She might just be in love with him forever."
Personally, I'm a fan of Rosa and Pimento's relationship mostly thanks to Mantzoukas as a performer, but I'm definitely open to anything. I think Brooklyn Nine-Nine might be too.
"I think back to when I was a teenager," Beatriz says, "or back to when I first started watching television and it was very difficult to find television shows that had somebody that looked like me on them."
There is still work to be done, but Beatriz declares that she is extremely fortunate to be on a show like Brooklyn Nine-Nine and that it is "it's flabbergasting and wonderful" what strides in representation — possibly including a girlfriend for Rosa Diaz — are being made on her sitcom today.