Rosé Cider Cheese Exists & It Is A Booze-y Cheese Dream Come True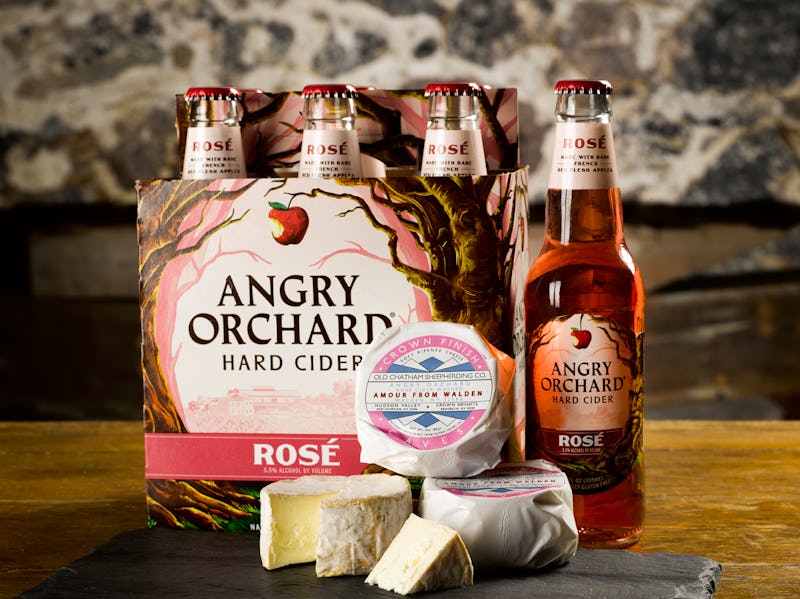 Angry Orchard
Rosé is not exclusive to your wine glass anymore. Everyone's favorite pink beverage has become intertwined with a most complimentary partner: cheese. Yes, rosé cider cheese is here and just in time to dazzle your holiday spread. Thanks to a collaboration between the Hudson Valley's Angry Orchard Cider and Brooklyn's Crown Finish Caves the cheese of our dreams exists.
You might have previously been under the impression that nothing except wine could be considered rosé. But hard cider can be pink, too. Angry Orchard's hard cider rosé is made from swoon worthy red flesh apples via France, which lends the cider its millennial pink hue. It's very lovely and all, but the real romance we've all gathered here today for is between this cider and our beloved cheese.
It's a pairing that's not unheard of. A bite of brie washed down with a sip of an appropriately paired cider can strike you like cupid's arrow. It will make you believe in love again. And now cider makers are teaming up with cheese makers to match the two into a single, euphoric bite. Case and point, the aptly titled Amour From Walden, the "soft-ripened cow and sheep's milk triple crème" cheese that will steal your heart this holiday season.
There's something other than the subway that runs deep beneath the streets of Brooklyn. That would be a cheese cave. Crown Finish Caves, a cheese aging facility in — or rather below — the Crown Heights neighborhood, is familiar with using beer and cider to age cheese.
How does this technique make a cheese more special than any single slice you'd shove between two slices of bread for grilling? According to a press release, "The young cheese from Crown Finish Caves used for Amour from Walden offers mouthwatering, complex flavors from its blend of rich sheeps' milk and cow cream. Together, the result is an undeniably autumnal creamy cheese with a subtle apple taste from the Angry Orchard Rosé cider wash." I don't mean to be ~cheesy~, but this sounds like a complex, mysterious, beautiful, swipe right worthy bite you'll fall in love with.
There are sparks between the young cheese from Old Chatham Sheepherding Creamery and Angry Orchard's cider. Head cider maker Ryan Burk explained in a press release, "One of the things I love most about our cider is the diversity of flavors, aromas, and characteristics we can create from a raw ingredient, the apple." He continued, "Cheese is very similar in that there are incredibly rich flavors and textures developed all from its base ingredient, milk. We're thrilled to bring cider and cheese together." What we, those who ship cider and cheese, get to indulge in as a result is an out-of-bottle experience.
Amour From Walden is the cheese that will brighten your cheese board this holiday season. The "fruit-forward" taste is sure to woo your guests. The rosé cider wash cheese is only available for a limited time. You can find it at Saxelby Cheesemongers located in Manhattan's Chelsea Market. If you're not in close proximity to the brick and mortar, the cheese can also be ordered online through Saxelby's website. It retails for $16.
Though the cheese is only available for a limited time, Angry Orchard's Rosé Cider is available year round. Cozy up to it fireside through the winter and cool off with it porch side during the summer. It's crucial to note that when it comes to both the beverage and the cheese, you must be over 21 years of age to consume. Yes, it might seem strange, but this cheese requires a valid ID to purchase. Cheese plate responsibly, friends, and enjoy!