Rose McGowan's Tweets Naming Every "Spineless Profiteer" Who Knew About Harvey Weinstein Are Fire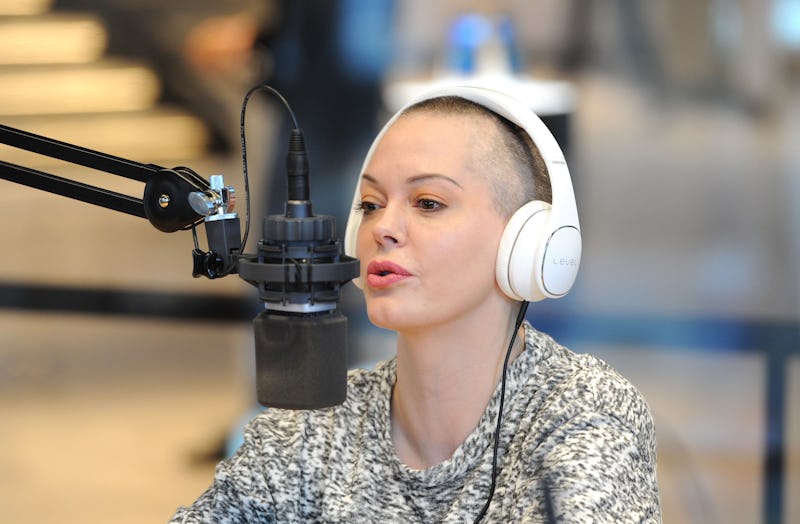 Craig Barritt/Getty Images Entertainment/Getty Images
Allegations that Hollywood mega-weight producer Harvey Weinstein sexually harassed and assaulted women in the industry over several decades have shaken the entertainment industry. The New York Times and The New Yorker both published exposés detailing multiple women's claims against the producer — including rape allegations — all of which Weinstein has denied. Several A-list actresses have spoken out, but still the bulk of Hollywood's male stars remain silent on Weinstein. Rose McGowan is not here for it.
One among many women accusing Weinstein of sexual misconduct, the actress is using her Twitter feed and #ROSEARMY campaign to call out hypocrisy, exhort others to speak out about sexual harassment and assault, and advocate to "completely dissolve" The Weinstein Company. She is also using the hashtag #ROSEARMY to rally women and "slay dragons" — presumably dragons that include the "untouchable" echelon of Hollywood's most elite. She's started a petition to pressure the Weinstein Company to shut down, an end for the accused producer's namesake that some see as both fitting and inevitable.
Part of her effort to confront the alleged culture of sexual misconduct in Hollywood includes a willingness to take on Tinseltown's brightest male stars, ones that McGowan says knew about Weinstein's alleged behavior. In the days since the Times story broke, she has become a leading figure pushing for men in the industry to be held accountable.
Ben Affleck
Example A: Ben Affleck. After the actor responded to the news on Weinstein, saying he was "saddened" by and "angry" at the producer's conduct, McGowan shot back. Replying on Twitter, she claimed that Affleck had said "GODDAMIT, I TOLD HIM TO STOP DOING THAT" when she told the young actor in 1997 that Weinstein had mistreated her.
The Times clarified with McGowan that she was indeed saying Affleck knew Weinstein had a pattern of sexually inappropriate behavior towards women. "I am saying exactly that," she responded. Affleck has not responded to McGowan's accusation, or requests by the New York times for comment.
Michael Eisner
Affleck isn't the only major name coming up for derision in McGowan's Twitter feed. She's also taken on former Disney CEO and owner of Miramax, Michael Eisner. The movie mogul tweeted out that he had fired the Weinstein brothers in 2005 because "Harvey was an incorrigible bully" and said he had "no idea he was capable of these horrible actions." McGowan was apparently not impressed nor convinced by Eisner's case.
Brent Lang and Gene Maddaus at Variety cite former staffers at TWC and Miramax reporting that even if they never personally saw Weinstein harassing or assaulting a woman, that behavior was "common knowledge" within both companies. Disney bought Miramax in 1993, while Eisner was CEO, and Weinstein was not fired until 2005 — the same year Eisner left Disney. Eisner has not responded to McGowan's tweet.
Bob Weinstein
McGowan offered evidence suggesting Weinstein's brother, Bob Weinstein, knew of the sexual harassment and assault, and chose not to come forward.
Bob has called his brother a "sick man" and a "world class liar" in need of help. In a 2015 interview with The Hollywood Reporter, Bob had quite a different take on his brother. He said the two had spoken for "thousands" of hours over the years, about personal as well as business topics. "Everything that goes into the story of Miramax," Bob said they'd discussed. There's no evidence from the inverview that Bob was troubled by his brother, despite the "open secret" of Weinstein's predatory behavior that former staffers report was common knowledge throughout Miramax.
There have been reports that Bob wanted Weinstein to step down, and rumors that he helped oust his brother. Bob does not appear to have responded to McGowan's tweets.
Jeff Bezos
She's also indicated that going after those who funded Weinstein projects is fair game, calling out Amazon founder Jeff Bezos by name. "Now it's time to look at who funds and airs his shows. What's up @jeffbezos," she tweeted on Tuesday.
Matt Damon
Affleck's longtime Hollywood friend, Matt Damon, was also found on McGowan's hit list. She retweeted a Vulture story including claims that Damon, along with Russell Crowe, helped ensure a negative story on Weinstein never went to publication. Sharon Waxman, a former New York Times reporter, had a story in 2004 on Miramax's Italian head Fabrizio Lombardo, who was paid $400,000 for six months of work. Waxman had people on the record who said Lombardo's work entailed taking care of "Weinstein's women needs." Waxman says both Damon and Crowe called her to refute her take on Lombardo, and her story was subsequently shorn in the editing process of its more "salacious details."
In an interview with Deadline, Damon affirmed he had called Waxman at the request of Weinstein. However, Damon said he'd only been asked to give details of his own interactions with Lombardo, which were "aboveboard." Damon also pushed back on the idea that "everybody knew" about Weinstein, saying, "If there was ever an event that I was at and Harvey was doing this kind of thing and I didn't see it, then I am so deeply sorry, because I would have stopped it."
The fight against Weinstein is personal for McGowan. In 1997, she reportedly reached a settlement with him wherein he paid $100,000 to resolve an "episode" that happened in a hotel room during the Sundance Film Festival. That settlement was "not to be construed as an admission" on the part of Weinstein, according to documents reviewed by the Times.
While not naming specifically that particular incident, some have still speculated that McGowan has been referring to Weinstein when she's spoken of a Hollywood producer who raped her.
McGowan said in 2016 that a movie she worked on with her ex-partner had been sold to a man who had raped her. As Vanity Fair details, McGowan had been reportedly seeing director Robert Rodriguez when she starred in his film Grindhouse. That movie ended up being sold to Dimension Films, a label owned by none other than the Weinstein Company.
It's possible McGowan has not named Weinstein outright because of a nondisclosure agreement, according to Yohana Desta at Vanity Fair. They are a common part of many settlements.
Dozens of women have come forward with their harrowing stories of Weinstein's behavior towards them. Gwyneth Paltrow and Angelina Jolie recently went on record saying they, too, were harassed by Weinstein. The respect and level of success achieved by such household names adds validity to the claims of everyone. It is a sad reminder that women struggle to be believed. But it's also a needed affirmation that sexual assault and harassment can and does happen to women everywhere, at every level of industry.
To come forward takes tremendous courage, no question. But McGowan is currently in a class all her own, showcasing zero qualms about taking on anyone she feels was complicit in this horrifying record of systemic abuse. As her Twitter feed attests, for Weinstein and others like him to survive, it takes a village — in this case, a Hollywood all too willing to look the other way for the sake of potential career and profit gains that a powerful producer can deliver.
If you or someone you know has been sexually assaulted, call the National Sexual Assault Telephone Hotline at 800-656-HOPE (4673) or visit online.rainn.org.