Roseanne Barr Has Officially Spoken Out About Her Firing From ABC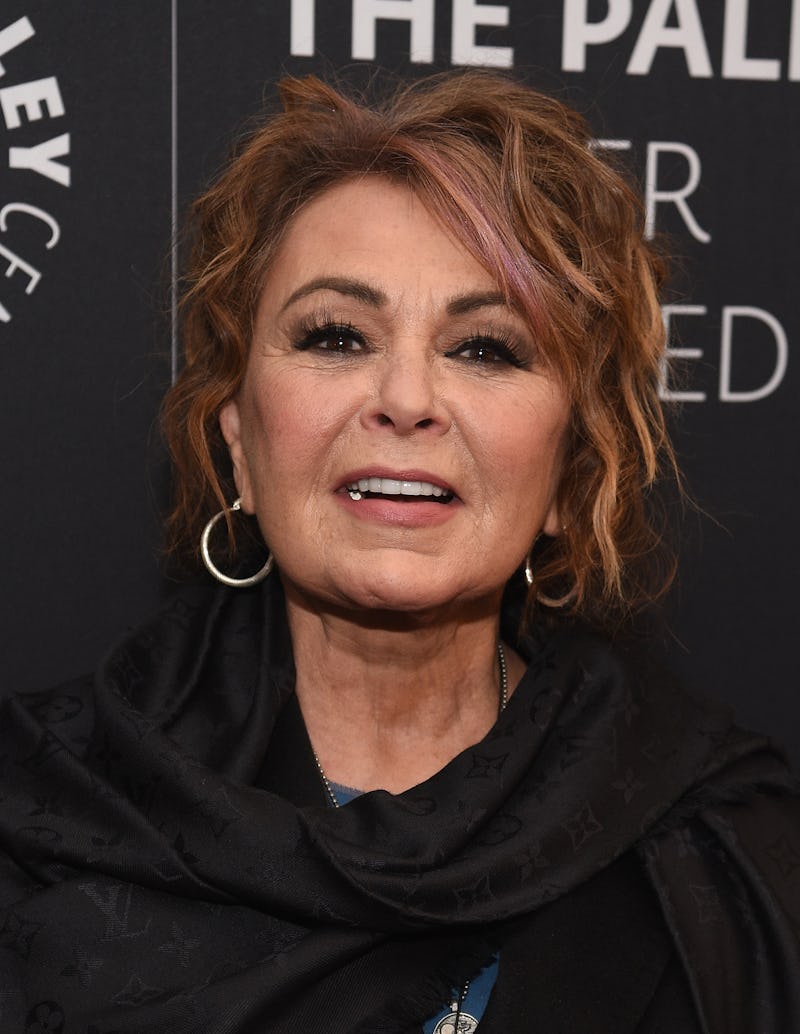 Dimitrios Kambouris/Getty Images Entertainment/Getty Images
It's been almost a month since Roseanne Barr posted a Tweet that led to ABC cancelling the reboot of her '90s sitcom Roseanne. In a recent interview with Rabbi Shmuley Boteach on his podcast Stand Up NY, Barr addressed the Tweet and her consequential firing from the television network. In the now-deleted Tweet in question, Roseanne compared former Barack Obama-aide Valerie Jarrett to an ape. According to NBC News, the post was in response to an unfounded claim that Obama was spying on French presidential candidates. The post was immediately met with shock and outrage online, and many called for ABC to take action.
The network did act, and the cancellation of the Roseanne revival was just one of the industry-related consequences the actor faced for her actions. According to The Hollywood Reporter, she was dropped from her agency, ICM Partners, and TV Land, Paramount Network, and CMT pulled reruns of the show. ABC went on to pick up The Conners, a spin-off series that wouldn't feature Barr. In a statement, ABC Entertainment President Channing Dungey made it clear the network was standing firmly against the star's actions. She wrote, "Roseanne's Twitter statement is abhorrent, repugnant and inconsistent with our values, and we have decided to cancel her show."
In her first interview since the controversy, Barr claimed the tweet was misinterpreted and apologized for causing offense. The conversation was posted to SoundCloud on Sunday, but was reportedly recorded the day after ABC dropped the actor, according to THR. Barr told Boteach on the podcast.
"It's really hard to say this but, I didn't mean what they think I meant. And that's what's so painful. But I have to face that it hurt people. When you hurt people, even unwillingly, there's no excuse. I don't want to run off and blather on with excuses. But I apologize to anyone who thought, or felt offended and who thought that I meant something that I, in fact, did not mean. It was my own ignorance, and there's no excuse for that ignorance."
The star stood by a previous claim that she made to CNN that the tweet was about antisemitism. "Valerie Jarrett...I don't agree with her politics, and I thought she was white," she said in the interview. "I did not know she was a black woman." It is not the first excuse the star has offered in response to the tweet. Not long after the initial controversy, Barr shared another now-deleted post claiming that she was under the influence of Ambien when she posted the racist statement on Twitter.
In the interview, Barr continued to blame her behavior on the sleep medication, but acknowledged that it was an inadequate excuse. "That's no excuse, but that is what was real," she said. "I horribly regret it. Are you kidding? I lost everything, and I regretted it before I lost everything. And I said to God, 'I am willing to accept whatever consequences this brings because I know I've done wrong. I'm going to accept what the consequences are,' and I do, and I have. But they don't ever stop."
Barr is an outspoken Donald Trump supporter, and the racist tweet was not the first controversy she stirred on Twitter. Before the racist tweet, she regularly shared right-wing conspiracy theories online. According to The Washington Post, she shared several videos promoting conspiracies, including Pizzagate videos that erroneously claimed political figures were part of a pedophile ring, and videos propagating rumors about Seth Rich, a Democratic National Committee staffer who was shot in Washington.
According to Newsweek, the network reportedly told the actor to leave the social media network but she refused. "What I thought I was doing was when ABC hired me... they said I have to get off Twitter," said Barr. "I told them I promise I will get off Twitter. They said 'you'll shoot yourself in the foot if you're on there.' My kids took it away from me. I told ABC... I said I will do that but I have to tell you right now before we sign these papers that I will never stop defending Israel and the Jewish people. If you want to hire me, know that."
The comedian doubled down on her excuses for the tweet, but the interview was also nonetheless an attempt to demonstrate her regret. She told the Rabbi,
"You have to feel remorse, not just repentance. That's just a step towards feeling remorse. And when you feel remorse you have to follow it with recompense," she said. "You have to take an action in the world — whether it's through money or other things — to correct your sin. After your heart is unfrozen and after it stops being broken from the pain you caused others, you stop being a robot and you gotta' come back to God. So it's remorse, and I definitely feel remorse."
Though the star spoke about taking action to right this major wrong, it's not yet clear whether or not she will honor this claim. In addition to the numerous apologies, the star, who is reportedly a millionaire, according to Time, could put some of her considerable wealth toward a cause. For example, making a considerable donation to an organization that speaks out against hate speech or works for the advancement of marginalized communities, such as the NAACP or the Southern Poverty Law Center. For now, it remains to be seen what Barr's next step will be.