Here's How Roseanne's Character Will Be Killed Off In The Spinoff, According To The Actor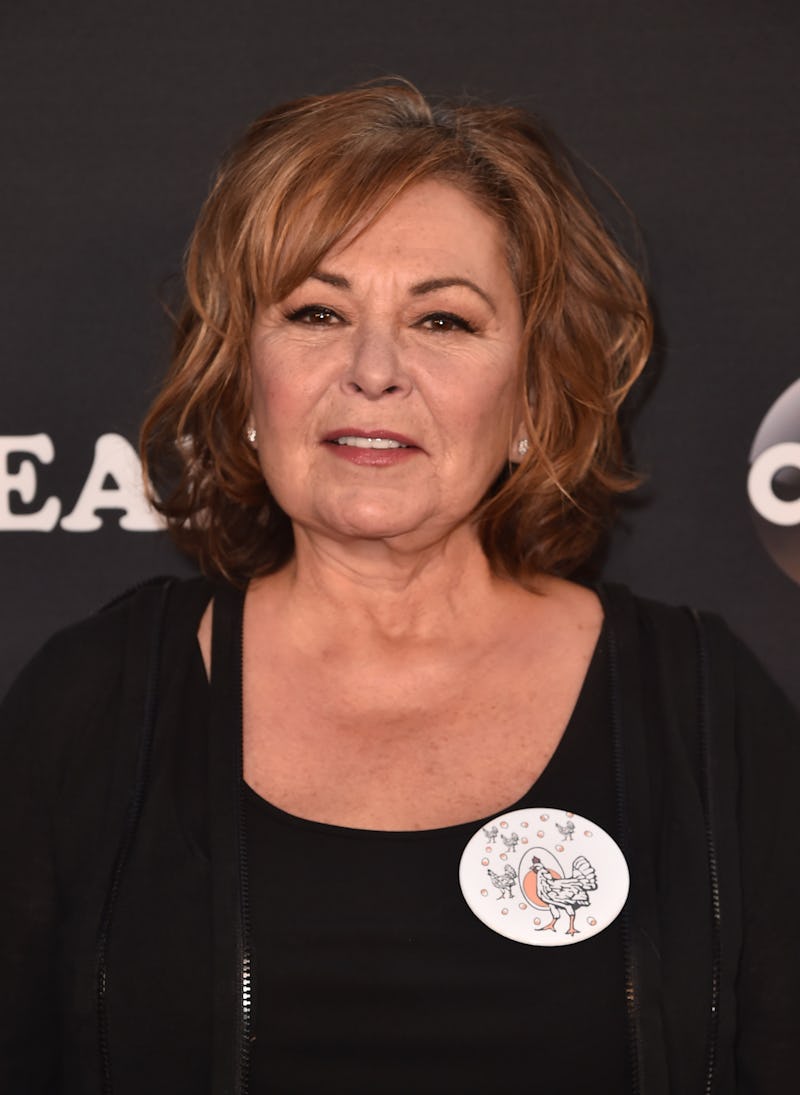 Alberto E. Rodriguez/Getty Images Entertainment/Getty Images
Fans have known for a while now that Roseanne Barr would not be part of ABC's Roseanne spinoff series The Conners, but now it seems we may finally have a direct confirmation as to how her absence will be explained. Roseanne's death is caused by an opioid overdose, claims Barr, who appeared on Brandon Straka's YouTube show, "Walk Away," over the weekend. (Bustle has reached out to ABC for comment on Barr's claim, but had yet to hear back at the time of publication.)
"Oh ya, they killed her," Barr told Straka during the interview. "They have her die of an opioid overdose." Barr also made a point of letting the world know that she is none too happy with the network's reported decision to do this to her character, stating that it was an insult to the fans "who loved that family in that show." However, she's resigned to the fact that she has no control over the situation anymore. "There's nothing I can do about it," she stated. "It's done. It's over."
While ABC has yet to confirm if Roseanne will be killed off, it does seem to align with the recent comments John Goodman made about Barr's character's fate, though at the time he didn't reveal how it would all happen. "I guess [my character will] be mopey and sad because his wife's dead," he said during an interview with U.K.'s Times.
Goodman's statements fits with the spinoff's official description from ABC, which seemed to indicate The Conners would move in this direction:
"After a sudden turn of events, the Conners are forced to face the daily struggles of life in Lanford in a way they never have before. This iconic family – Dan, Jackie, Darlene, Becky and D.J. – grapples with parenthood, dating, an unexpected pregnancy, financial pressures, aging and in-laws in working-class America. Through it all, the fights, the coupon cutting, the hand-me-downs, the breakdowns – with love, humor and perseverance, the family prevails."
Fans will find out one way or the other how it all plays out when The Conners premiere kicks off on Tuesday, Oct. 16. But now at least viewers have a little more warning going into the episode in regards to what they should expect.
This isn't the first time Barr has commented on the spinoff series. In a statement to Bustle, Barr confirmed that she wouldn't be involved in the project, stating:
"I regret the circumstances that have caused me to be removed from Roseanne. I agreed to the settlement in order that 200 jobs of beloved cast and crew could be saved, and I wish the best for everyone involved."
The Roseanne reboot was canceled back in May after Barr made a racist tweet about former Obama adviser Valerie Jarrett, which Barr later apologized for. ABC Entertainment President Channing Dungey later made a statement regarding Barr's remarks, calling the tweet "abhorrent, repugnant and inconsistent with our values."
The mystery of Roseanne's departure may be over, but it will still be interesting to see how the rest of the Conners fair without their matriarch.