ABC Officially Cancels 'Roseanne' Following Backlash Over Roseanne Barr's Offensive Tweet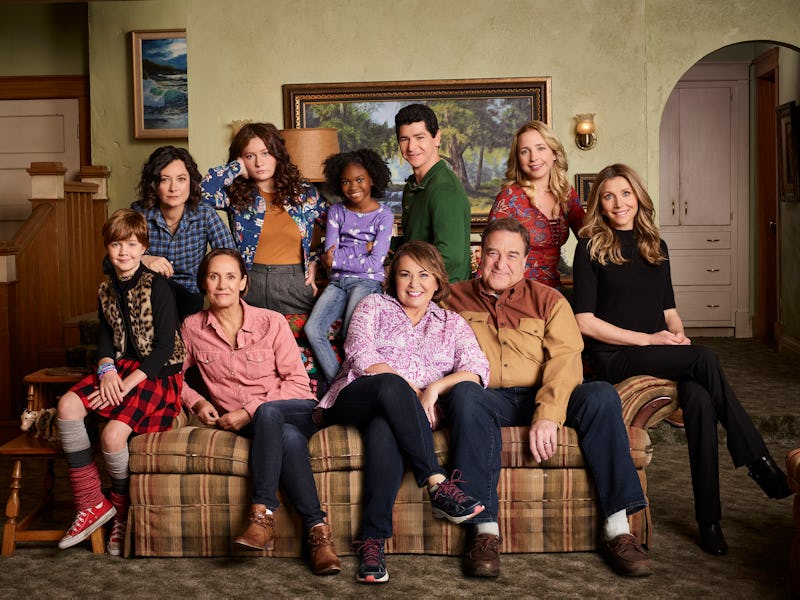 ABC/Robert Trachtenberg
On Tuesday afternoon, news broke that ABC has canceled Roseanne, which the network confirmed to Bustle. This announcement comes soon after lead actor Roseanne Barr posted an offensive tweet about President Barack Obama's former advisor, Valerie Jarrett, that many deemed racist and Islamophobic. Barr has since deleted the tweet and issued an apology, but that wasn't enough for many fans, who called on ABC to take action. (Bustle reached out to Barr's rep about the Twitter backlash, as well as the cancellation, but did not receive an immediate response.)
In a statement from Channing Dungey, president of ABC Entertainment (which was shared by BuzzFeed News' Kate Aurthur on Twitter), the network announced:
"Roseanne's Twitter statement is abhorrent, repugnant and inconsistent with our values, and we have decided to cancel her show."
When Bustle reached out, ABC provided the same statement above.
The news came hours after Barr tweeted an offensive comment in which she wrote that Jarrett was the child of the "Muslim brotherhood & Planet of The Apes." Prior to the official cancellation announcement, Wanda Sykes tweeted she wasn't returning to Roseanne next season. Sykes worked as a consulting producer on the series. (Bustle had reached out to Sykes' rep for comment, but did not receive an immediate response.)
Shortly after posting the tweet, Barr issued an apology. "I apologize. I am now leaving Twitter," Barr wrote first, before following that up with a longer apology for "making a bad joke about [Jarrett's] politics and her looks." The Root wrote that Barr was responding to a series of tweets claiming that Jarrett had helped hide Obama administration secrets.
Following her apology, Sara Gilbert, who played Darlene on Roseanne and served as an executive producer, condemned Barr's "recent comments about Valerie Jarrett, and so much more," as "abhorrent and do not reflect the beliefs of our cast and crew or anyone associated with our show. I am disappointed in her actions to say the least."
But as several Twitter users pointed out, this isn't the first time Barr has posted a problematic tweet aimed at an Obama official. "Roseanne Barr apology is not accepted. She [has] done this before with former Obama NSA adviser and friend Susan Rice," Twitter user @GRYKING wrote on Tuesday.
In a screenshot posted by @GRYKING, Barr apparently tweeted, "Susan Rice is a man with big swinging ape balls" back in 2013. (The screenshot was widely shared across Twitter by other users as well, though the initial tweet by Barr appears to have been deleted.)
Barr's behavior is a pattern that others on Twitter felt deserved to be condemned by ABC, who hadn't initially responded after the actor's tweet and subsequent apologies. "Shame on you @therealroseanne and @ABCNetwork @RoseanneOnABC," Zoe Saldana tweeted. "Not a single apology can get me to respect your despicable racist character. #EndRacism in #mainstream media NOW!!!"
MSNBC host Joe Scarborough tweeted, "There is no apology she can make that justifies @ABC turning a blind eye to this bigotry by airing another second of her show." The network seemed to agree, choosing to cancel the show.
According to The New York Times, ABC was concerned about Barr's social media behavior, which since the premiere of the revival had reportedly included sharing right-wing conspiracy theories. Examples include falsely accusing Parkland shooting survivor David Hogg of giving a Nazi salute and that President Donald Trump had broken up a child sex trafficking ring, which he did not, according to CNN. At a press event in January, Barr said that her kids had taken her Twitter account away from her and that she planned to stay away from social media in the coming months because she "didn't want it to overshadow the show." But Barr was back on Twitter shortly before the show returned.
After the news of ABC's cancellation of Roseanne spread, many took to Twitter to commend the decision. New York Times TV critic, James Poniewozik tweeted:
"I slam networks all the time, and you can think what you like about Roseanne, or ABC's ever airing the show. But they just made a decision to cancel their highest-rated show for its star's racist comment, and that is worth noting."
Others agreed that the fact that ABC canceling the show was a sign of how far Barr had gone including Walt Disney CEO Bob Iger. "There was only one thing to do here," he tweeted, "and that was the right thing."
Shonda Rhimes, who also works for ABC, agreed, tweeting that Barr got "what she deserved," adding, "Roseanne made a choice. A racist one. ABC made a choice. A human one."
Gilbert commented on the cancellation, tweeting that the news was "incredibly sad and difficult for all of us, as we've created a show that we believe in, are proud of, and that audiences love— one that is separate and apart from the opinions and words of one cast member."
Barr has yet to comment on the cancellation, but for many people, after reading the star's tweets, ABC's decision is what they really needed to see.
Additional reporting from Jamie Primeau.