'Roseanne' Tackled Islamophobia & Twitter Has Opinions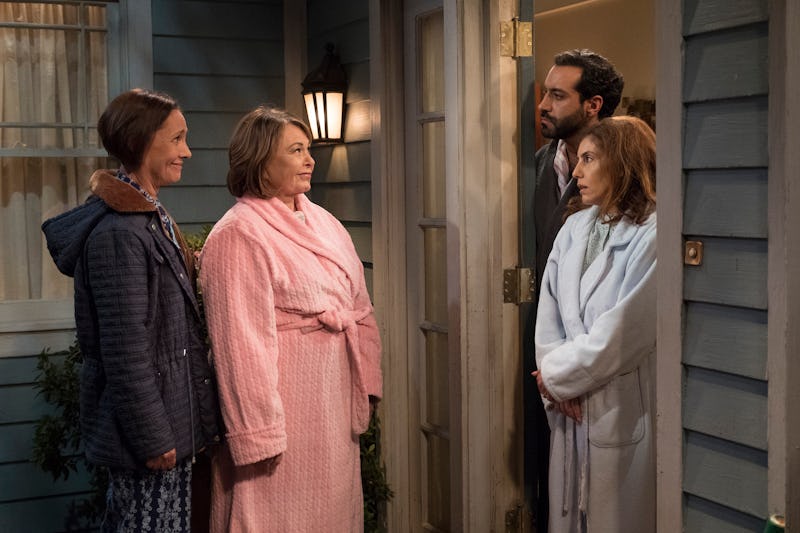 Adam Rose/ABC
So far, the Roseanne reboot has tackled some pretty controversial topics, and Tuesday night's episode dove headfirst into discussing a particularly hot-button issue: Islamophobia. Roseanne met her Muslim neighbors for the first time on this week's episode, and Twitter couldn't help but weigh in on how the show handled it.
Knowing that Roseanne and Dan Conner are both Trump voters, it wasn't surprising at all that their initial response to learning their next-door neighbors are Muslims was to respond with ignorant jokes. However, like a lot of other initially controversial episodes on Roseanne so far this season, what seemed to be contentious at face value actually ended in a lesson to be learned.
Before the episode even aired, ABC made it available to a select group of scholars and critics, seemingly to pre-empt the criticism. The Norman Lear Center posted statements from two Muslim scholars, Amir Hussein and Sohad Murrar. But although both Hussain and Mirrar seem to agree that this episode of Roseanne is actually a positive step in helping transform the way some people think of the Muslim community in America, with Hussain even calling the episode "extraordinary", they obviously can't speak for all Muslim people, or all Roseanne viewers.
From the start, it was clear that Roseanne wasn't holding back. When the neighbors started moving in in the beginning of the episode, Roseanne speculated they might be making bombs with the fertilizer in their yard, guessed their wifi password might be "DeathToAmerica," and even brought a baseball bat over to meet them for the first time for her own protection. Nothing about the jokes made on the show at their neighbors' expense wasn't offensive, but the goal of the episode was clear halfway through: the show was trying to prove that these neighbors (and by proxy, Muslims in general) are fully formed human beings who aren't to be feared.
In fact, it didn't take long before Roseanne formed a friendship with the neighbors and even ended up defending them at the grocery store when she was faced with a bigoted cashier who seemed to hold the same beliefs that Roseanne herself held at the beginning of the episode. And now that it's aired, Twitter has a lot of opinions — good and bad.
Some people are upset that this is a topic that Roseanne even broached to begin with:
Some called it "liberal propaganda":
One pointed out that it's impossible for Roseanne to "have it both ways," the way he thought she attempted to do in this episode:
And some simply had to voice how stressful watching the first part of the episode was for them.
However, a lot of people took positive things away from the episode, too, with many of them tweeting that the epsiode's beginning, stereotypes and all, was worth the message that Roseanne shared because of what lessons were learned and how it encourages people to "do better."
And then, someone brought up an important point: Maybe a show about Roseanne's neighbors would be a better idea. They did seem like a very sweet family, after all.
Regardless of what you think about Roseanne's attempt at tackling Islamophobia head on, the show has opened up an important discussion that needs to be had — not exactly something many people would have expected out of this show in its new season. Being that so many people are waiting to find out what Roseanne will do next, pushing ideas like being kind and accepting of your neighbors (albeit after initial hesitation) is very different from the more controversial moments the show has had so far.