This Book On Women's Suffrage Is For Kids — But Every Feminist Needs To Read It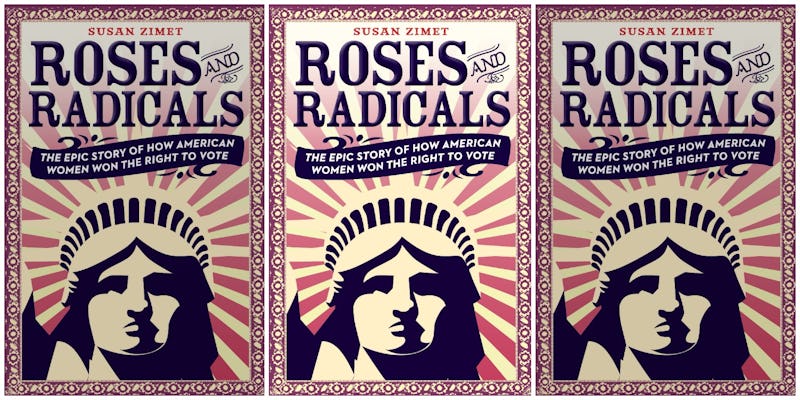 From young girls clasping Hillary Clinton figurines at political rallies, to HRC fielding debate questions with Donald Trump leering over her shoulder, to over 440,000 women standing arm-to-arm in the streets of Washington D.C. on Jan. 21, 2017, some of the most iconic images of the 2016 U.S. presidential election and subsequent resistance feature women. Women in solidarity pants suits, women in pink knit pussy hats, women decorating Susan B. Anthony's headstone with "I Voted" stickers on election day. No matter where you looked, women were front and center throughout the 2016 election, ready to witness the ultimate manifestation of the dream activists Elizabeth Cady Stanton, Matilda Joslyn Gage, Susan B. Anthony, and others set in motion over 170 years earlier.
But the history of women's still-unequal participation in democratic governments is a complicated one, even more than many Americans realize. It's a history that barely makes the pages of mainstream U.S. history textbooks and is rarely ever — at least, based on my own educational background — taught in all its full, nuanced truth.
Now one book, Roses and Radicals: The Epic Story of How American Women Won the Right to Vote by Susan Zimet, written for young readers and out from Viking on Jan. 16, seeks to fill in the gaps that your average American history class left out. Committed to "repopulat[ing] history with important women usually left out of textbook summaries" and "frankly acknowledging the internal struggles and political differences among the women", Roses and Radicals takes readers through the 72-year journey of America's fight for women's right to vote, and features sections like "Know Your Radicals" — which introduces readers to key but under-recognized activists — alongside unfiltered facts about the movement's successes, flaws, and failures.
Roses and Radicals by Susan Zimet, $13, Amazon
Zimet herself is the president of 2020: Project Women, a nonprofit corporation founded to celebrate the 100th anniversary of the 19th Amendment on Aug. 18, 2020. She's also an activist who has dedicated much of her life to environmental justice and women's rights. Roses and Radicals is the book, Zimet writes, that she wishes she had when she was a student. It's a book that young feminists — and really, feminists and readers of all ages — will be glad to have now.
But, as Roses and Radicals — written specifically for middle grade readers aged 10 and older — demonstrates, there is a lot about the Women's Rights Movement, and the women's suffrage movements, that everyday Americans simply don't know. Here are 10 things that might surprise you about women's suffrage: