A Former Journalist Is Running For State Senate With A Plan To Combat Sexual Harassment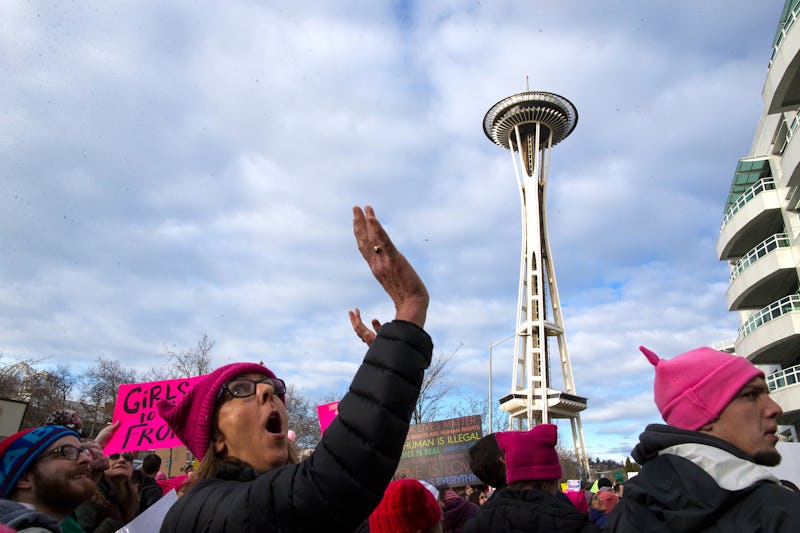 Karen Ducey/Getty Images News/Getty Images
On Sunday, the New York Daily News reported that New York State Senate candidate Ross Barkan will announce a women's rights platform that focuses on addressing sexual harassment in the political environment and promoting women's issues. And while many Democratic candidates ardently support women's issues, Barkan's express intent to create a women-specific platform, particularly one dedicated to stopping sexual harassment in politics, is unique.
Barkan is a political journalist who decided to run for the State Senate to represent the 22nd district in Brooklyn, where he grew up. Barkan, a Democrat, made his announcement in a Medium post earlier in November, saying that, as a journalist, he knows how to "hold power to account," but that sometimes, to be most effective, one must hold people to account from inside the political system. As Barkan put it:
What I'm finding is, you can only try to hold the system accountable for so long from the outside. Sometimes, you have to break in and do it from the inside. I know how to hold power to account. I understand why politicians do what they do, and why they fail.
Barkan is running against Republican incumbent Martin Golden.
On Sunday, the New York Daily News revealed that Barkan was planning to unveil a women's rights agenda that focuses on stopping workplace sexual harassment in the political arena, in addition to several other women's advocacy issues. Barkan released his official women's rights platform on Medium on Monday.
In an email sent to Bustle, Barkan expressed a strong stance on stopping sexual harassment in the State Legislature, saying:
What I promise to do is immediately call out bad behavior if I see it. As a state senator, it won't be enough to simply go through the proper bureaucratic channels if I witness sexual harassment. I will use the platform I have to make sure the person who is committing such heinous acts is brought to justice. What's bothered me about the recent news ... is how plenty of people in power knew about this behavior and did nothing. They had the ability to stand up and help someone in trouble and didn't.
Barkan's commitment to stopping workplace harassment in politics is especially relevant given the barrage of recent reports about sexual harassment problems in state capitols around the country.
Barkan has stressed the importance of perpetuating a cultural shift to ensure that women are respected and do not face harassment at work, telling the Daily News, "I know I'll only be one elected official up there, but I want to do what I can to change the culture — a culture that can take women for granted and oftentimes enables and tolerates sexual harassment." Barkan expounded on this commitment to culture change when speaking with Bustle:
Politics is as toxic as the entertainment industry. Employees tend to be young and underpaid, working for people with a lot of leverage over them. The gender imbalance is horrific. As I run for office, I am very cognizant of all of this. I think it's important to try to do what you can, as an individual, to change the culture.
In addition to his dedication to stopping workplace harassment, the Daily News reported that Barkan's women's rights agenda also prioritizes several other key issues that affect women, including committing to strengthening New York's abortion laws, banning revenge porn, providing free pre- and post-natal care for every woman in New York, and securing universal health care statewide. When speaking with Bustle, Barkan highlighted what he believes is an integral linkage between health care and women's rights:
I believe health care is a feminist issue. Women pay more for their health care, they're less likely to have a job that provides health care, and they earn less than men, making them less able to afford their health care. Private insurance companies discriminate against women, particularly low income women of color.
Several people on social media offered words of praise when Barkan's platform was announced on Sunday, with one Twitter user describing it as a "sensible, workable, timely initiative from a terrific candidate for @NYSenate."
Another Twitter user expressed excitement and gratitude that Barkan was focusing on women's issues:
All these things should already exist, but I am so happy a local candidate is talking about them because they don't and should!
Barkan will face a Democratic primary, followed by general elections in November 2018, should he secure the Democratic nomination. Many New Yorkers and, indeed, many Americans, will likely be closely watching Barkan's campaign over the next year.