Roxane Gay Calls Out Website For "Cruel & Humiliating" Article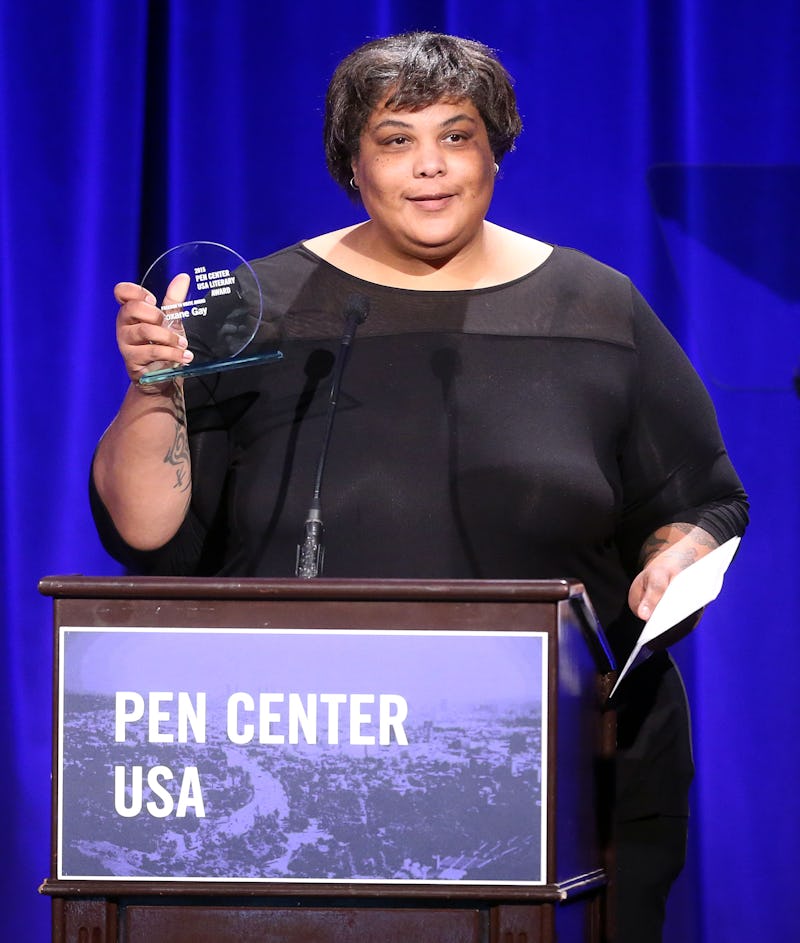 Frederick M. Brown/Getty Images Entertainment/Getty Images
Authors deal with a lot on publicity tours: endless interviews, jostling crowds, tons of travel... what they should never have to deal with is gross and humiliating body shaming. But that's unfortunately what happened to Roxane Gay after she gave an interview to Mia Friedman of Mamamia, while promoting her new book Hunger, which chronicles her personal experience with her weight, food, and body image. The description posted for the Roxane Gay episode mentioned Friedman's fears that Gay would not "fit into the office lift" as well as fears over whether the author's "super-morbidly-obese" body would fit into the chair provided for her. After the text made its way to Twitter, Gay herself spoke out saying that she was "appalled" by Mamamia and that their treatment of her was "cruel and humiliating."
According to The Guardian, immediately after, Friedman claimed in a since deleted article that Gay's publisher had sent her dozens of requests in regards to Gay's "imposing size" which is "a logistical nightmare for her."
"How many steps were there from the [kerb] to the door of the building? Were there any stairs? How many? How big was the lift and was there a goods lift? How many steps from the lift to the podcast studio? There was also a lot of talk about chairs – making sure we had one sturdy enough to both hold her weight and make sure she was comfortable."
But since claiming that this "breach of confidence" was justified due to its importance to the story, an apology credited to the Mamamia Team has been posted to the website in which they again justify their questions about Gay's size and comfort levels, though they added, "As a publisher that's championed body diversity and representation in the media we're deeply apologetic that in this instance we've missed the mark in contributing to this discussion. In no way did Mamamia ever intend to make Roxane Gay feel disrespected and we apologise unequivocally that that was the unintended consequence..."
Of course, the idea that Gay would be asked about her body isn't a huge departure, given Hunger's theme. However, it's important to keep Gay's words her own, as opposed to creating language for her. Gay made that very clear with her unflinching responses to the controversy on Twitter.
It's exceedingly gross that Gay's openness about her body is being used against her, and we commend her for speaking out. And if you want to hear what Gay has to say about her own body, in her own words, you can pick up her new book Hunger: A Memoir Of (My) Body today.