A Transgender Woman Seeking Asylum In The U.S. Has Died In ICE Custody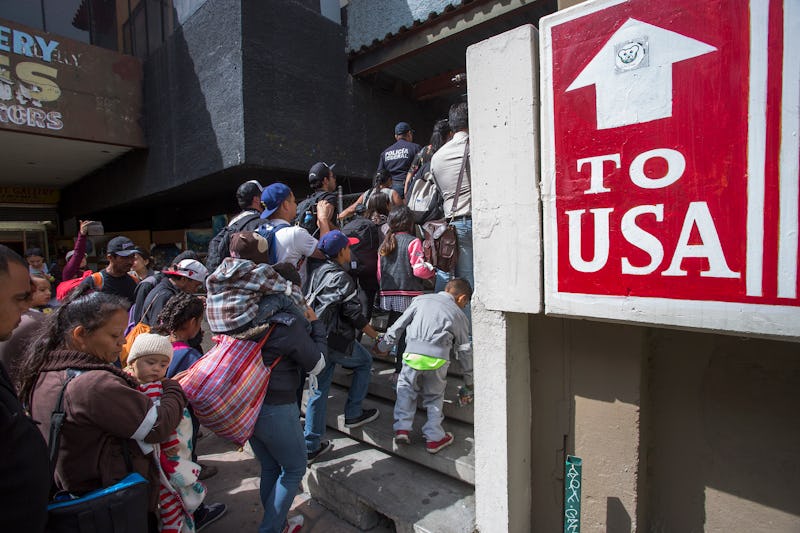 David McNew/Getty Images News/Getty Images
Six migrants have died in the custody of U.S. Immigration and Customs Enforcement (ICE) this year. Now, weeks after a high-profile caravan of asylum seekers from Central America began entering the United States, one of the group's members, a 33-year-old transgender woman, Roxsana Hernandez, died in ICE custody, BuzzFeed News reported.
Hernandez died in an Albuquerque hospital on Friday from what seemed to be cardiac arrest, according to ICE, though an autopsy analysis is pending. She was treated in a different New Mexico hospital earlier this month for symptoms of dehydration, pneumonia, and complications associated with HIV.
She told BuzzFeed News in April that she'd fled her home country of Honduras after being sexually assaulted by MS-13 gang members. "Four of them raped me and as a result I got HIV," she said. "Trans people in my neighborhood are killed and chopped into pieces, then dumped inside potato bags."
The caravan of which Hernandez was a part was organized by Pueblo Sin Fronteras (or "People Without Borders"), which has sent five caravans of asylum seekers to the U.S. border. This one included over 1,000 migrants, a great many of whom were also from Honduras. Around a third of them began entering the United States early this month.
Pueblo Sin Fronteras claimed to BuzzFeed News that Hernandez was not given adequate medical care while she was in custody. Bustle has reached out to ICE for comment; its statement on Hernandez's death said that all detainees receive "comprehensive medical care" as soon as they arrive and "throughout the entirety of their stay."
The agency noted in its statement that detainees get screened for medical, dental, and mental health issues within 12 hours of arriving at every detention facility and then receive a complete health assessment within two weeks. ICE also said that detainees have constant access to emergency care.
President Donald Trump drew national attention to Hernandez's caravan last month when he blasted Mexico for harboring the migrants. Hernandez crossed into the United States on May 9 through a border between San Diego and Tijuana. She was immediately processed for expedited removal, which means that she wasn't allowed to see an immigration judge before being deported. On May 16, ICE sent her to the Cibola County Detention Center in New Mexico for detainment, where its only unit for transgender detainees is located. Some migrant rights advocates claim that that facility's rural location prevents asylum seekers from acquiring legal assistance.
Hernandez's health took a drastic turn for the worse before she was set to leave the country. The day after reaching the detention center, she was admitted to a hospital with symptoms of pneumonia and other complications. She was transferred to an intensive care unit later that day and died there just over a week later.
Pueblo Sin Fronteras alleges that Hernandez was kept in unhealthy detainment conditions. It claims that she was held in frigid holding cells that are sometimes called "iceboxes," denied adequate care and food, and kept in a cell with the lights on at all hours. A coalition of immigrant advocacy groups said in a statement to BuzzFeed News:
Roxy died due to medical negligence by US immigration authorities. Why incarcerate and torture her like this? She had a home waiting for her in the United States. They could have let her go there. If they had, she would still be with us.
ICE said Hernandez had received the necessary medical care services and wrote in a statement that "ICE annually spends more than $250 million on the spectrum of healthcare services provided to detainees."