Democrats Are Demanding Answers From ICE After A Transgender Woman Died In Its Custody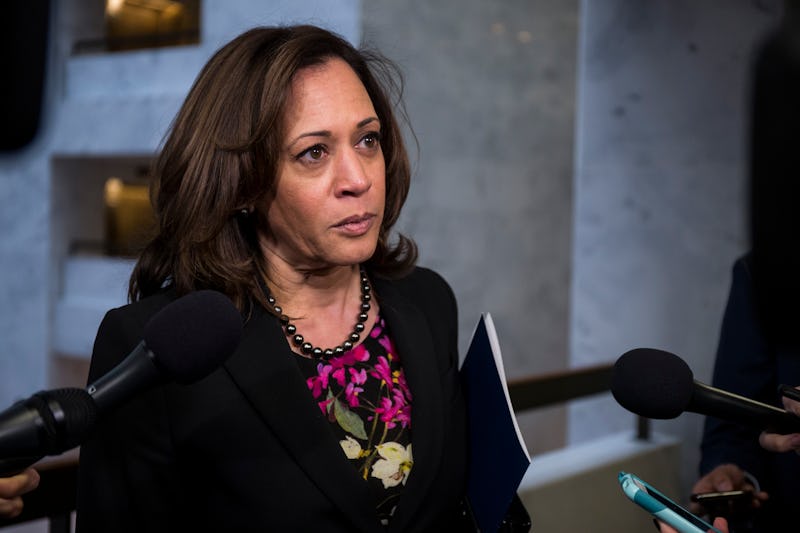 Zach Gibson/Getty Images News/Getty Images
In May, a transgender woman died in an Immigration and Customs Enforcement (ICE) facility after applying for asylum in the United States. A subsequent autopsy found signs that she'd been physically abused before her death, and an immigrants rights group says that Customs and Border Patrol kept her for days in a freezing holding cell without adequate medical care. Now, Democratic senators are demanding answers about Roxsana Hernández Rodriguez's death in ICE custody.
"It is deeply troubling that ICE has been uncooperative in releasing information about Ms. Hernandez's case," Sens. Kamala Harris, Tom Udall, and Martin Heinrich wrote in a letter to ICE Wednesday. "ICE's failure to release [a report on Hernández's death] diminishes the systemic, traumatic and in this case, fatal violence that transgender individuals experience daily as a result of their gender identity." Bustle has reached out to ICE and CBP for comment.
Congress requires ICE to release an initial report on every inmate who dies in its custody within 30 days of their death, then a final report 60 days later. But ICE hasn't released any such reports yet, and it's been 180 days since Hernández died. The senators are demanding that ICE "immediately release a full and complete death review" on Hernández, as well as documentation from ICE and CBP regarding the training that their officers receive regarding the safety of transgender inmates.
Hernández turned herself into U.S. authorities in New Mexico in May after entering the country as part of a migrant caravan. She said that she was seeking asylum, and after initially being held by CBP, she was taken into ICE custody. ICE held her for several days, NBC News reported, transferring her between different facilities during that time, before she died on May 25.
Pueblo Sin Fronteras, the immigrant rights group that organized the caravan, says Hernández was originally taken into custody by Customs and Border Patrol on May 9. The group says CBP put her into a holding cell that had no beds, extremely low temperatures and the lights on 24 hours a day. These holding cells are known as "iceboxes" because of how cold they are; in 2015, the American Immigration Council said that they are "wholly inadequate for any overnight detention."
CBP policy forbids officers from keeping detainees in iceboxes for longer than 72 hours; however, Pueblo Sin Fronteras says that Hernández was kept in one for five days.
According to Amnesty International, a trans woman identified as Stacey traveled with Hernández in the caravan and was placed in the icebox with her. In a statement to a lawyer, Stacey said that Hernández began vomiting and having diarrhea shortly after being detained, and asked for medical care but was denied.
"She asked to see the doctor but they didn't give her access," Stacey said. "She didn't get medical care until she arrived at Cibola [days later]."
In its own statement on the incident, ICE said that it took Hernández into custody on May 13 in San Diego, transferred her to an El Paso facility on May 15, then transferred her to Cibola County Corrections Center, a for-profit prison, in New Mexico, a day later.
On May 17, ICE says, Hernández was taken to Cibola General Hospital after exhibiting "symptoms of pneumonia, dehydration and complications associated with HIV." (In an interview with BuzzFeed News prior to her death, Hernández said that she contracted HIV after being gang-raped in Honduras, an event that precipitated her emigration to the United States).
Later in the day, she was transferred by air to Lovelace Medical Center, where she died in the intensive care unit. According to ICE, staff at the hospital "identified the preliminary cause of death as cardiac arrest."
Because the findings of the official autopsy haven't yet been released, the Transgender Law Center arranged for an independent autopsy to be carried out. That autopsy confirmed ICE's claim that Hernández died from dehydration, but also found signs that she had been beaten before her death. In a subsequent statement, ICE said that "allegations that she was abused in ICE custody are false."
Additionally, the independent report says that other detainees claimed Hernández exhibited symptoms of severe dehydration "over multiple days with no medical evaluation or treatment, until she was gravely ill."
"Roxsana Hernández was our sister and it was an injustice to have her die the way she did," her sisters said in a statement. "It's difficult to accept that she was taken from us because of negligence, because of not giving her support and medication that she needed, because they treated her like an animal. It's not fair."
The Transgender Law Center says that it will be taking "legal action to hold [the] government accountable" for Hernández's death.