Meghan Markle Has Some Strict Fashion Rules To Follow For The Royal Wedding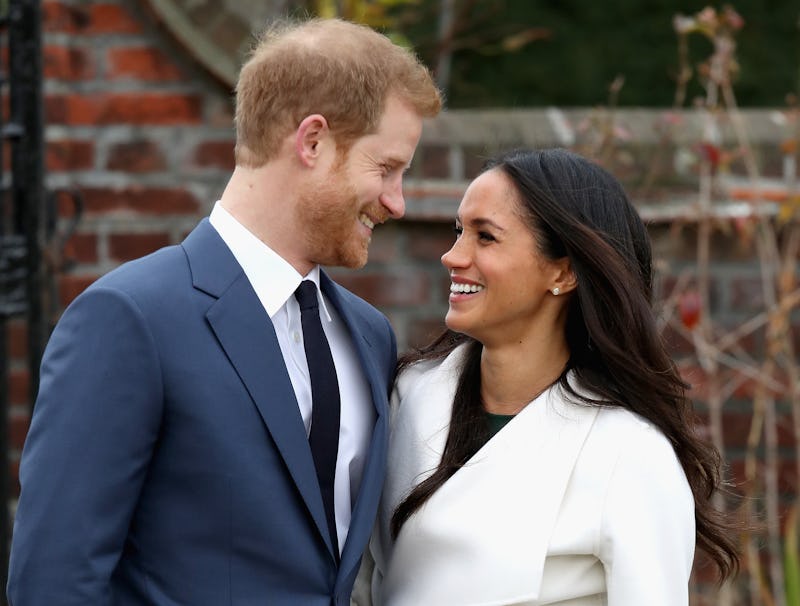 Chris Jackson/Getty Images Entertainment/Getty Images
With a royal wedding comes a whole lot of royal protocol. I'm not talking old, new, borrowed, and blue, either. Although it's her big day, Meghan Markle has fashion and beauty rules to follow on her wedding day. Because all eyes will be on her the moment that she walks down the aisle, so there's a lot of thought that goes into her look.
Although Markle is known to toe the royal line when it comes to fashion and beauty rules, there are some things that you can expect on her wedding day. Part of that is because the Queen has the ultimate say and the other part comes from Catholic tradition. The royal wedding will be on May 19 in St. George's Chapel at Windsor Castle, which has been the house of royal weddings since the 1800s.
That being said, there is a lot of tradition tied to the place. Even on a normal day, there are things that Markle can and cannot wear. While she doesn't always follow the rules — like her now-iconic messy bun and her dislike of tights — her wedding day will be a little different. It's less about following rules and more about carrying on tradition.
There are some parts of Markle's outfit that will not be known until she starts walking down the aisle — like how long the train will be or how her hair will look. Here are some details that you can expect to see, per royal protocol.
1. The Dress Will Have Lace
According to The Knot, it has become customary for the bride's gown to include lace at the royal wedding. There's no saying that Markle has to include the fabric, but there's a good chance that she will not break the tradition.
2. A Tiara Will Likely Be Worn
It is up to Markle whether or not she will wear a tiara on her big day. But if she doesn't, she will be breaking a major tradition. Markle does not own any tiaras as of now, but, according to Town & Country, she has the ability to borrow from her soon-to-be family or have one commissioned for her.
"Almost every royal bride who has married in Britain since the 1930s has worn a tiara on her wedding day, so it's a good bet that Meghan will, too," Ella Kay of The Court Jeweller told the publication. "But she could choose to go without a tiara, or she could wear another kind of jeweled ornament in her hair."
3. Markle Will Cover Her Shoulders
According to Fashionista, Markle will have to cover her shoulders on the day of her wedding, since she is getting married in a Catholic church. How she chooses to do that is up to her. She can opt for a sleeved dress or wrap something around her top.
4. There Will Be No Cleavage
A part of the royal fashion protocol is not to show cleavage, and the royal wedding will be no different. Although Middleton wore a plunging neckline, she made sure not to expose anything. It will be interesting to see how Markle incorporates this rule into her dress design.
5. Her Ring Must Contain Welsh Gold
According to Elle, every royal wedding band must contain Welsh gold. The tradition has been going strong since 1923, according to the publication, and the gold comes from the Clogau St David's mine at Bontddu in North Wales.
6. Markle Will Wear Two Dresses
According to Harper's Bizaar, Markle will wear two dresses on her wedding day. While this isn't exactly a strict rule, it is a tradition among royal women. Middleton wore a second look for her ceremony as well. You know, so she could be comfortable and sans nine-foot train.
7. The Queen Will Approve The Gown
According to Elle, Markle will show Queen Elizabeth her dress before the big day. Middleton did the same thing before her wedding day. Although this isn't an official rule, it is a tradition to have the Queen's approval.
Other than that, everything else will be a secret until the big day. You just never know what Markle will wear next.