Ruby Rose Will Play Batwoman In The Arrow-Verse & In A Groundbreaking New CW Series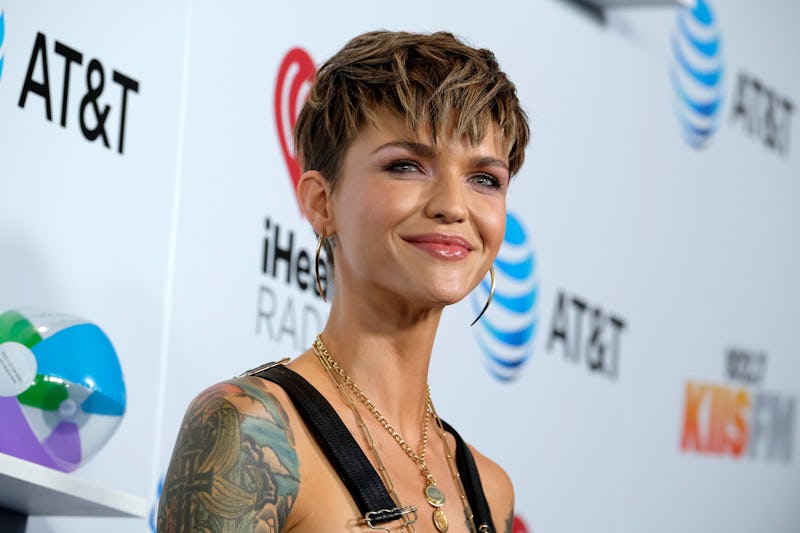 Frazer Harrison/Getty Images Entertainment/Getty Images
Bat's out of the bag! Comic book fans with an appreciation for feminism will be excited to learn that Ruby Rose has been cast as Batwoman for Arrow-Verse, an annual TV crossover event between The CW and DC Comics set to debut at the end of this year. Warner Bros. confirmed the news of Rose's casting to Bustle. And that's not all. Per Deadline's recent report on Aug. 7, it sounds like Arrow-Verse certainly won't be the last fans hear of Rose's newly-minted Batwoman character.
The crossover event, slated for a December premiere, will provide audiences with an introduction to Rose's Batwoman. But the iconic comic book character might be making a more permanent return to television next year, courtesy of a standalone Batwoman series currently in development over at The CW. According to Deadline, If the new series does end up making it to air, Rose's Batwoman will make history as the first-ever gay character to lead a live-action superhero series. As if Rose playing some sort of new-age Batwoman character wasn't exciting enough all on its own.
Judging by the actor's latest comments about the new role, it seems pretty safe to say Rose (who is openly queer) understands what a huge deal that is — for television, as well as LGBTQ folks watching. Rose confirmed the casting news herself on Instagram Tuesday afternoon, August 7, just hours after reports of her casting began trickling in. "The bat is out of the bag and I am beyond thrilled and honored," wrote Rose, kickstarting the confirmation post's caption.
But the actor quickly went on to tell fans on social media that she's also "an emotional wreck." And after reading through the remainder of Rose's IG caption, it doesn't sound like this is your standard case of pre-performance jitters. "This is a childhood dream," the actor wrote, before continuing on to share a bit more about why this role in particular means so much to her:
This is something I would have died to have seen on TV when I was a young member of the LGBT community who never felt represented on tv and felt alone and different. Thank you everyone. Thank you god.
According to a press release from Warner Bros., The CW's Batwoman series describes its titular superhero — and real-life counterpart, Kate Kane — as "an out lesbian and highly trained street fighter" with a proclivity for social justice and a penchant for speaking her mind. (Sounds a little bit like Rose, no?) She careens into the streets of Gotham at its lowest, with the intent to "snuff out the failing city's criminal resurgence."
Of course, accomplishing that feat turns out to be considerably easier said than done. "In a city desperate for a savior, Kate must overcome her own demons before embracing the call to be Gotham's symbol of hope," reads Tuesday's press release. And while that foreboding tidbit seems to nod to some conflict for Batwoman (conflict fans will hopefully get to watch play out on The CW next year), it also sounds like audiences can rest assured that she still comes out on top, in the end.
And that's not too much of a surprise. With such a markedly strong character in the lead — and comparably strong actor playing the role — it seems pretty safe to say The CW's Batwoman (if the series ends up coming to fruition, that is) will have a tough time delivering a narrative that's anything short of totally triumphant. Now, who's already marking their calendars for Arrow-Verse?