Twitter Is Super Confused By Rudy Giuliani's Latest Comments About Trump & Collusion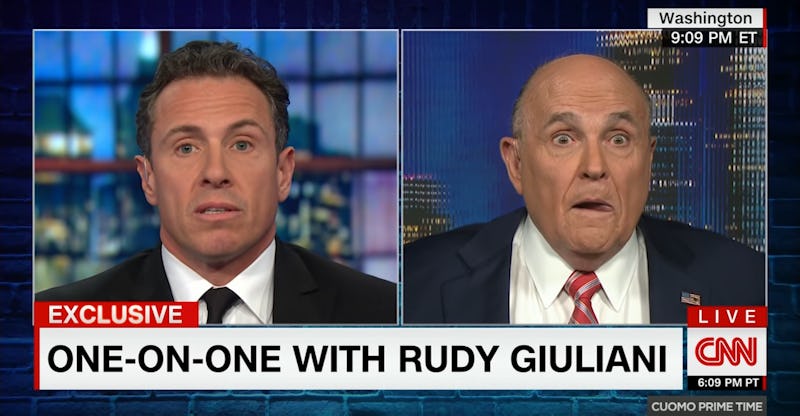 "No collusion" is likely one of the phrases President Donald Trump and his surrogates have used most frequently since he took office. On Wednesday night, however, Trump's lawyer made an extraordinary claim to CNN's Chris Cuomo about that oft-repeated statement. Specifically, Rudy Giuliani claimed to have never said there was no collusion between the Trump campaign and Russia, just that Trump himself hadn't participated. Rudy Giuliani's collusion comments left Twitter very confused for numerous reasons.
For one thing, it's a false statement, as the Washington Post noted. In July, Giuliani told Fox News contributor Guy Benson that Benson was "correct" in stating that it was "still the position of [Giuliani] and [Trump] that there was no collusion with the Russians whatsoever on behalf of the Trump campaign."
Nevertheless, Giuliani took a very different stance when speaking with Cuomo on Wednesday. The former New York mayor claimed there was a lot of "false reporting" about the investigation into the Trump campaign's contacts with Russia. However, Cuomo didn't let the claim stand.
"Mr. Mayor, false reporting is saying that nobody in the campaign had any contacts with Russia," Cuomo said. "False reporting is saying that there has been no suggestion of any kind of collusion between the campaign and any Russians."
"You just misstated my position," Giuliani told Cuomo in response. "I never said there was no collusion between the campaign, or between people in the campaign."
This, unsurprisingly, set off a veritable explosion on Twitter.