7 Unforgettable Moments From The Cher Parody Musical On 'RuPaul's Drag Race'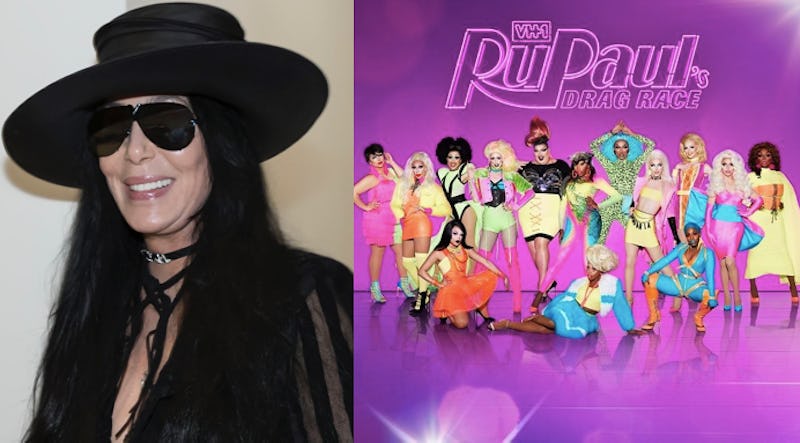 Brook Mitchell/Getty Images Entertainment/Getty Images ; Vh1
The stakes are only getting higher as the list of queens left on Season 10 of RuPaul's Drag Race continues to dwindle, and the challenges become increasingly difficult and complex. This week's episode was entirely inspired by RuPaul's biggest idol, Cher. She has released a number one hit single each decade for six decades, so it's safe to say she's earned idol status. For the mini-challenge, the queens competed to see who could master the best Cher-esque staged slap in the face, and for the maxi-challenge, they were told that for once, they would not be lip syncing for their lives. They would be — gasp —singing IRL, and thus, Drag Race's "Cher: The Unauthorized Rusical" was born.
Each queen had to practice her best quintessential Cher voice and embody a version of the "Goddess of Pop" from a different era — from the '70s up to present day Cher. Not to mention, they had to nail choreography while remembering to sing on top of it all, which was a first for some queens. Some nailed the triple threat by showing their ability to act, dance, and sing all at once, and others struggled to find that balance. Here are all the standout moments.
Kameron Michaels Was Actually Cher
She's been known as the quiet one up until now, which has kept her from snagging a challenge victory. She may have been hustling the other queens when she struggled during rehearsal, though, because she came for them on the main stage. Was she a Cher impersonator in a second life? Because she had '60s Cher down — from the head bob to the hair flip, she opened the musical with a stunner performance. The judges recognized that and finally gave her a win.
Monét X Change Threw Shade At '70s Cher
Fun fact: Monét studied opera as an undergrad, so she came to the challenge prepared with a beautiful baritone voice. She added a little twang for Cher, of course, and the lyrics she sang satirically highlighted Cher's more controversial looks of the '70s, including her donning of an Indian headdress for her song "Half Breed." These looks have been brought to her attention as appropriating by the general public, and she has somewhat apologized on social media, but many are still upset with her.
The Vixen's Cher Paid Homage To Beyoncé and The Jackson 5
The Vixen was assigned another '70s Cher — the Cher who performed "I Want You Back" with The Jackson 5 on The Cher Show. Her act also represented the time in Cher's life when she divorced Sonny, making it appropriate for her to do a little "Single Ladies" side shuffle in homage to Queen Bey.
Aquaria Was A Gilded Disco Cher
Other than her dripping gold outfit and a glamorous cape that she threw at the judges, not much else sparkled about Aquaria's performance. "Burn Baby Burn," I guess?
Asia O'Hara Was Movie Star Cher
Asia told the pit crew dancers to repeatedly "Snap out of it!" in reference to the iconic scene from Cher's Oscar-winning performance in Moonstruck, a 1987 rom-com for the ages. At this point in her career, she was already a famous musician, and now, an award-winning actress. What could she possibly accomplish next?
Eureka Overcame Her Fear Of Singing As Rockstar Cher
In Thursday night's episode, Eureka struggled to practice singing during rehearsal because she was experiencing some pent back emotions attached to vocal performance. "My nerves are so bad about this whole singing thing," Eureka said on the show. "As a kid I had a traumatizing experience. My dad wanted me to sing for his friends and I was just too nervous to do it, so he got really upset with me. It ended up being a physical altercation, and it put in my head this anxiety with singing."
Although she was a bit hesitant at first on stage, the confident Eureka prevailed and ended up making the judges cackle, as usual, by the end of her performance.
In True Miz Cracker Fashion, She Made Comeback Cher Funny
Miz Cracker was set to embody "Comeback Cher" of the early 2000s, and of course, she had to make it a comedy bit. Blonde wig and all, she held a microphone up to her lips every so often that would "autotune" her voice, poking fun at Cher's reinvention of her image. "I invented reinvention, b*tches," she announced.
"Cher: The Unauthorized Rusical" ended in a group number in which they all proclaimed that only two things will remain when the world ends: Cher, and cockroaches. After all, the star has stayed relevant for over half a century, so yeah, that sounds about right.