'RuPaul's Drag Race' Winner Aquaria Knew She'd Win Over Viewers In The End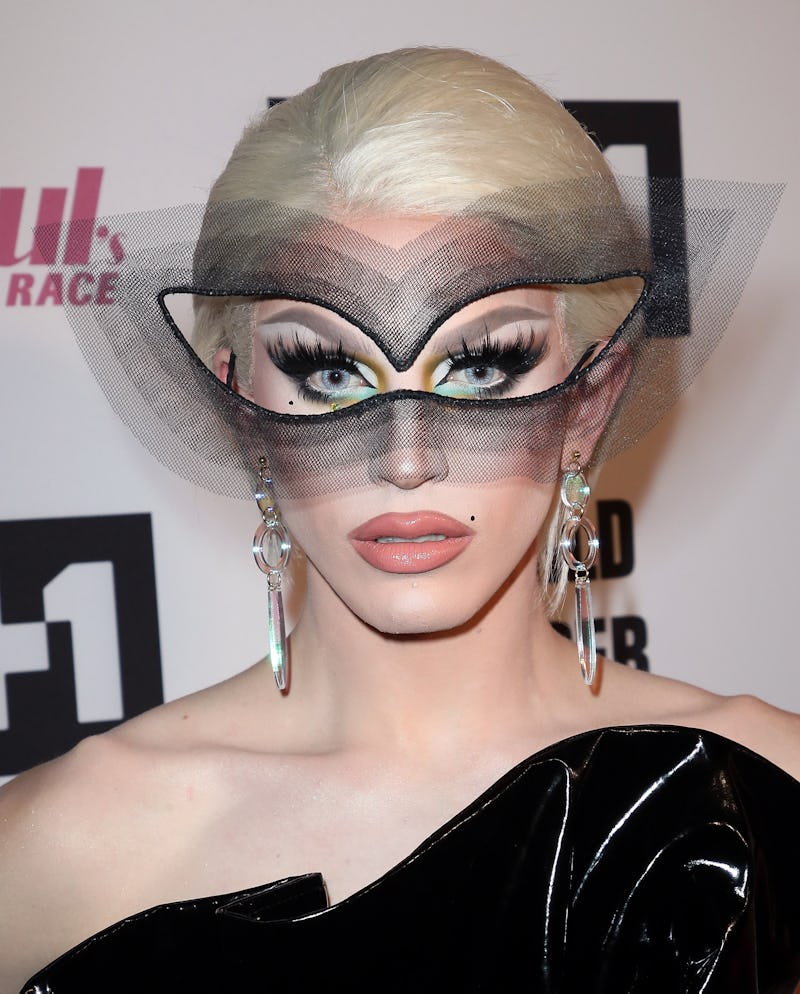 David Livingston/Getty Images Entertainment/Getty Images
In the words of the queen herself, "Aquaria is the name on everyone's lips in New York City." And now it's on the minds of drag lovers across the nation because Aquaria is the winner of RuPaul's Drag Race Season 10. When she walked into the werk room for the first time, smugly confident and glamorous, all the other Season 10 queens knew who she was, and they didn't know how to feel about it. Now, 14 episodes later, she's stolen their hearts along with the fans'. In an interview with Bustle, Aquaria explains how far she's come in such a short time.
She's the young drag queen who everyone knew was talented, but they wanted to believe she still had a lot to learn. She relentlessly got tagged as solely a look queen because of her introversion, but really, she kept quiet most of the time for fear of getting tongue-tied — with the exception of slaying Nicki Minaj's verse in the final three-way lip sync battle to "Bang Bang."
"I'm not the most social person in the world," Aquaria tells Bustle. "And I do not have a lot of experiences dealing with people with histories different than mine and backgrounds different than mine, so from the show, I definitely realized that how I come off to people sometimes is not the way I intend to come off — whether that is in my body language, in my verbal language, whatever. And I think that's taught me just to be more mindful of how I come across, and the things I say and how I say them."
A turning point for Aquaria's Drag Race tenure was her "Snatch Game" victory, for which she hilariously (and almost too accurately) impersonated Melania Trump. Because she had remained so quiet on the show up until that point, everyone, even RuPaul, was shocked by her comedic cracks. And things only went up from there. In the finale, a surprise double-save sent both Aquaria and Eureka through to the final lip sync battle. "I think both me and Eureka deserved to move on to the final round," Aquaria says. "It was extremely merited, and of course I think that because it happened to me."
Aquaria says she went "from gutted to gorgeous" in her time on the show. "I always knew that there was a light at the end of that tunnel," she said. "I knew that there was positivity at the end of this Drag Race experience, but sometimes, getting there is difficult. I'm just glad and thankful for the fans who stuck it out with me. I am grateful for the people who have come around to enjoying me, and understanding why I am how I am, and why I was how I was, and just appreciating me for me. Because I'm not the evil, nasty b*tch that everyone wanted to make me out to be. I'm a lot more relatable and realistic than anyone would've expected."
And, she adds, "I've got a little bit of charisma, uniqueness, nerve, and talent that no one thought I had either."
Now, Aquaria has gone from 13-year-old Drag Race super fan to 21-year-old reigning queen. "Just to have everything come full circle and be such a success story of the power of drag and its influence on today's youth is just wonderful," she says. She just released a new single called "Burn Rubber," "so that is a fabulous track that you can pump at the gym, on the streets," she says. And although she's probably about to get really busy, she's determined to maintain creative control of the Age of Aquaria, as she calls it.
"Winning a crown is great and winning the money is fantastic and I don't need anymore f*cking makeup. Anastasia, you can keep that," she says. "But for me, I just wanted to elevate my drag to the highest it possibly could get, and just to entertain as many people as possible in the most entertaining ways possible. So definitely a whole lot more me [is coming]. It's the age of Aquaria, get used to it."