Russia Decriminalized Domestic Violence In 2017 — An Official Now Says It Was A Mistake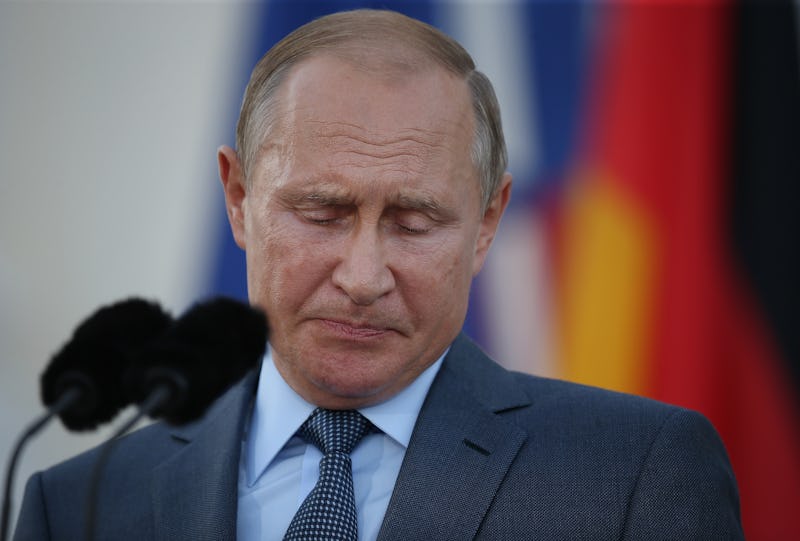 Sean Gallup/Getty Images News/Getty Images
Every 40 minutes, a Russian woman is killed through domestic violence, according to the government's own numbers. Despite this, Russia decriminalized domestic violence in 2017, drastically lessening the penalty for Russians who assault their spouses or children. Now, a human rights official in Russia who supported the decriminalization bill is admitting that it was a "mistake," and is calling for legislation to protect victims of domestic abuse.
"I believe that decriminalization was a mistake and we need to adopt a law to combat domestic abuse," Russia's Human Rights commissioner Tatyana Moskalkova said at a conference on Monday, according to the Moscow Times. "Today, a person who is in the family space is not protected from family members who do harm unto them without it being considered a crime."
Under the 2017 law, Russians who assault their spouses or children face a maximum penalty of 15 days in prison and a fine of around $500, so long as they don't break any bones. Previously, such violence was punishable by up to two years in prison and a fine equivalent to around $600.
The decriminalization law was the brainchild of Yelena Mizulina, the far-right lawmaker who co-authored Russia's notorious "anti-gay propaganda" bill years earlier. Mizulina, who co-sponsored the bill, argued in 2016 that current punishments for domestic violence in Russia were "absurd" and should be more lenient.
Vyacheslav Volodin, a former aide to Russian President Vladimir Putin and speaker of the country's lower house of parliament, argued that it's "important for us not to interfere with family matters," and threw his support behind the legislation. So did most Russian lawmakers: The bill passed with near-unanimous support, according to the Moscow Times, with 385 out of 387 lawmakers in the lower house voting for it.
Moskalkova originally supported the bill as well. According to the Independent, she said in 2017 that imprisoning men who'd only been "mildly abusive" towards their spouses or children could leave families without a primary source of income, and thus cause more harm than good.
But in April, Moscow's Human Rights commissioner Tatyana Potyayeva said that reports of domestic violence in Russia have skyrocketed since it was decriminalized.
"Looking at statistics of appeals, we saw that after the law decriminalizing beatings was passed, the number of complaints on this issue increased significantly," Potyayeva said, according to RIA Novosti. She added that women, children and the elderly were the most likely to report abuse.
Russia has endemic levels of domestic violence. Over 600 Russian women are killed in their homes every month, according to the BBC, and an estimated 36,000 are abused every day. In some cases, women who share bank accounts with abusive partners are forced to pay the fines incurred by their abusers. Anecdotal accounts of domestic abuse in Russia are abundant and horrific, and human rights activists accuse both lawmakers and Russian police of refusing and failing to protect female victims of domestic violence.
"Police more often than not refuse to register or investigate complaints of domestic violence and sexual assault, often arguing that the women are guilty or complicit in their own abuse," Philippa H Stewart of Human Rights Watch said in October. "Domestic violence survivors in Russia are basically left on their own. The state does not protect them, and it doesn't help them on the scale that is needed. That needs to change."