McDonald's Might Soon Be Considered A "Foreign Agent" In Russia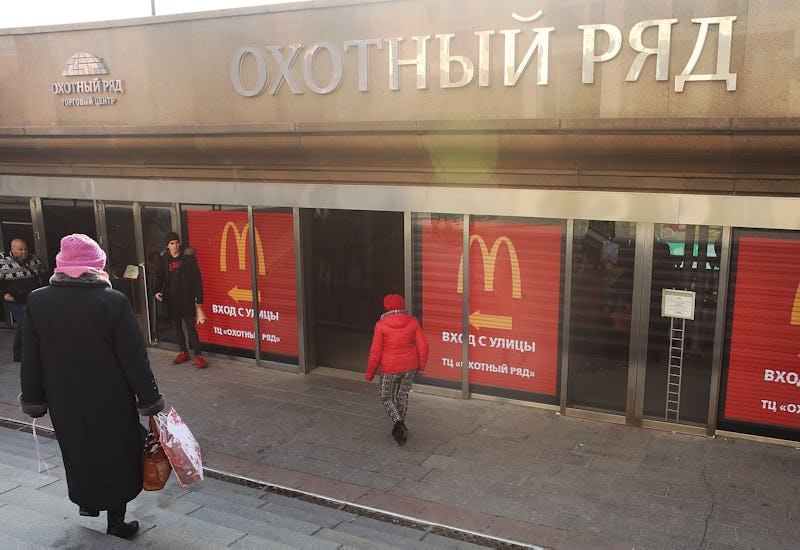 Spencer Platt/Getty Images News/Getty Images
A Russian lawmaker wants to make McDonald's register as a "foreign agent" in Russia and you aren't the only one who thinks that sounds a bit, well, odd. Boris Chernyshov, a 26-year-old deputy in the State Duma, told Russian media that the U.S.-based restaurant misleads Russians about the longterm health risks of its products, and wants regulations that would require McDonald's advertisements to be labeled as having come from a "foreign agent," according to Newsweek.
"Research has shown that food sold by American fast-food restaurants is damaging to people's health," Chernyshov told RBC Business Portal on Friday, according to a translation by the Moscow Times. "But ads show only the positive side of consuming these products."
Chernyshov said that he's already sent a letter to Russia's media and food watchdog agency proposing that McDonald's, KFC, and other U.S.-based fast food companies be branded as "foreign agents' in their own advertisements. The next step, Chernyshov said, is to require American fast food restaurants to be included in the "appropriate registry" of foreign agents operating in Russia.
"The ideology of the fast food is the fight against the healthy lifestyle," Chernyshov told Russian media, according to a translation by Ukrainian media. "We do not eat our native food. The constant consumption of the food prepared with the use of the harmful components — for example, palm oil — leads to the visceral injuries, diseases of lungs, heart, renal system, liver and obesity."
Chernyshov's proposal is the latest in a back-and-forth between the United States and Russia surrounding the "foreign agent" label. In September, the U.S. bureau of RT, a Russian state-run news organization, reported that it had been asked by the U.S. Department of Justice to register as a foreign agent in America. Although RT initially pushed back against the request, it finally did register as a foreign agent in November.
Just two days later, Russian lawmakers proposed a bill that required all news organizations that receive non-Russian funding to register as foreign agents in Russia. The bill, which was seen by some as retaliation against the U.S. regulations on RT, passed both houses of Russian parliament unanimously, and was signed by Russian President Vladimir Putin on Saturday.
Russia's Justice Ministry subsequently announced that several news outlets in Russia that are funded by the U.S. government, including Voice of America and Radio Free Europe/Radio Liberty, could be forced to register as foreign agents under the new law. Critics said that the law would result in further restrictions on freedom of the press in Russia, while supporters insisted that although the law does require registration and labeling, it doesn't impose censorship.
Believe it or not, this isn't the first time Russian officials have targeted McDonald's restaurants in Russia. During a sanctions war between the United States and Russia that erupted in 2014, Russia shut down four McDonald's restaurants in Moscow, ostensibly for "sanitary violations."
The Russian government has a history of banning foods from countries with which it has geopolitical tensions. Specifically, Moscow has often imposed import bans on foods from European countries that pursue closer ties with the west. When the former Soviet republic of Georgia pursued NATO membership in 2006, for example, Russia banned imports of Georgian wine. Russia imposed similar restrictions seven years later on Moldova, which provides 10 percent of all wine drank in Russia, after Moldova pursued a trade agreement with the EU.
When McDonald's opened its first Russian location in 1990, it was a symbolically-important historical event: One of the foremost symbols of American capitalism had finally gained a foothold within the borders of its longtime communist foe. Russians lined up to taste American burgers and fries for the first time, and the Soviet Union collapsed two years later. Now, McDonald's employs 35,000 Russians and has over 600 restaurants in Russia, according to Reuters.