Russian Officials Boasted They Could Use Flynn To Influence Trump — REPORT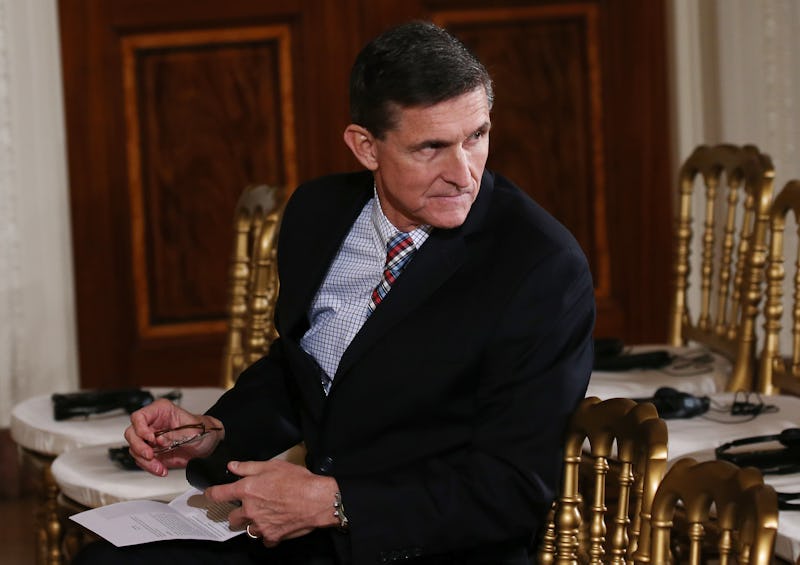 Mario Tama/Getty Images News/Getty Images
CNN reported on Friday that during the 2016 presidential campaign, Russian officials said they could use Michael Flynn to influence Donald Trump and his advisors, and perceived Flynn as an ally of Russia. The alleged conversations were intercepted by U.S. intelligence officials, according to CNN. At the time, Flynn was an advisor to Trump's presidential campaign, and Trump later appointed him to serve as National Security Advisor.
It is unclear precisely which Russian officials, and of what rank, were having the conversations in question. But according to CNN, American intelligence officials were alarmed when they intercepted the communications, and some of them "acted on their own" to limit the information that Flynn received. A former Obama official told CNN that the intercepted communications amounted to "a five-alarm fire."
Trump fired Flynn in February after Flynn gave multiple and conflicting stories regarding his communications with the Russian ambassador to the U.S. prior to the inauguration. Since then, he's repeatedly emerged as a central figure in the ongoing controversy surrounding possible links between the Trump campaign and the Russian government.
It was reported in January that Flynn is the subject of an FBI investigation, due to his alleged ties to the Russian government, and The New York Times reported on Wednesday that Trump's transition team knew Flynn was being investigated by federal officials when the president appointed him to serve as National Security Advisor.
POLITICO reported on Friday that Trump regrets firing Flynn, and according to an earlier report in the Times, the president unsuccessfully tried to get FBI Director James Comey to stop the investigation into Flynn. Trump has denied this, but regardless, Trump fired Comey soon thereafter.
In March, Flynn retroactively registered as a foreign agent, as he had been on the Turkish government's payroll during the campaign. The Miami Herald reported on Wednesday that prior to making this disclosure, Flynn nixed a U.S. military operation that the Turkish government opposed.
The broad question looming over all of these stories is whether or not the Trump campaign colluded with the Russian government in an attempt to defeat Hillary Clinton in the presidential election. This is one of many questions currently being investigated by the FBI, and according to Reuters, Flynn and other officials on the Trump campaign had at least 18 phone calls and emails with Russian officials and others with ties to the Kremlin.
Trump and the White House have repeatedly denied that the president or his campaign colluded with the Russian government, with Trump claiming that the FBI investigation is "the single greatest witch hunt of a politician in American history."