Ruth Bader Ginsburg & Elena Kagan's Dissent On Voter ID Laws Is So Relevant Right Now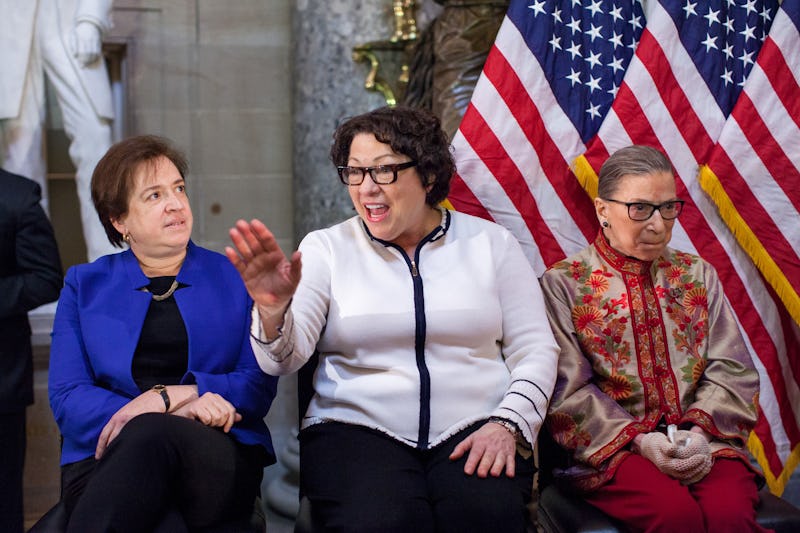 Allison Shelley/Getty Images News/Getty Images
On Tuesday, the United States Supreme Court upheld a ruling that found that North Dakotans must show proof of a residential address and present specific forms of identification when voting in elections. Justices Ruth Bader Ginsburg and Elena Kagan's dissent in this case illustrates what they believe are the potential problems with enforcing the state's voter ID laws — namely, that the laws stand to disenfranchise voters.
According to Mother Jones, North Dakota's current voter ID laws, which were passed in 2017, mandate that voters show proof of a residential street address, among other requirements. These laws were challenged in court, with some arguing that they stand to inhibit Native Americans — who make up five percent of the state's population — and their right to vote.
As the Native American Rights Fund described, Native Americans who live on reservations typically do not have residential addresses, partially because the U.S. Postal Service doesn't usually deliver to rural residential addresses on reservations. Thus, as an alternative, many Native Americans use P.O. boxes to receive their mail, which do not qualify as eligible residential addresses under the state's voter ID laws.
According to Mother Jones, at the Supreme Court on Tuesday, the majority of justices upheld the 8th Circuit Court of Appeals' decision that North Dakota's voter ID laws can be enforced, despite concerns about voter disenfranchisement.
The Circuit Court's decision had overturned a previous federal district court's ruling that found that some of the laws' requirements were discriminatory against Native American voters. Because of the timing of these court cases, the voter ID laws were not enforced during the spring primary elections in the state.
In opposing SCOTUS' decision, Justices Ginsburg and Kagan wrote a powerful dissent. The justices indicated that allowing the enforcement of the voter ID laws violates a historic precedent of not changing voting laws close to an election, because changes can confuse voters. Moreover, Ginsburg and Kagan wrote that enforcing North Dakota's ID laws now is particularly concerning because it means that one set of election rules was in place for the primary elections and a different set of rules is now governing the general elections. Ginsburg's own words capture this sentiment — and also reveal the significant number of residents who could stand to be affected by the voter ID changes. As the justice wrote:
The risk of voter confusion appears severe here because the injunction against requiring residential-address identification was in force during the primary election ... Reasonable voters may well assume that the IDs allowing them to vote in the primary election would remain valid in the general election. If the Eighth Circuit's stay is not vacated, the risk of disfranchisement is large ... [as] 70,000 North Dakota residents — almost 20% of the turnout in a regular quadrennial election — lack a qualifying ID; and ... approximately 18,000 North Dakota residents also lack supplemental documentation sufficient to permit them to vote without a qualifying ID.
North Dakota, along with the rest of the country, will head to the polls on Nov. 6. As The Week reported, one of the state's senators, Democrat Heidi Heitkamp, is considered particularly vulnerable in this election — and could stand to lose many Native American votes due to SCOTUS' most recent ruling.