Ruth Bader Ginsburg Has Been Hospitalized After Falling In Her Office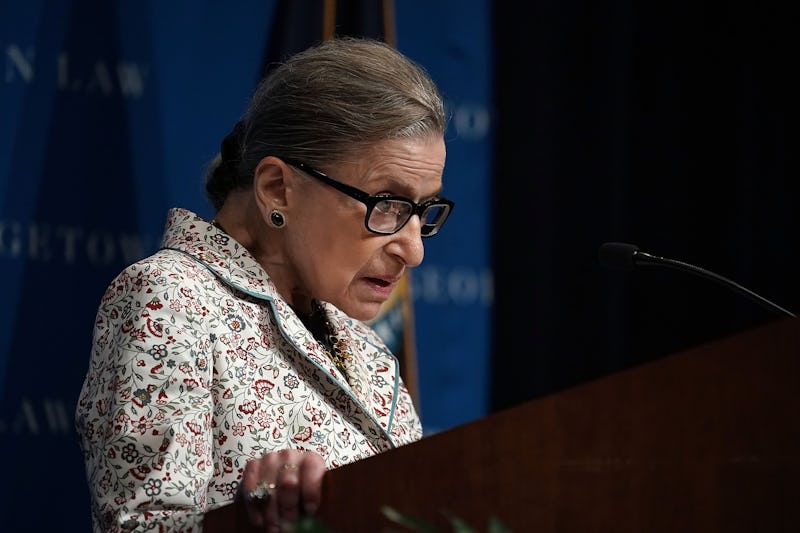 Alex Wong/Getty Images News/Getty Images
A Supreme Court spokesperson said Thursday that Justice Ruth Bader Ginsburg fell in her office Wednesday night and was later hospitalized, according to USA TODAY. Ginsberg fractured three ribs in the fall, according to the spokesperson.
Ginsburg reportedly went home after the incident but felt "discomfort" during the night, so admitted herself into George Washington University Hospital on Thursday morning. The spokesperson said that she is remaining in the hospital for "observation and treatment" and that additional updates will be given as soon as possible.
This is hardly the first time that Ginsburg has experienced health difficulties. She's had cancer twice: pancreatic in 2011 and colon in 1999. She had a tube in an artery replaced in 2014, per CNBC, and she's even fractured ribs before — two, after a 2012 fall.
Ginsburg reacted to that incident with similar initial dismissiveness. "At first I thought it was nothing," she told Reuters, but eventually sought help from the Office of the Attending Physician. She learned that her injuries were not overly serious and would heal with time, and continued work as usual (the fall occurred at the beginning of a particularly busy month for the court, which she said was "the worst possible time").
The Supreme Court's public information officer told Reuters at the time that Ginsburg "did not skip a beat and did not feel it rose to a serious health concern." The justice "followed her schedule as usual."
According to Medscape, rib fractures "are rarely life-threatening in themselves," but they sometimes co-occur with more severe trauma underneath the rib cage. The risks accompanied by the fractures also tend to be more serious when patients are older or have a higher number of fractures, per the Academic Life in Emergency Medicine.
White House official Kellyanne Conway told reporters on Thursday that she is praying for Ginsburg, whom she called "a very tough woman." Conway added, "I've known her for many, many years — got to see her just a few weeks ago here at the swearing-in of Justice Kavanaugh. I hope she has a full and speedy recovery."
As the oldest justice on the Supreme Court, Ginsburg is often seen as one of the next-most-likely retirees. If she were to leave before 2020, President Donald Trump would be able to nominate another justice in her place, and that person would quite likely be confirmed under the majority-Republican Senate. Liberals have been fretting over Ginsburg's health since Trump's election. The justice apparently works out twice a week with her personal trainer of 20 years.
In an August discussion after the play The Originalist, based off the life of late Justice Antonin Scalia, Ginsburg told the audience that she hopes to stay on the court for another five years. "I'm now 85," she said. "My senior colleague, Justice John Paul Stevens, he stepped down when he was 90, so think I have about at least five more years." Ginsburg has also already secured law clerks to assist her through 2020.
This was Ginsburg's 25th year on the court, per CNN. The longest term ever served was by William O. Douglas, who lasted 36 years and retired at the age of 77. In October of 2017, Ginsburg deflected questions about her retirement by saying, "My answer is as long as I can do the job full steam, I will do it."