RBG Aired Her Thoughts On Who's Really To Blame For Kavanaugh's Confirmation Process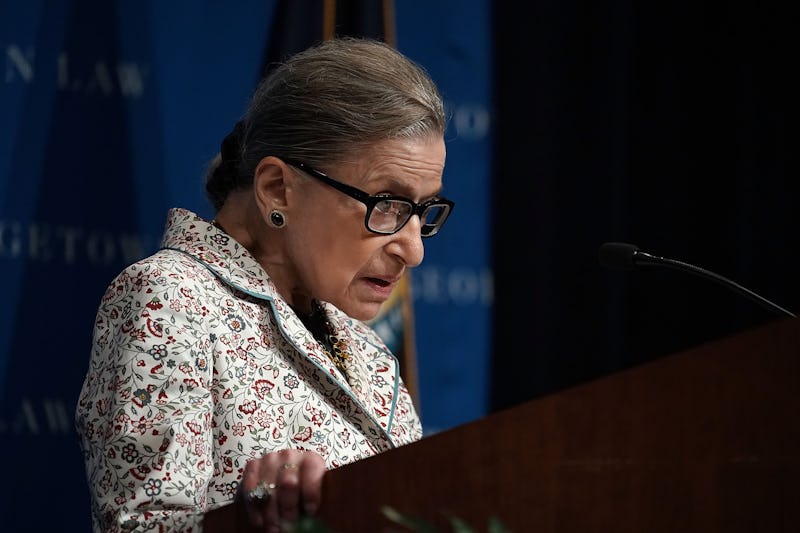 Alex Wong/Getty Images News/Getty Images
In an interview at a federal courthouse Wednesday, Supreme Court Justice Ruth Bader Ginsburg said that Congress is to blame for how divisive America's judicial process has become. Ginsburg specifically pointed what she called a lack of collegiality and bipartisanship in Congress, and noted that it was once standard for Supreme Court justices to sail through their confirmation hearings with broad support from Democrats and Republicans alike.
"To me, the obvious culprit is Congress," Ginsburg said when asked how the judicial confirmation process had become so polarized. She added that there's no longer any effort to "reach across the aisle."
Ginsburg didn't mention recently-confirmed Supreme Court Justice Brett Kavanaugh and his brutal confirmation process, but it was surely on many audience members' minds when she made the remarks. When Kavanaugh was accused of sexual assault after his confirmation hearings had finished, many Senate Republicans — and Kavanaugh himself — responded by dismissing the allegations and suggesting that they were part of a Democratic-led plot to sabotage Kavanaugh. (Kavanaugh categorically denied the allegations.) Ultimately, he was confirmed with just one Democratic vote.
By contrast, Ginsburg herself enjoyed broad bipartisan support in Congress after Bill Clinton nominated her to the high court in 1993, with the Senate voting 96-3 to confirm her.
"What a difference in time that was from what we are witnessing today," Ginsburg said on Wednesday.
Ginsburg called for more collegiality in Congress as well, which she defined as "understanding the institution you work for is more important than the egos of the individuals." She praised her former colleague Sandra Day O'Conner, who announced earlier in the week that she was experiencing the early stages of dementia, for embodying this attitude during her time on the bench.
O'Conner, Ginsburg said, always put "country above party and self-interest," and "worked collaboratively to solve problems" with her fellow Supreme Court justices. When asked if she believes that her current colleagues are open to having their minds changed on high-profile cases, Ginsburg said that "as long as we live and listen, we can learn."
Ginsburg also spoke about her dissent in Shelby County vs. Holder, the landmark 2013 case in which the court struck down major portions of the Voting Rights Act. She said that "sadly, what [she] predicted" would happen if the law was gutted happened "almost immediately," with numerous states passing restrictions on voting that wouldn't have been permitted under the original law.
According to The Washington Post, Ginsburg was escorted to the event by Bryant Johnson, her personal trainer who also works as a courthouse clerk. The 85-year-old justice spoke about her notorious exercise regimen, telling the audience that it includes 20 push-ups a day — with a break halfway through "so [she] can breathe" — and holding a front plank for 30 seconds.
The Post reports that over 900 people sought tickets to the event, which was held in a space that only holds 330. As a result, organizers had to set up six overflow rooms at the venue to accommodate all of the guests.