Ruth Bader Ginsburg Swore In 201 New U.S. Citizens & What She Told Them Will Make You Cry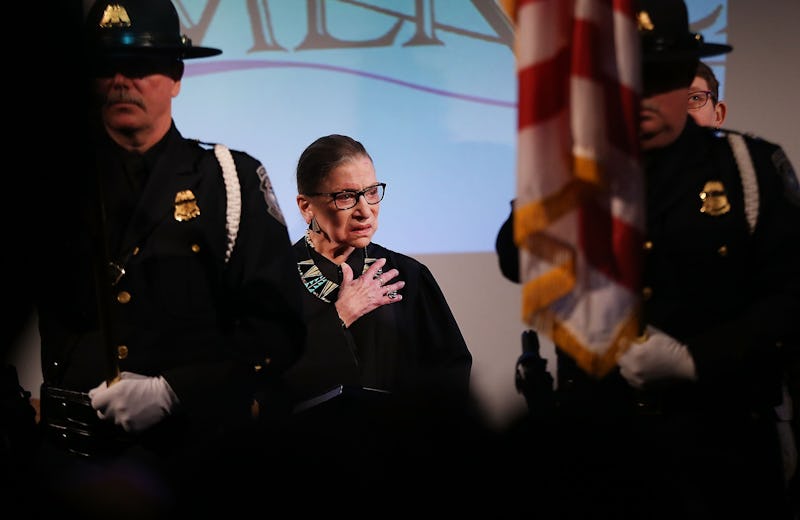 Spencer Platt/Getty Images News/Getty Images
On Tuesday, the Notorious RBG dropped by the New-York Historical Society to provide words of encouragement to a group of brand new American citizens. Supreme Court Justice Ruth Bader Ginsburg swore in new U.S. citizens while presiding over a naturalization ceremony of her own volition, according to The New York Times, and took the opportunity to riff on America's need for some self-improvement.
"Alexis de Tocqueville wrote that the greatness of America lies not in being more enlightened than other nations, but rather in her ability to repair her faults," Ginsburg told the group, according to the Times. She later added, "We have made huge progress, but the work of perfection is scarcely done."
The New-York Historical Society provides a series of free classes for green card holders studying for the citizenship test, and when Ginsburg heard about the program, she reportedly wrote to the Society and said she would like to participate in a naturalization ceremony if she was ever available.
That day arrived this week, and the Supreme Court justice did not disappoint. She told the group that her own father came to the United States when he was only 13 years old, and that when he arrived, he didn't speak any English. Only one generation later, she now holds one of the highest judicial positions in the United States, and was overseeing the naturalization of new citizens herself.
"I feel really honored to have citizenship," a newly sworn-in citizen told The New York Daily News. "That somebody from another country can come here and succeed, this is the main point. Really, there is no ceiling to it, what you can do here."
201 people from 59 countries were reportedly involved in Tuesday's ceremony. According to the Times, 600 people have complete the historical society program since it began, and they are hoping to have 1,000 alumni by summer.
Immigration has been an increasingly contentious topic in the United States. As President Donald Trump doubles down on anti-immigration rhetoric, insisting that the United States needs increased border protection, and railing against concepts like "chain migration," the future of immigration policy in the United States is unclear. The president and many of his supporters, often depict documented and undocumented immigrants in an equally negative light, and present policy proposals to temper both.
Just last week, when speaking at a meeting that was intended to focus on taxes, Trump went off script to insist that Democrats support chain migration because they believe that new immigrants are more likely to vote for their party. The term chain migration, which many consider to be derogatory, describes the tendency for new immigrants to assist their families with immigration after they, themselves, are settled down. It's an entirely legal process, but Trump doesn't often point that out inasmuch as he says it's something that should be increasingly regulated.
Ginsburg reportedly did not mention Trump by name, but her presence alone made a statement. To have a justice from the highest court in the country volunteer to participate in a naturalization ceremony provides a distinct contrast to the increasingly vocal anti-immigration sentiments permeating throughout the conservative sectors of Congress and the Executive branch.
Attendees at the event told media outlets that they were honored by Ginsburg's speech, and that her presence there meant a lot to them. "She is supposed to be at home but she came because of me, because of us, and that make me feel so special today," one participant told the Times. "May God bless her and give her more life and prosperity."
Justice Ginsburg said to the crowd, according to the Times, "We are a nation made strong by people like you."