Ruth Bader Ginsburg Apparently Has A Huge Scrunchie Collection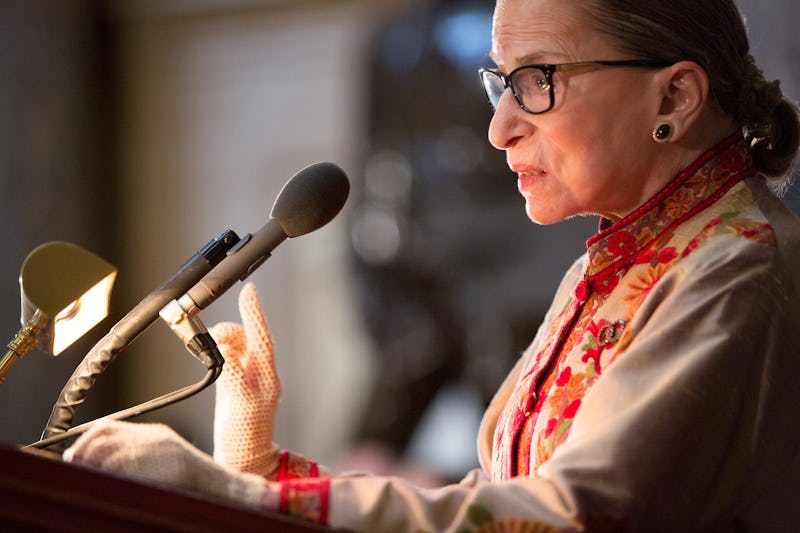 Allison Shelley/Getty Images News/Getty Images
Scrunchies are probably not the first thing you think of when you imagine the Supreme Court. Then again, neither are lace gloves and collars, but despite this, Ruth Bader Ginsburg's scrunchie collection has seemingly become the stuff of legend. As it turns out, she's not heading out to Claire's (RIP) for her holders. Being the Notorious RBG, her scrunchie collection is much more glam than any Wal-Mart Goodie's brand kind you would have bought in elementary school.
According to The Cut, Ginsburg's scrunchie collection is kind of legendary. In a Wall Street Journal article cited by The Cut, Ginsburg explains that her scrunchie collection isn't a trend that she following despite its seeming resurgence in the world of fashion. It's actually something she's worn for years, and yes, there's photographic proof. After all, she has been a Supreme Court Justice for almost 25 years.
However, she isn't just grabbing scrunchies at the drugstore when she's out to grab milk and eggs. Ginsburg seems to be a connoisseur of the fluffy hair access, and her collection comes from around the world. She explained, "I have been wearing scrunchies for years...My best scrunchies come from Zurich. Next best, London, and third best, Rome."
Scrunchies aren't Ginsburg's only love, though. While she does have an impressive collection (and an international one to boot), she admits that it doesn't rival her glove of collar collection, other accessories that she's known for. Basically, the notorious RBG knows how to accessorize, and now, she appears to be on top of a trend.
The Cut and The Wall Street Journal aren't the only publications to note her extensive use of scrunchies. Vogue has noted the same thing. Only a few days ago, the magazine cited scrunchies as one of Justice Ginsburg's longest running accessories, explaining that it came before even her doily like collars and black lace gloves. In fact, Vogue has tracked her scrunchies through the years, and it's clear that trend or not, Ginsburg's hair tie isn't going anywhere.
If you're not as familiar with Justice Ginsburg's sartorial choices, basically everything boils down to a great accessory. Clearly, scrunchies are one of them, but what are these gloves and collars everyone is talking about?
Well, if you've seen images of Ginsburg at both political and social events, you'll commonly find her wearing gloves but not just any gloves. It seems as though Ginsburg has an affinity for fishnets, and it's just further proof that she's way cooler than you ever thought a Supreme Court justice could be.
She's worn them to State of the Union addresses.
And not just once but multiple years in a row. Plus, while still fishnet, she changed up the pattern of the glove.
She's even changed up the color and rocked white fishnets gloves.
Then, of course, there's her collection of collars. From bright and vibrant to more traditional lace, she got one for every day of the week it seems (and maybe every day of the month). What exactly are these collars? According to Revelist, they're called jabots, and they're awesome.
If you're wearing long black robes like a dementor at work all day, wouldn't you want to accessorize, too?
Whether Ruth Bader Ginsburg is responsible for the resurgence of the scrunchie or whether fishnet gloves will be the next big trend, there's one certainty about the justice. She's a pioneer who has fought for the rights of women and minorities during her career. She just happens to be doing so with a little bit of extra sartorial flair. And honestly, that kind of makes here even more of a hero.