This Show Is A Big Deal For Trans People In More Ways Than One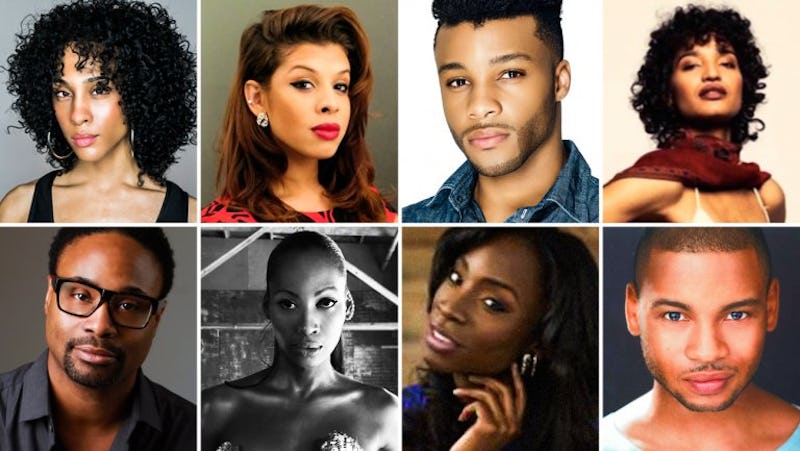 FX Network
With his upcoming series, Ryan Murphy is setting the bar for trans representation on television. The new FX show Pose, produced by Murphy, will focus on New York City in the '80s, specifically "the rise of the luxury Trump-era universe, the downtown social and literary scene and the ball culture world," which is an underground lesbian, gay, bisexual, and transgender community in which dancers compete by dressing up and voguing. According to The Hollywood Reporter, the show has cast five transgender actors — MJ Rodriguez (Nurse Jackie, The Carrie Diaries, Luke Cage); model and current New York ball scene icon Dominique Jackson; Hailie Sahar (Mr. Robot, Transparent); Indya Moore (Saturday Church); and Angelica Ross (Transparent,Claws) — as series regulars playing "authentic transgender roles." This means Pose is making TV history for casting the most trans actors in regular roles for a scripted series.
It's something worth celebrating, especially since GLAAD's yearly Where We Are On TV report for the 2016 to 2017 TV season found that there were only 16 regular and recurring trans characters on shows across broadcast, cable, and streaming. This past summer, Nick Adams, GLAAD's Director of Transgender Media & Representation, said that out of the 260-plus LGBTQ characters on television, only 11 are transgender — and three of them are on Transparent.
After a six-month nationwide casting search, Pose, which starts shooting in November, actually includes five series regulars that are trans, along with three recurring characters that are played by trans performers: Ryan Jamaal Swain, Dyllon Burnside, and Billy Porter, who won a Tony for portraying Lola in Kinky Boots.
But, its casting is not the only reason Pose stands out. The show, co-created by Murphy, Brad Falchuk and Steven Canals, is also looking to make sure trans performers are involved in the process of making a show that tells their story, which is why Pose is not just pushing for trans representation onscreen, but behind the scenes, too.
"We are thrilled that Pose pushes the narrative forward by centering on the unique and under-told experiences of trans women and gay people of color," Canals said in a statement via The Hollywood Reporter. "Ryan has assembled a strong team of storytellers and innovators to collaborate on telling this important narrative. As a Bronx-bred queer writer of color, I'm honored to aid in ushering this groundbreaking show into homes."
The drama will be written by Canals, along with trans activist and New York Times best-selling author Janet Mock, and Our Lady J, who was Transparent's first trans writer. Trans activist and director Silas Howard, who also got his start on Transparent, will co-exec produce the show.
To make sure the the New York ball community is well represented, Pose has brought on "ball culture consultants" Michael Roberson and Twiggy Pucci Garçon to make sure the series features people from within the actual community. The series has also hired Hector Xtravaganza, Skylar King and Sol Williams, all of whom participated in the ball culture of the '80s, to consult.
Pose's ball scenes will be choreographed by Leiomy Maldonado, a trans dancer who is know as the "Wonder Woman of Vogue," along with Danielle Polanco, who has worked with Janet Jackson, Jennifer Lopez and Beyonce.
The series will also be mentoring transgender directors through Murphy's Half Foundation, which he launched in 2016 with the aim of hiring women, people of color, and members of the LGBT community for half of the directing roles on his shows.
It's an important initiative that allows for more diverse representation on television. It also allows trans people to tell their own story, something that don't often get to do. The importance of this was something Transparent creator Jill Soloway talked about after hiring Silas Howard as her first trans director during the show's second season.
"Directing is a great privilege. It's a privilege to share your vision of the world with, well, the world," Soloway told Vanity Fair. "For too long the white cis male gaze has dominated. But we are in this necessary and exciting moment, where we are giving diverse voices access—to a camera, the director's chair, the script—and helping to pass that privilege on."
Murphy is now passing that privilege on by making sure the trans community is well represented on Pose. Now, the hope is others will follow Murphy's lead and do the same.