Ryan Reynolds & Chris Evans' Pledge To Meet A Dying 'Avengers' Fan Is SO Sweet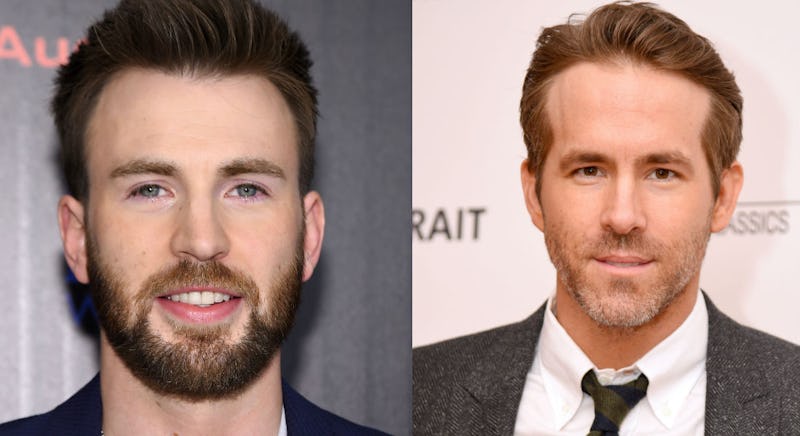 Jamie McCarthy/Getty Images Entertainment/Getty Images; Michael Loccisano/Getty Images Entertainment/Getty Images
Avengers on Twitter to the rescue! On Sunday, March 25, Avengers stars Chris Evans and Ryan Reynolds pledged to meet a dying fan via Twitter, proving that these Marvel men are superheroes both on and off-screen.
After taking to Twitter with the boy's request, Fox News journalist Shannon Bream received thousands of supportive tweets. "Need your help Twitterverse," Bream wrote in her original tweet. "[Trying] to help a young boy who is dying. He probably has just days and all he want is a greeting from one of the Avengers. If you have a celeb connection, please let me know. Otherwise, could you help out with a RT? Thank you in advance!"
Bream's comments were immediately flooded with suggestions about how to get in touch with some of the franchise's stars — some people tagged the actors' accounts, others offered to put Bream in touch with helpful contacts — but it didn't take long for her tweet to attract the attention of Evans, Reynolds, and many more of the Marvel movies' stars — all of whom were more than willing to make the boy's dream come true.
"Happy to!" wrote Chris Evans, who plays Captain America. "DM me." Ryan Reynolds, who plays Deadpool, joked, "I'm more of a 'Reserve Avenger.' But happy to help. DM me."
Paul Bettany, who voiced Iron Man's J.A.R.V.I.S. and also plays The Vision, chimed in on Bream's request as well. "I'm the purple one. DM me," he wrote. "What's his name?" asked Chloe Bennet, who stars as Daisy Johnson/Skye in the Marvel TV series, Agents of Shield.
The little boy's name is Emilio, Twitter soon found out. Bream has yet to disclose much more about him than that, but it seems like many of the Marvel stars got all the information they needed from Bream's original tweet.
"I'm not technically an Avenger, but I'd be happy to record a video for the little man and do my best impressions of @ChrisEvans@prattprattpratt@chrishemsworth or any other Chris if necessary," wrote Zachary Levi, who took over the role of Fandral in the second and third installments of the Thor series. "Where can I/we send these messages, and what's his name?!" Sure, he's not an Avenger, per se — but if the kid isn't interested in his many "Chris" impressions, the rest of the world probably like to see them anyway.
Of course, this isn't the first time stars like Evans and Reynolds have showed fans that they're not just on-screen superheroes. Back in February 2015, Evans — along with Chris Pratt, who plays Star-Lord in Guardians of the Galaxy — made a Super Bowl bet that resulted in them spending time with sick children at Christopher's Haven, a "supportive community consisting of seven temporary apartments and a community recreation area for families of children being treated for cancer in nearby Boston hospitals," according to their mission statement.
In May 2015, Reynolds found out through the Make-A-Wish Foundation that a young fan with Hodgkin's Disease wanted to meet Deadpool, his Marvel persona. Reynolds got fully decked out as Deadpool, and later shared some photos from their visit.
"I wasn't expecting him to sneak the mask, put on the gloves, smile... and then beat Deadpool about the face, arms and jugular with blazing speed," Reynolds wrote on Instagram. "[His] next fight is with Hodgkin's Disease. Hodgkin's Disease best be wearing its brown pants."
Reynolds and Evans are saving the world on-screen n the movies and certainly making a difference off-screen as well. And no matter what kind of characters they play on-screen, Reynolds, Evans, and the rest of the stars who responded to Bream's tweet, are definitely some of the real-life Good Guys.