The 'Deadpool' Oscar Campaign Is Still So Strong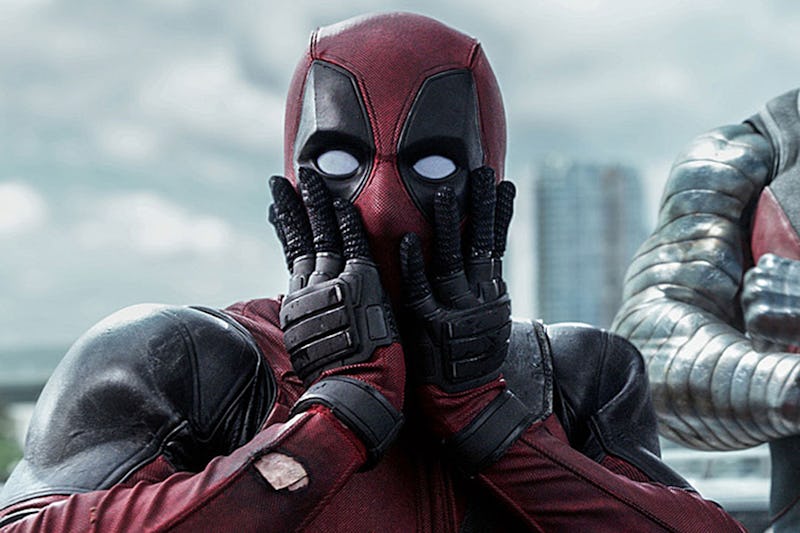 20th Century Fox / Marvel Studios
Hold on to your chimichangas, people, because the Oscar campaign for Deadpool is still moving forward, and the movie could still manage to receive some recognition from the academy awards. In a tweet posted on Jan. 12, actor Ryan Reynolds continued his campaign for the movie by sharing a "For Your Consideration" video for Deadpool. And though it's just as gleefully tongue-in-cheek as you could wish for, the video does actually manage to highlight the movie's unique sense of humor, which managed to garner it so much critical acclaim upon release at the start of 2016.
The 34 second video, which shows a montage of moments from Deadpool, also features an absurdly dramatic voiceover listing all the core components that made the movie the success it was. As you might expect, that list includes such absolute essentials such as "600 pounds of chimichangas, four pairs of assless chaps," and "seven magical unicorns."
But it also recognizes how difficult it was to get Deadpool made as the film it thankfully became. As well as notably referencing the "783 million fans" who shared Reynolds' clear passion for the project and who helped to support the fulfillment of the movie, the video also hilariously exaggerates the extent of the movie studios' initial lack of interest in Deadpool by referencing the "42 rejection letters from Fox."
The Oscar campaign for the movie started back in November 2016, when Reynolds sent screeners of Deadpool out to Academy voters along with a deeply heartfelt (and hilarious) letter from the actor. Shared by Indiewire's Anne Thompson, the letter outlined Reynolds' sincere gratitude regarding the making and the success of the movie, while also mockingly suggesting that bribery may be at the heart of most successful Oscar campaigns:
Apologies in advance for this simple letter. I was informed by 20th Century Fox that I'm not allowed to present you with freshly pitted greek olives, locally purchased deli meats, and low-grade Canadian elk jerky. I can offer you complimentary backstage passes to my heart, along with my sincerest thanks for supporting our Deadpool film this year.
Though the letter is written with Reynolds' endearing sense of humor at the heart of it, it's still a letter that can absolutely be taken seriously. And as the two Golden Globe award nominations (in the categories of best musical or comedy and best actor in a musical or comedy for Reynolds) and surprising best picture nomination at the Producer Guild Awards have proven, the movie is actually a legitimate award contender.
But could Deadpool be nominated for an Oscar? The Academy Awards can notoriously be a little trickier than some to impress.
It's worth acknowledging that Deadpool is a genre blockbuster movie, the likes of which rarely receive major recognition beyond technical categories at the Oscars. But really there's one supremely problematic part of Deadpool that directly threatens its Oscar-worthy status: it's a comedy. Within the Best Picture Oscar category, comedies are rarely found to be the winner. Though comedies do get nominated, invariably the Academy Awards tend to favor dramas for the winner of best picture. Since 2000, for example, only one comedy has won the Oscar for best picture when Birdman Or (The Unexpected Virtue Of Ignorance) was the winner in 2014.
With all of that in mind, it feels highly unlikely that Deadpool could win an award in a major category. It may stand a chance of being nominated for Best Picture, and for Reynolds to be nominated for his lead performance, but there's still an incredibly slim likelihood of a win in either event.
If you happen to follow the Oscars every year, then that won't be altogether surprising. But it's still a little bit disappointing. Though the movie might not follow any of the rules of your average Oscar Winner, Deadpool did manage to reinvent and refresh what was quickly becoming a tired and repetitive genre.
It was made as blown out, ridiculous and proudly anarchic as possible, throwing in as many digs to the industry that had held Deadpool back for years as possible. And it was absolutely, monumentally enjoyable for all of it.
As a story in and of itself, but also as a testament to the passions of the people who made it, Deadpool is overall an underdog story. And, with that in mind, the movie showcases the sort of Hollywood passion and movie magic that the industry, and the Academy Awards, should really be celebrating.