Ryan Seacrest Was Just Accused Of Alleged Abuse & Harassment By His Former Stylist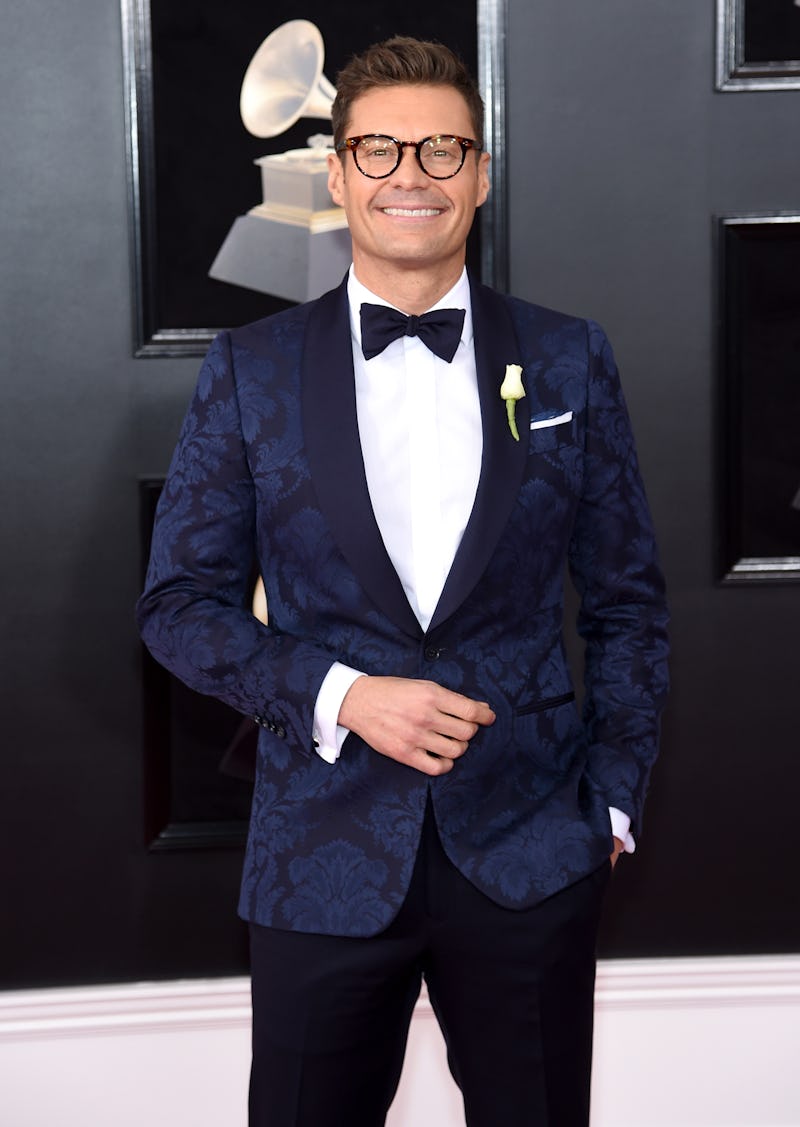 Jamie McCarthy/Getty Images Entertainment/Getty Images
Another high profile celebrity is facing troubling allegations. According to Variety, Ryan Seacrest is being accused of sexual harassment and abuse by his E! News personal stylist, Suzie Hardy. Hardy began working for Seacrest in 2006, and in her interview with Variety, she alleged that she dealt with unwanted sexual advances and abuse from Seacrest until 2013, when she was let go from E! News after telling HR about her allegations. Seacrest has denied all allegations against him, and went public with the news that someone who worked close to him was making claims about his behavior earlier this year. The American Idol host went on to write an op-ed for The Hollywood Reporter on Feb. 5 about the allegations. An independent investigator reportedly found Hardy's claims to be unsubstantiated.
On Feb. 26, Seacrest's lawyer, Andrew Baum released the following statement to Bustle:
"It is upsetting to us that VARIETY is electing to run a 'story' about untrue allegations that we were made against my client, after they were told that the accuser threatened to make those false claims against him unless he paid her $15 million. At that time, the claimant threatened to issue a demonstrably false press statement unless she was paid. Instead, my client proactively and publicly denied the claims and agreed to fully cooperate with E!'s investigation about the matter.
On January 31st the network notified us that their independent third-party investigation had concluded that there was insufficient evidence to support her claims, effectively, clearing my client's name.
It's telling that after my client refused to pay her money, and the E! investigation resulted as it did, that she is now coming forward to share her debunked story to the press."
In his Feb. 5 op-ed for The Hollywood Reporter, Seacrest wrote the follow about being accused of sexual harassment,
"To have my workplace conduct questioned was gut-wrenching. I've always aimed to treat all of my colleagues with honesty, respect, kindness, and compassion. Yet, I knew, regardless of the confidence I had that there was no merit to the allegations, my name would likely soon appear on the lists of those suspected of despicable words and deeds. The pressures of our overflowing newsfeeds would insist on it.
I absolutely want to be part of the change, the progress, that is coming. I did not want to be a postscript of evidence of its cause."
E!'s representative issued the following statement to Variety about Hardy's accusations about the potential unfairness of the investigation process. The statement reads:
"E!'s investigation was extremely comprehensive and thorough. Over the course of a two month process, our outside counsel interviewed more than two dozen people regarding the allegations, including multiple separate meetings with the claimant. The investigator is an attorney with nearly 20 years experience and is highly regarded professionally. Any claims that question the legitimacy of this investigation are completely baseless."
Three months after the independent investigation was launched, E! issued a statement claiming they found "insufficient evidence to support the claims against Seacrest." Hardy told Variety that she felt the investigator had already made up their mind about her case. "Total exasperation was my definite feeling when I heard about it. I felt like by the third interview, it was obvious the investigator was whitewashing it for Seacrest's side," Hardy told Variety.
Variety reported that on Nov. 10 that Hardy's lawyer sent a letter to E! News asking Seacrest and E! to "come up with a plan to address the treatment of all women at the networks and to take responsibility for the wrongful treatment of Hardy." The letter also said that formal action would be taken if Hardy's request was not heard.
On Nov. 17, Seacrest addressed the accusations publicly in a statement issued to Variety:
Recently, someone that worked as a wardrobe stylist for me nearly a decade ago at E! News, came forward with a complaint suggesting I behaved inappropriately toward her. If I made her feel anything but respected, I am truly sorry. I dispute these reckless allegations and I plan to cooperate with any corporate inquiries that may result. I treat all my colleagues with kindness, dignity, and understanding, as this is a principle that's core to who I am. Throughout my 25 years in the entertainment industry, the majority of my co-workers have been women, and I've endeavored to foster a positive work environment of mutual respect and courtesy, as that's how I believe it should be. I'm distraught that anyone or any situation would call that into question. I'm proud of my workplace reputation, and believe my track record will speak for itself. I'm an advocate for women. I will continue to support their voices."
While Seacrest did not mention Hardy by name, he did write that the claims came from a "wardrobe stylist" who worked for him nearly a decade ago at E! News.
When she took on the job of a personal stylist to Seacrest in 2007, Hardy was a single mother eager to have a steady job in order to support her child, according to Variety. She claimed that not long after she began her job, Seacrest's assistant began to suggest that Seacrest had romantic feelings for Hardy. However, she had no desire to reciprocate. Variety reported that the Nov. 10 letter alleged that this is when Seacrest's unwanted advances began. Reportedly, Seacrest began to ask Hardy to come to his home to dress him, and while she was preparing the host for the 2007-08 New Year's Rockin' Eve special, Seacrest allegedly asked her to take a nap with him, a reported request that Hardy says she denied.
From there, Hardy claimed that Seacrest's behavior began to escalate to include alleged unwanted physical contact. According to Hardy, Seacrest would allegedly hug her while wearing nothing but his underwear. In 2008, Seacrest allegedly cupped Hardy's crotch, and Hardy claims that after the incident he asked, "Oh my god, are you going to sue me?" She claimed that she replied, "Not if I stay employed." One of Hardy's E! News coworkers confirmed to Variety that Hardy told him about the alleged event at the time that it was supposed to have occurred. He also told the publication that he allegedly witnessed Seacrest push Hardy's head toward his crotch on multiple occasions while she was tying the host's shoes. The co-worker, who was also interviewed by the investigator, claims to have witnessed two incidents of assault by Seacrest.
Both incidents that this co-worker claimed to have witnessed allegedly took place in 2009. In the first, Hardy and her coworker alleged that Seacrest slapped Hardy's buttock hard enough to leave a red mark. Hardy took a photo of a red mark, which she submitted to the E! News investigators, as well as to Variety as evidence. The second event occurred when Hardy was dressing Seacrest for the Academy Awards, according to the claims. Allegedly, Seacrest threw Hardy onto a hotel room bed and, while wearing only his underwear, began running his erection against Hardy. Seacrest allegedly only stopped when Hardy's coworker verbally intervened. Hardy further alleges that in 2010, Seacrest asked her if she was sleeping with a man she had recently begun dating while she was tying Seacrest's tie. Seacrest then allegedly grabbed her vagina, leaving Hardy in tears. Two coworkers and a non work associate all recalled Hardy telling them about the incident at the time it allegedly occurred, according to Variety.
Through it all, Hardy says she never went to HR at E!, and that instead, the HR team came to her in 2013. She claims to have told them everything about the alleged abuse at this point, and shortly afterward she was let go from her job. Seacrest reportedly called her and promised that they would work together again one day. Hardy no longer works in the industry, and she syas that she felt emboldened by the #MeToo movement to come forward with her story. Hardy told Variety,
"I came from a freelance life, and it was scary. It was hard to raise a child and not know where your next check was going to come from, and if that gig was going to take me out of town for two weeks. It was a better deal all the way around, even if I was being abused. It's sick to say, but it was true."
Seacrest continues to work as a radio presenter, producer, and host. He currently co-hosts Live with Kelly and Ryan, and is set to return to his role as host on American Idol when the reboot premieres on ABC this spring. As of press time, he had not mentioned the allegations against him on social media.
If you or someone you know has been sexually assaulted, call the National Sexual Assault Telephone Hotline at 800-656-HOPE (4673) or visit online.rainn.org.