Netflix's New Mystery Series Comes From One Of The World's Most Famous Crime Novelists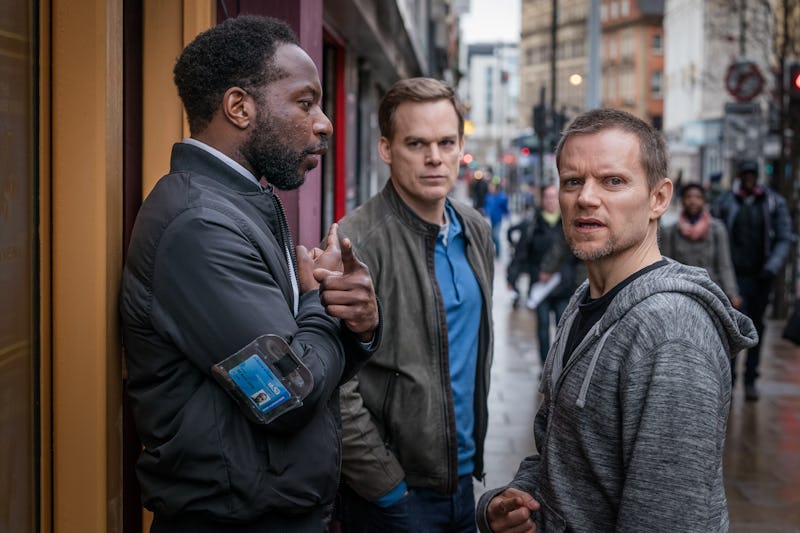 Ben Blackall/Netflix
Dexter fans, rejoice because Michael C. Hall is finally returning to TV in a starring role. His new Netflix drama, Safe, premieres Thursday, May 10, and its eight episodes center around a pediatric surgeon named Tom (Hall) whose wife Rachel died a year prior. Tom is raising two teenage daughters on his own, when one of them goes missing after a party. What's so shocking is that Tom thought his gated community was, well, safe. With such an intriguing (and realistic) plot, is Netflix's Safe based on a true story?
While there's no indication that the show is based on a real disappearance or real characters, the fact that it was created by Harlan Coben implies that it's fictional. For the uninitiated, Coben is a best-selling author of novels like Fool Me Once, Tell No One, and his Myron Bolitar series — otherwise known as those crime paperbacks you buy in the airport and devour in a day. Per the writer's website, he has written 30 books, which have been published in 43 languages. Of Coben's writing, The Atlantic's Eric Konigsberg said:
"Even though I'd never been a big reader of mysteries or thrillers, with Coben I had to know how each book was going to end, and I relished getting there. It made reading feel kind of like watching a movie, or even a basketball game when one is deeply invested in the outcome. There was action every minute, and so much momentum carrying the story forward that until I finished it, I was in a sort of twitchy agony if I got stuck doing anything else."
An author who leaves his/her readers in "twitchy agony" definitely sounds like someone Netflix would tap to create an addictive crime show. As for Safe's script, per Variety, Coben co-wrote it with Danny Brocklehurst, a British screenwriter most known for his work on The Driver, a 2014 miniseries, and The Five, a 2016 television show also created by Coben.
"I was immediately drawn in, I had a sense of the character's complexity," Hall told Variety of the script. "I also found my jaw dropping probably three times reading through the first episode with the surprises of it." This, coming from an actor who played a serial killer with a conscience, is very promising.
Indeed, Brocklehurst told the Sunday Express, "[Coben's] readers have certain expectations of him: twists, brilliant hooks, characterful. So we always try to emulate his novel style in the TV work. Harlan will come up with an initial concept and then we will collaborate to expand and deepen the story across numerous hours."
But while the miniseries' star is most known for his roles in American series Dexter and HBO's Six Feet Under, he virtually crosses the pond in with this new character. Hall, who recently played JFK in The Crown Season 2, will be putting on a British accent for Safe. "As an American actor, I often see people from the U.K. or Australia... come and play Americans, and that's perfectly acceptable, but I like the idea of turning the tables," Hall told Variety in the same interview.
Safe also stars Amanda Abbington as Sophie, a police detective in charge of finding Tom's missing daughter, who, per the trailer, also appears to be having a covert relationship with him. Abbington is most known for her role as Dr. Watson's wife, Mary, on BBC's Sherlock. Not only that, but Hannah Arterton, who also appeared in Coben's The Five, plays a character named Emma. Not much is known yet about Arterton's character, but she appears to play a key role in the series.
Since the show is set in a gated community in England, Safe's plot invokes Broadchurch or Happy Valley, two other British shows that follow depressed protagonists whose picturesque, small-town lives are turned upside-down. But as with all Coben books, there's sure to be something else going on beneath the surface. "I set the reader up and then I start twisting," he told Variety of his book plots.
Per Netflix's plot synopsis, there is a secret that centers around the night Tom's wife died. "We will learn the reason for Tom's guilt from that night," it reads. "We will learn that Jenny has a secret from that night — something that set her down a dark path of discovery that now threatens to blow families and a community apart."
With a setup like that, it seems that this limited series' characters are anything other than safe.