Ethiopia Just Got Its First Female President In Sahle-Work Zewde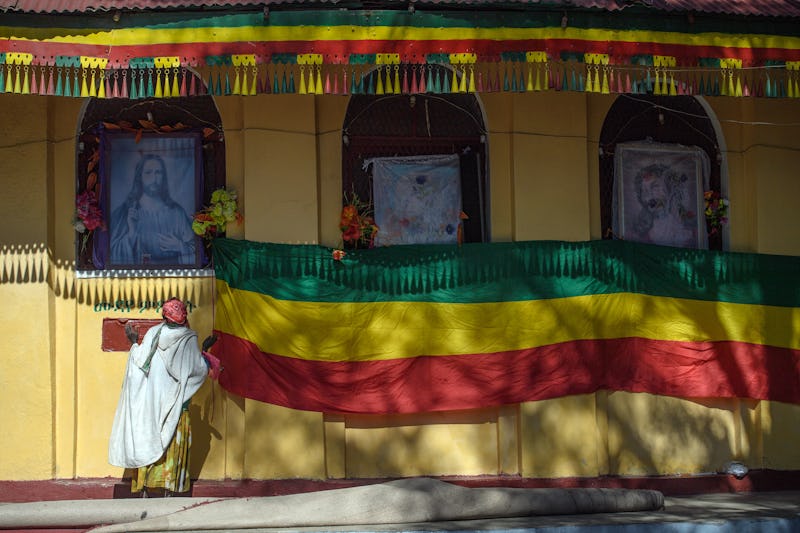 Carl Court/Getty Images News/Getty Images
On Wednesday, there wasn't a single female head of state in any of the countries in Africa. Now, on Thursday, there is one. Former diplomat Sahle-Work Zewde became Ethiopia's first female president and Africa's only current female head of state, thanks to a vote in the Ethiopian parliament on Thursday.
"I urge you all, to uphold our peace, in the name of a mother, who is the first to suffer from the absence of peace," Sahle-Work said in her address to parliament, according to the BBC. The position of president is primarily ceremonial, but the BBC wrote that Sahle-Work pledged to make gender equality a main priority of her time in office.
Sahle-Work is a well-respected figure in Ethiopia, which is reflected in the fact that the country's two houses of parliament elected her unanimously to the position of president, according to First Post.
"In a historic move, the two Houses has elected Ambassador Shalework Zewde as the next President of #Ethiopia," the Ethiopian Prime Minister's Chief of Staff, Fitsum Arega, tweeted on Thursday. "She is the first female head of state in modern Ethiopia. A career diplomat & senior official at the UN, she brings the right competence & experience to the office."
Sahle-Work comes to the office after a long career working in the international sphere, according to Al-Jazeera. Her resume includes stints as a special representative to the U.N. Secretary General's office, the head of the U.N.'s African Union office, the head of the U.N.'s office in Kenya, and the Ethiopian ambassador to several countries.
"Government and opposition parties have to understand we are living in a common house and focus on things that unite us, not what divides us, to create a country and generation that will make all of us proud," she said in her speech to parliament, according to Al Jazeera.
The previous president, Mulatu Teshome, informed parliament of his resignation on Wednesday in a surprise move, according to Yahoo News.
"Mulatu has shown us the way for change and hope, he has shown life continues before and after leaving power. I call on other to heed his example and be ready for change," Sahle-Work told parliament, according to Al Jazeera.
This is a big moment for gender equality in Ethiopia, as the country's reformist prime minister, Abiy Ahmed, just appointed a gender-equal cabinet last week, according to OkayAfrica.
"If the current change in Ethiopia is headed equally by both men and women, it can sustain its momentum and realize a prosperous Ethiopia free of religious, ethnic and gender discrimination," Sahle-Work said in her speech, according to Al Jazeera.
Her election has prompted celebration on social media, from Ethiopians and others happy to see this step forward.
"In a patriarchal society such as ours, the appointment of a female head of state not only sets the standard for the future but also normalises women as decision-makers in public life," Arega wrote on Twitter.
"There she is! My President!" wrote one Twitter user, along with a picture of Sahle-Work. "Why am I struggling with my tears right now? Imagine what this means for that little girl in school! Im [sic] more than happy right now!"