Saint West Inherits Kim K's Signature Cry Face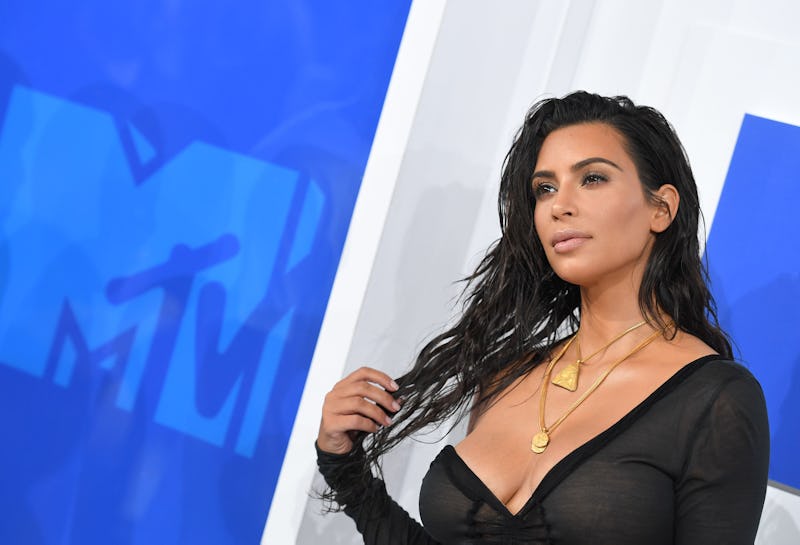 ANGELA WEISS/AFP/Getty Images
Born to a prodigiously talented musician and one of the world's most photogenic woman, you'd assume Kim Kardashian's offspring would have it all: looks, creativity, an enviable footwear collection. Now a tweet comparing Saint West and Kim K's crying faces has truly proved that West is his mother's son in every single way, including his adorable — and highly Kardashian-esque — signature weep.
Admittedly, up until today, I wasn't even aware that there was such a thing as a "famous crying face," but yesterday was a long time ago. Forget Andy Warhol's quote, "In the future, everyone will be world-famous for 15 minutes" — as the image below indicates, in the future, everyone will be world-famous for the duration of their on-camera sob. If you're wondering what the 1-year-old was so upset about, the answer is obvious. Ignore North West giving Saint some shady side-eye, this is legit.
The image pays tribute to the historic parent-kid gap when it comes to entertainment. Like that time your parents hired a clown to preside over your birthday party and you locked yourself in the bathroom in terror, this photo celebrates the fact that adults in costume are uniquely terrifying to small children, all small children, whether you're just a snot-nosed kid in Minnesota or one of the most famous babies on the planet. Sorry Santa, you're basically Freddy Krueger to this little guy.
As you've probably guessed, fans are absolutely loving this. And can you blame them? Kim Kardashian's cry face has been a source of fun for the internet since way back when. In 2013, the Huffington Post made a compilation video of Kardashian's best "ugly crying moments" that currently has over 1 million views.
And as Buzzfeed has already documented, you can buy basically everything with Kardashian's cry face on it, from mugs to shirts to earrings that are little Kim K heads crying.
So, it's no wonder this is how the internet is reacting to Saint's face:
Obviously, plenty of people have noticed what looks like North eye-rolling through Saint weeping at Santa.
With a face that expressive, no wonder Twitter thinks it can read North's mind.
While I'd obviously like to commiserate with the genuine awfulness of sitting on the knee of a strange grown-up who is very clearly not Santa, I can't help but make lemonade out of Saint's lemons: You can't not love that cry face, especially when it looks so similar to his mother's.