These Nail Stickers Have Glow-In-The-Dark Letters On Them & They're Perfect For Summer Nights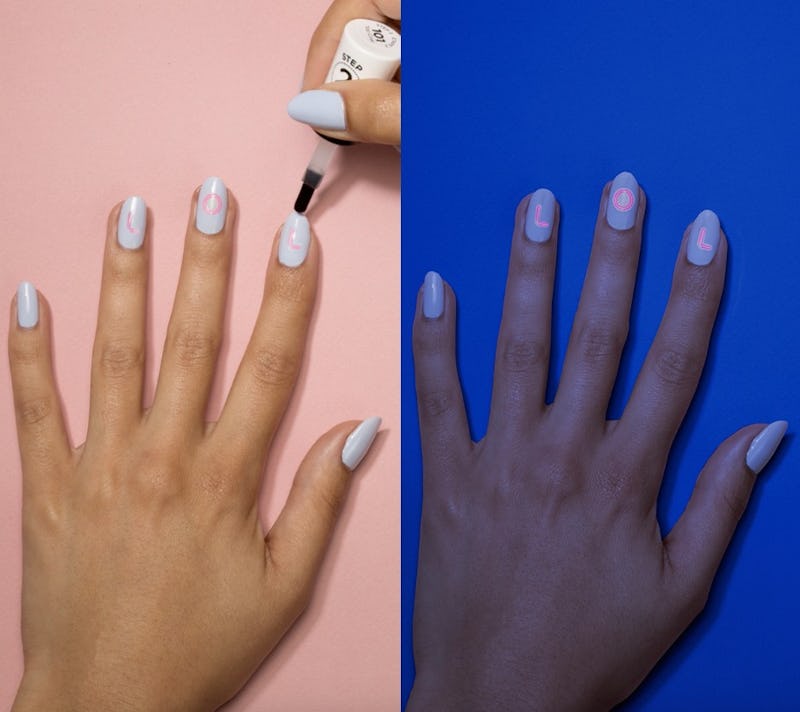 Courtesy Sally Hansen
As fun as going to get your nails done is, doing it at home is even more satisfying. Especially when you add in some quirky mani accessories. Sally Hansen's Textual Feeling Collection combines neon nails and '80s trends like you've never seen before. The stickers are easy to use, affordable, and they even glow in the dark. Your at-home mani is about to get a whole lot more fun.
These stickers are the easiest way to amp up any manicure. The sets include stickers in two different fonts that say things like lol, yes, no, hi, bye, and hello. Each one is a neon color, so you can see it during the day, and glow at night. How you place them is up to you, but the possibilities are endless.
Sally Hansen's stickers could not be easier to use, either. All you have to do is apply nail polish as you would normally, stick the designs on your nails, press, and cover them with clear coat, so that they stay on. After that, you can get to glowing. It's really that simple.
Add to that the affordable $7.99 price tag and you have one product that was pretty much made for summer. You'll look great by the pool by day and the bonfire by night.
The Textual Feeling Set is available at Ulta beauty on July 9. You'll get 22 different stickers in the set, too. That means that you can spread them out for all of your summer occasions or have a nail party and pass them around.
This product is pretty great, considering that no damage is done to your nails in the process. You can get the fluorescent glow without the using a UV light. Not to mention that you'll match all of that trendy neon art on the walls, as well. This is the perfect Instagram moment just waiting to happen.
You're also able to use the stickers with tons of different nail polish shades. These accessories will light up with a white or black color underneath. You can also opt for more colorful polish underneath as well. You can also choose to wear them on your nails alone for a more minimalist approach. These go with just about any style.
There is one catch to these stickers though. Taking them off is a little more tricky than putting them on. You'll need to soak a cotton ball in nail polish remover and hold it to your nail for one minute to get it to come off. The bonus to that is that your color will also come off super easily. Then you can just start from scratch on your next sticker creation.
The brand recommends using the Sally Hansen Miracle Gel color with the Textual Feeling Collection. According to the press release, they stick and look best on the formula. Just like the stickers, you don't need a UV light to get the gel color of the polish, either. It's simply called that for the smooth and sturdy way that the polish glides on.
Each sticker is also pre-cut, so you won't have to mess around while you're doing your nails. Just like the stickers that you would get on all your A-plus school papers, you just peel them off and stick them where you want them. It doesn't get much easier than that.
The classic nail polish will always be around, but trendy items like this are a great way to get your mani looking fresh. Just about everyone around the camp fire will likely have their nails painted, but not just anyone will be glowing.