Sally Yates Breaks Her Silence On Defying Trump's Travel Ban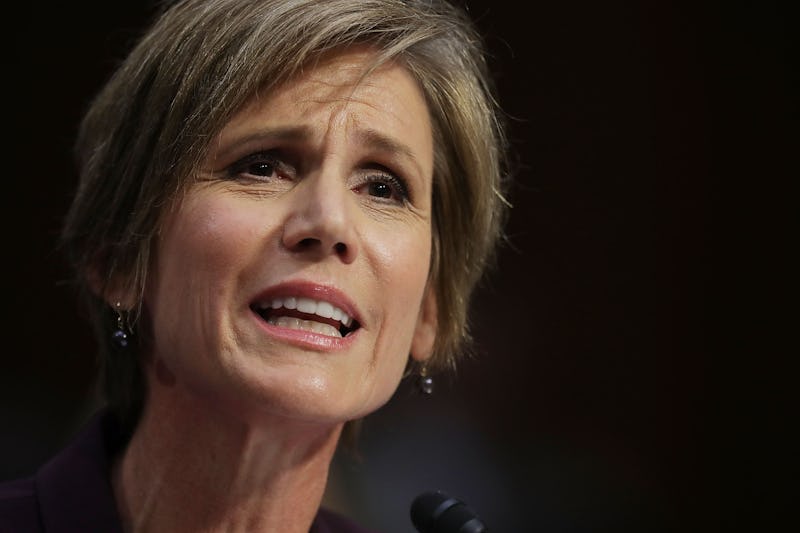 Chip Somodevilla/Getty Images News/Getty Images
Addressing Harvard Law School graduates on Wednesday, Sally Yates justified her defiance of President Donald Trump. His travel ban, she said, was a "defining moment" in her life, one that taught her a valuable lesson about honor and integrity.
"You never know when a situation will present itself in which you will have to decide who you are and what you stand for," Yates in her speech. Though she expected her tenure as acting attorney general to be "quiet" and uneventful, it turned out to be anything but. "The defining moments in our lives often don't come with advance warning," she told graduates. "They can arise in scenarios we would have never expected, and don't come with the luxury of a lot of time for you to go inside yourself for some serious introspection."
Trump fired Yates in January, less than two weeks into his presidency, after she refused to defend his executive order barring citizens of seven predominantly Muslim countries from entering the country. She had become acting attorney general following a DOJ tradition put in place to ensure a smooth transition between presidential administrations. Shortly after Trump took office, however, Yates found herself facing what has described as one of the defining moments of her life. After she refused to back his executive order banning visitors from predominantly Muslim countries, Trump accused her of having "betrayed" the Department of Justice.
In her Wednesday speech, Yates said her decision to defy the president wasn't made lightly. Rather, it was a crucial moment when "law and conscience intersected" and she'd had to decide who she was and what she stood for:
After reviewing the legal challenges, reading cases, and conferring with the department lawyers, I came to the conclusion that defending the constitutionality of the travel ban would require the Department of Justice to argue that the executive order had nothing to do with religion — that it was not intended to disfavor Muslims, despite numerous prior statements by the President and his surrogates regarding his intent to effectuate a Muslim ban. I believed that this would require us to advance a pretext — a defense not grounded in truth, so I directed the DOJ not to defend the executive order.
At the time, Yates told DOJ lawyers she was not convinced Trump's executive order was lawful or that defending it would enable the department to honor its "obligation to always seek justice and stand for what is right." While many Democrats supported Yates' decision, supporters of the president viewed her actions as insubordination and questioned why she hadn't simply resigned.
Yates told Harvard graduates she ultimately decided against resigning, as she felt bound to serve the Department of Justice over herself. "I believed then, and believe now, that while resigning would have protected my personal integrity, it would not have protected the integrity of the Department," Yates said.
While Yates' decision not to defend Trump's travel ban was undoubtedly controversial, she stands by her decision. "In my experience, it's been the times that I haven't acted rather than when I did that I've regretted it the most," Yates said. "Not only is a life of hedging your bets unsatisfying, it also means that you're unlikely to make much of a difference. You can either glide across the world, or you can impact it."